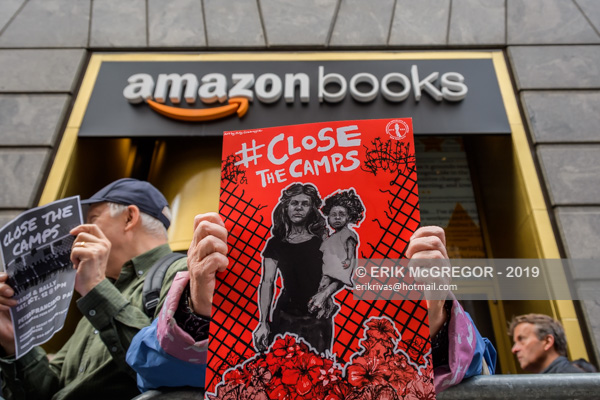 New York, NY – Hundreds of activists and immigration advocates took to the streets on October 11, 2019 in New York City on a protest to demand an end to Salesforce and Amazon profiteering from immigrants detention, as organizations across the country are taking up a national call to action October 11-14th from the Coalition to Close the Concentration Camps.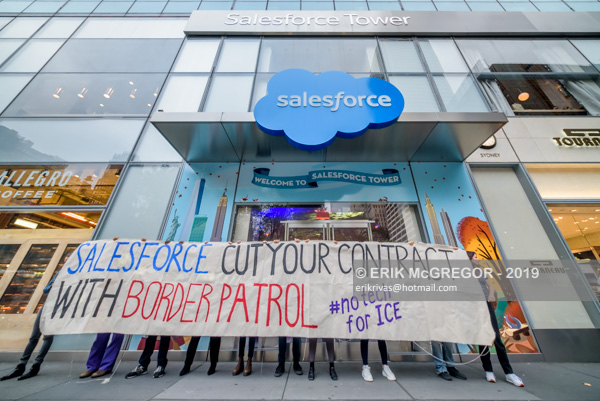 Immigrants rights activists are marching as part of a nationwide protest demanding the closing of immigrant detention camps and universal asylum for immigrants. In New York, NYC Democratic Socialists of America, Jackson Heights Immigrant Solidarity Network, Desis Rising Up and Moving, Close The Camps NYC, CODEPink, Construction & General Building Laborers Local 79 and others will march to highlight the role of tech companies such as Salesforce and Amazon Corporation in the immigration enforcement system.
Salesforce contracts directly with CBP to provide custom software for hiring purposes. Through a $7.2 million annual contract, Amazon provides its Amazon Web Services to Palantir for their direct contract with ICE. Employees of Amazon and Salesforce, and activists, have repeatedly called on these companies to end its collaboration with ICE, because of documented concerns over the use of technology to assist in the inhumane treatment of migrants.
"Tech companies like Salesforce and Amazon provide the tools for the surveillance, detention, deportation and death of immigrants. In order to close immigrant detention camps, we must end the profit motive. We are marching to demand an end to both the inhumane treatment of immigrants by ICE and U.S. Border Patrol, and the millions of dollars in profits that private companies, and their CEOs, make from a cruel and inhumane immigration system. We demand that they cut their contracts immediately," said Luis Espinosa, member of the NYC DSA's Immigrant Justice Working Group.
Local 79 Laborers currently stand 10,000 strong and their involvement is a key example of how DSA, organized labor, and the immigrant community are working together, fighting back against the forces that put working class lives at risk and threaten to tear families apart. "Immigrants helped build this country and today immigrants are helping build NYC, we will always stand alongside our immigrant brothers and sisters," said Jayro Valladeres, Field Representative for Local 79 Laborers.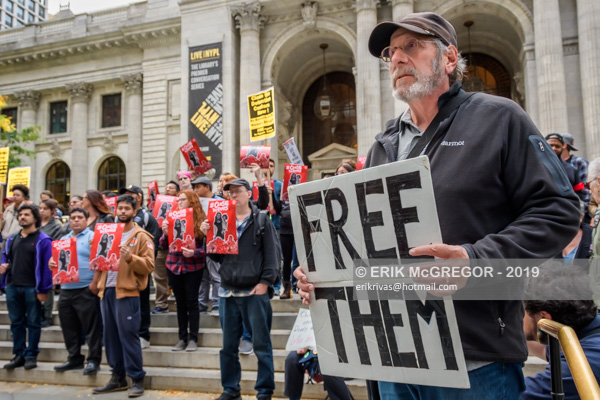 On the weekend of October 12-14th, coinciding with Columbus Day/Indigenous Peoples Day, these immigration activists across the country, including Coalition to Close the Concentration Camps and The Red Nation, an anti-colonialist and anti-capitalist Indigenous organization, to mobilize in marches, rallies and other actions to demand the closing of immigrant detention camps and asylum for all.
It's time to mobilize nationwide against the US's draconian immigration policies and the corporations that profit from them!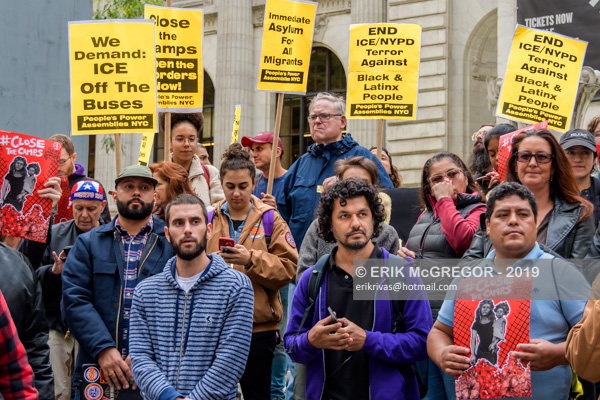 Across the country, and at the US-Mexico border, the US government is carrying out atrocious human rights abuses against immigrants – surveilling and threatening communities, jailing children and adults in detention centers under inhumane conditions, preventing asylum seekers from entering the country, and so much more.
Agencies like Customs and Border Protection (CBP) and Immigration and Customs Enforcement (ICE) rely on the services and technology of private companies like Salesforce and Amazon to carry out their day-to-day operations. These companies profit, directly and indirectly, off the detention and deportation of immigrants through multi-million dollar contracts with ICE and CBP.
Activists and tech workers alike have pushed for Salesforce and Amazon to end their contracts with ICE and CBP, yet these companies refuse to end their profiteering off constant state-led violence against immigrants. The time has come for people to put a stop to the detention and deportation of immigrants, and end the money-making that drives these policies.
© Erik McGregor – erikrivas@hotmail.com – 917-225-8963
PLEASE CONSIDER SUPPORTING MY WORK