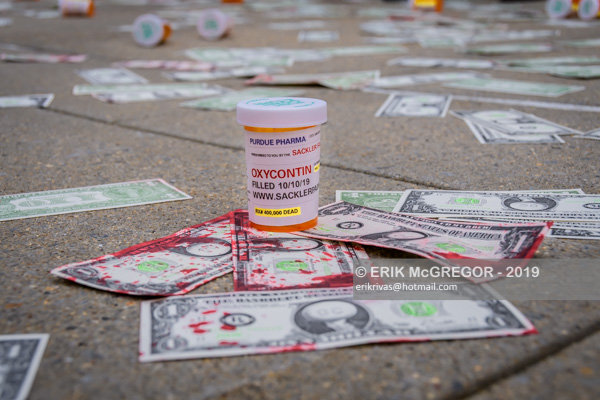 Westchester, NY – Members of P.A.I.N. (Prescription Addiction Intervention Now) and Truth Pharm staged a rally and die-in on October 10, 2019 outside New York's Southern District Federal Court in White Plains, where Purdue Pharmaceuticals bankruptcy hearing is being held. Participants threw thousands of mock "Oxy Dollars" and prescription bottles of OxyContin while holding banners reading "Shame On Sackler", "200 Dead Each Day" and "Claw Back Sackler $$, Fund Harm Reduction".
The proposed Purdue bankruptcy settlement is a hoax. The Sacklers claim their offer is worth $10 billion—but in reality, the money is fake. Its value is speculative, based on future sales of Oxycontin, and will not materialize for at least 7 years.
The Sacklers wish to restructure Purdue into a Public Benefit Trust, and the more opioids the new company is able to sell, the more money the plaintiffs will receive. We reject this incentive, as we want to reduce the circulation of unnecessary opioids. Proceeds from the Sacklers' sale of their international arm, Mundipharma, will also fund this settlement. To compensate plaintiffs harmed by opioids through the sale of more Oxycontin, the very drug that started this crisis, is deeply immoral and cynical.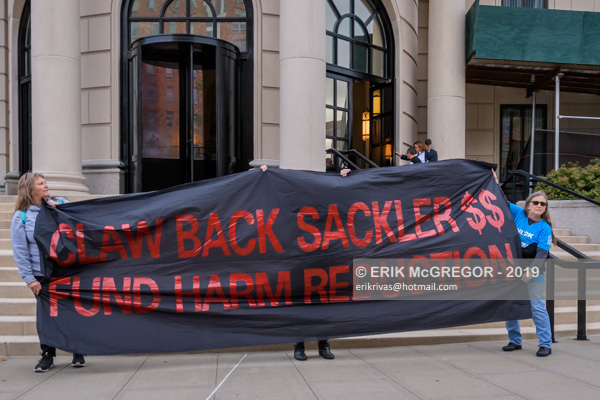 If this settlement is fake, where is the real money? Purdue may be bankrupt, but the Sacklers are not. Recent evidence shows $13 billion in undisclosed wire transfers from Purdue to the Sacklers. This money belongs to the communities and families that Oxycontin has destroyed. How much more are the Sacklers hiding?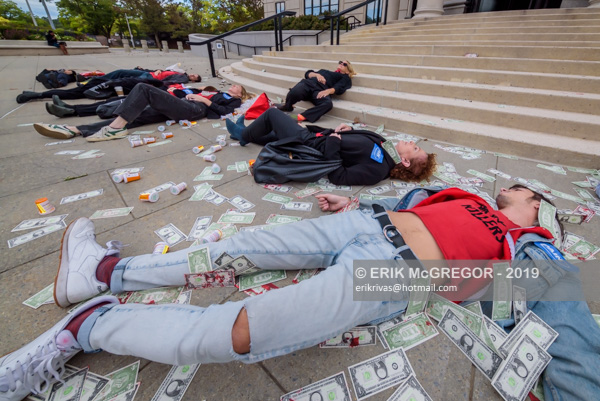 The Sacklers have ignited the largest public health crisis in history, and they must be held accountable. The Sackler family has picked Purdue Pharma clean and left it's carcass behind. They now hope to leverage its bankruptcy to protect themselves from future litigation.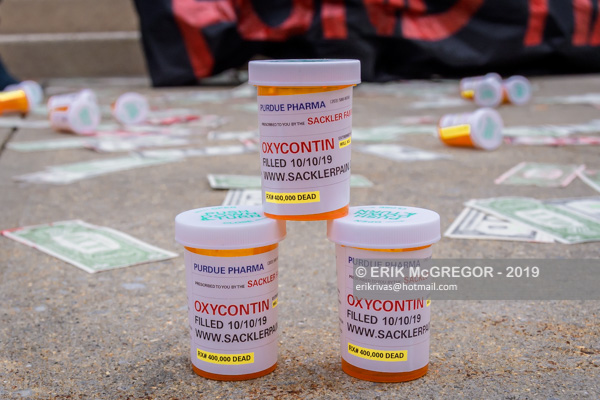 The Sacklers seek Judge Drain to stop all lawsuits so they can keep the billions of dollars they pocketed from Oxycontin and walk away without ever being held accountable. This is unacceptable.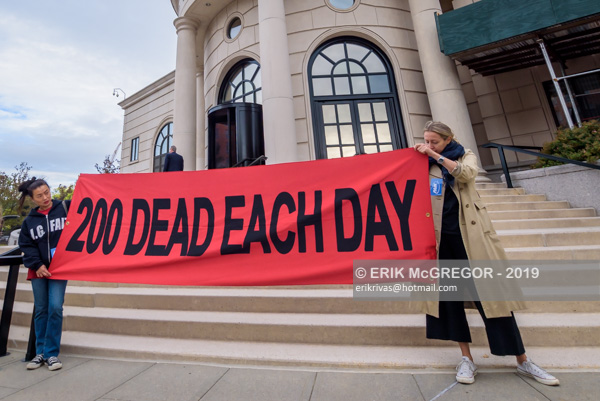 We demand the courts claw back the Sackler fortune to be used as restitution for the communities and families that they've destroyed. Funds must be directed towards harm reduction programs and treatment, which are proven to decrease overdose death rates. These include:
Narcan, the life-saving medication that reverses overdose. Narcan must be available at no cost in every home, in every prison, and carried by every first responder. Public dispensers of Narcan must be installed on every corner in America.
Medication Assisted Treatment (MAT). Doctors must be offered training and incentives to use MAT, especially Buprenorphine and Methadone. All pharmacies must have it available. MAT must be made affordable to all people with Opioid Use Disorder in and out of prison.
Safe Consumption Sites (AKA Safe Injection Facilities). Stocked with Narcan and basic emergency equipment, these centers help prevent overdose deaths. Many also offer needle exchange, medical resources, and social services to all visitors.
Effective rehabilitation, relapse prevention and prison outreach programs. Vital funding for the opioid crisis must no longer be diverted into law enforcement.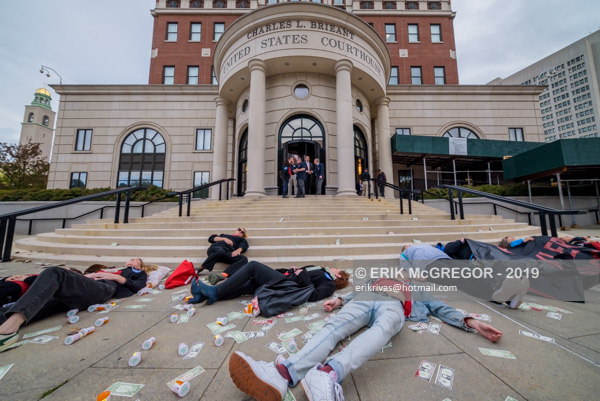 Protecting them with this bankruptcy settlement would be an insult to the memory of the 400,000 people killed by their reckless greed. This billionaire family has intentionally deceived and irreparably harmed millions of people, and criminal charges must be brought against them.
It is vital that we increase public awareness of this deal for two reasons:
ONE: all money from Purdue's settlement MUST go directly towards the families who have suffered losses and towards HARM REDUCTION programs and treatment! We saw with Big Tobacco how legal payouts can be squandered in state budgets. NOT THIS TIME. We know that those most affected by the opioid crisis know best where these funds are needed.
TWO: the Sacklers must NOT be protected by their company's bankruptcy. Purdue may be out of money, but the Sacklers are still filthy, stinking RICH. Recent evidence shows they secretly transferred AT LEAST $13 BILLION from Purdue to their personal accounts. The legal settlement proposed by Purdue is NOT ENOUGH, and it's because the Sacklers cleaned house before we got there.
We must educate the public and break stigma around drug use. We speak for the 400,000 bodies that no longer can. We must CLAW BACK this money and use it RIGHT––to address the overdose crisis with HARM REDUCTION.
© Erik McGregor – erikrivas@hotmail.com – 917-225-8963
PLEASE CONSIDER SUPPORTING MY WORK