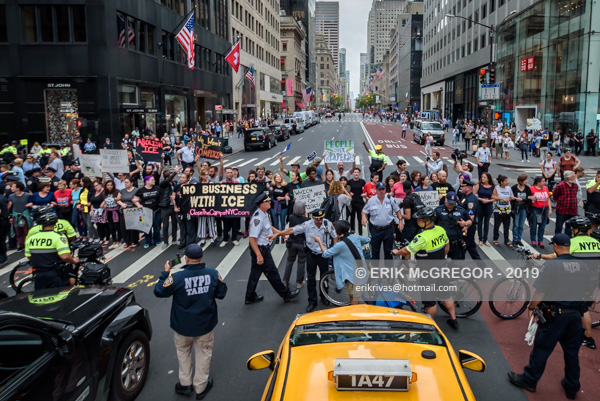 New York, NY – A total of 76 protesters were arrested after shutting down the Microsoft retail store in Manhattan and blocking traffic on Fifth Avenue on September 14, 2019 in an act of non violent civil disobedience, while more than 500 members of a large coalition of immigration advocates targeting businesses profiting from the crisis in the border rallied in the street.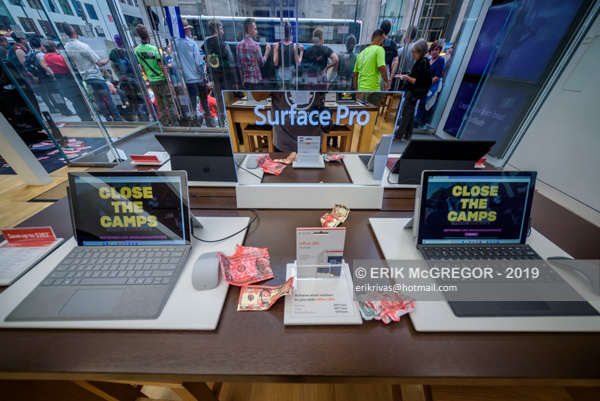 Protesters gathered at the New York Public Library (NYPL) to take nonviolent direct action against Microsoft, an American corporation that is powering ICE's racist raids, arrests, detainments and deportations. This demonstration is being led by Close the Camps NYC, which halted traffic on the West Side Highway on August 10, 2019.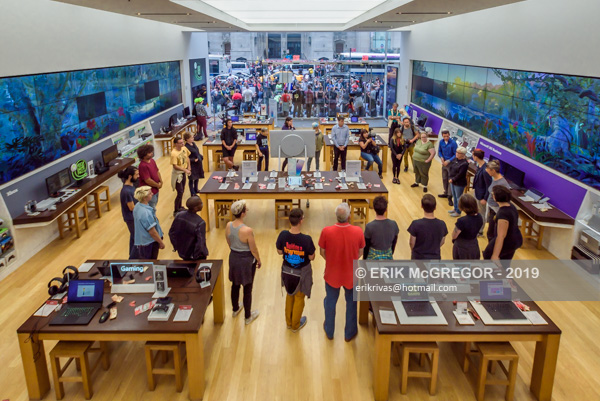 That protest publicly shamed real estate company RXR Realty for allowing ICE to covertly operate in an RXR building, where other tenants' clients have unknowingly been put at risk by ICE's secret presence there. The New York Police Department arrested more than 100 peaceful protesters at the August 10th event.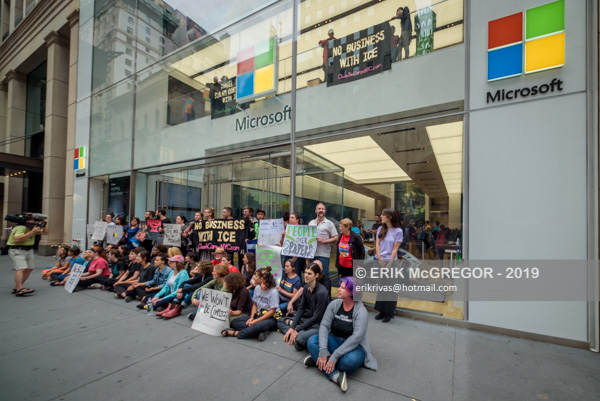 The target of this September 14 action is a Fortune 50 business that is doing business with ICE to profit from ICE's human rights abuses. The target and precise location for this action will be revealed as the event begins and protesters depart the NYPL. This protest is part of an ongoing nationwide effort to demand that corporations do #NoBusinessWithICE.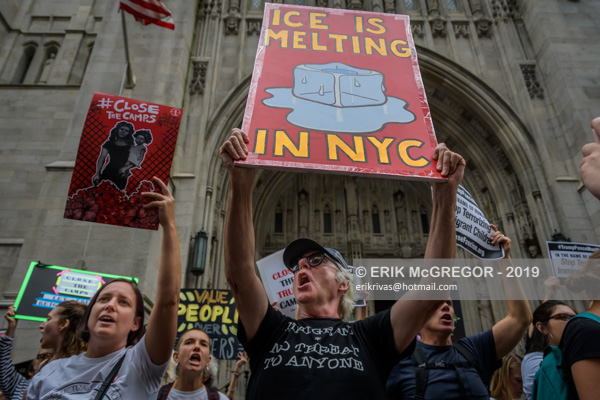 Children are caged in concentration camps and ICE is terrorizing our communities, all while private corporations continue to provide the support ICE needs to rip families apart.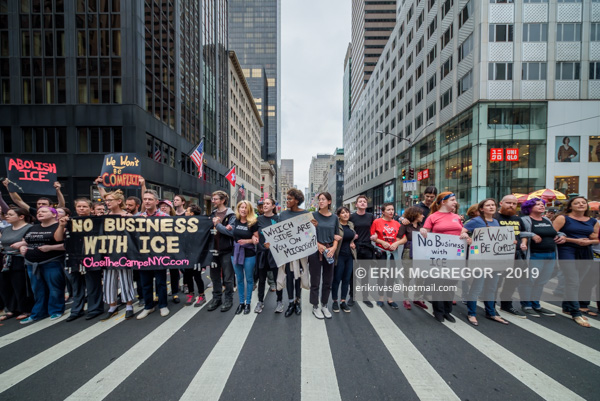 At the end of the day, private companies provide facilities, transportation, tech, research, and myriad other forms of support to this violent institution almost completely under the radar.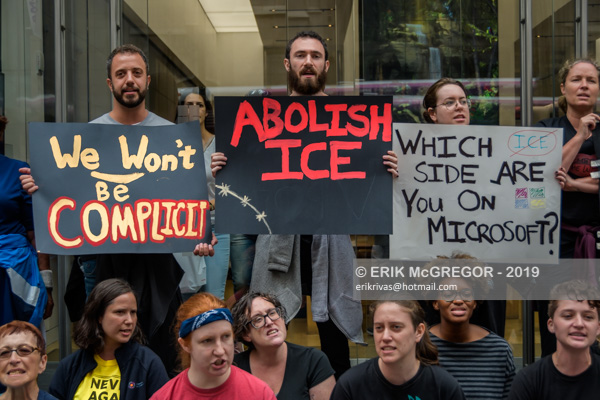 We DEMAND that private companies stop being complicit in the horrific violence against immigrant communities. We DEMAND that private companies cancel all contracts with ICE and withdraw all support that allows the violent institution to continue to carry out its bloody mission.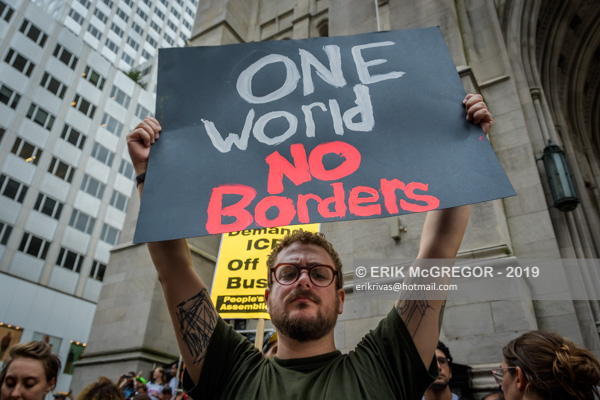 As ICE continues to target immigrant communities across the country, we must take action against the cities, schools, and corporations that do business with ICE. Every day, ICE depends on and receives support from mayors, local police departments, private tech companies, airlines, hospitals, and more to separate immigrant families. We say enough is enough.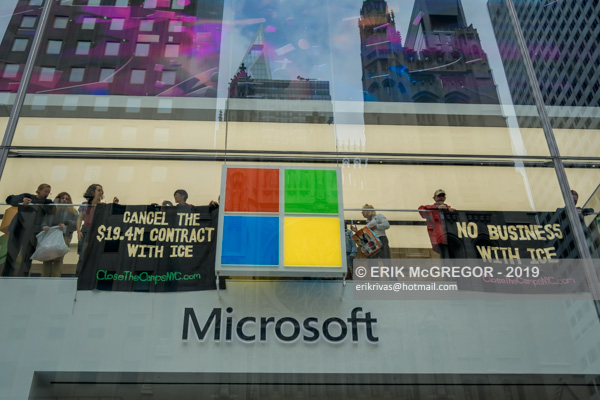 At the end of the day, any institution that does business with ICE makes it easier for them to function. They are participants in our government's attack on immigrants and complicit in violence against families and children at the border and in detention centers across the country.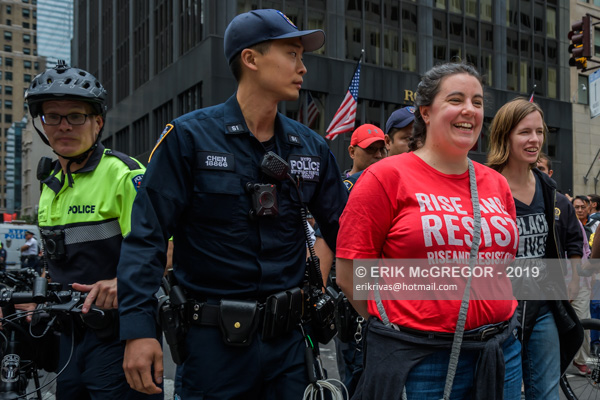 It is time to use our power as residents, students, workers, and consumers to send a clear message: supporting ICE is no longer socially acceptable. If you do business with ICE, then we won't do business with you.
Close the Camps NYC is a coalition of groups and organizers working to close concentration camps in the United States and abolish Immigration and Customs Enforcement (ICE) to demilitarize immigration processes.
© Erik McGregor – erikrivas@hotmail.com – 917-225-8963
PLEASE CONSIDER SUPPORTING MY WORK