New York, NY – Members of the activist group Rise and Resist gathered on July 30, 2020 at the plaza by the Manhattan side entrance to the Manhattan Bridge during rush hour holding signs and banners protesting the incarceration of immigrants by CBP (Customs and Border Patrol) and ICE (Immigration and Customs Enforcement). Participants practiced social distancing safely at the demonstration.
As the country is becoming aware of the Department of Homeland Security snatching people off the streets of Portland without cause, we are reminded that DHS has been snatching people off the streets of this country for years without cause and locking them up in immigrant detention.
The pandemic is dangerous and frightening for everyone, but can you imagine experiencing it while detained in crowded and unsanitary conditions, unable to socially distance, without access to proper medical care, not equipped with PPE and having no control over your own environs?
At the very least, ICE has been negligent, and likely deliberate, in spreading the disease – they've transferred people in immigrant detention from places with high COVID-19 rates to places with lower rates resulting in the spread of the virus to other people.
They've deported people who were sick to other countries and flown people who had tested positive domestically, all resulting in the spread of the disease.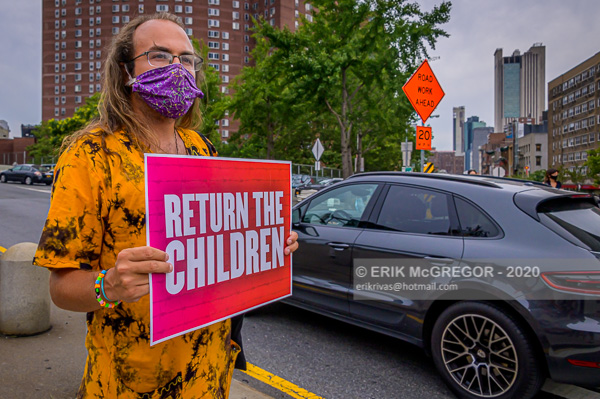 This behavior on the part of ICE and CBP is disgusting and inhumane. The acting secretaries of Homeland Security and ICE, Chad Wolf and Michael Albence must be held accountable. We demand the release of all people in detention now!
© Erik McGregor – erikrivas@hotmail.com – 917-225-8963
PLEASE CONSIDER SUPPORTING MY WORK