Queens, NY – Members of the activist group Rise and Resist performed an IMMIGRANTS MAKE BASEBALL GREAT banner drop on September 7, 2019 during the fifth inning at the Mets-Phillies game in Citi Field to call attention on the current administration immigration policies.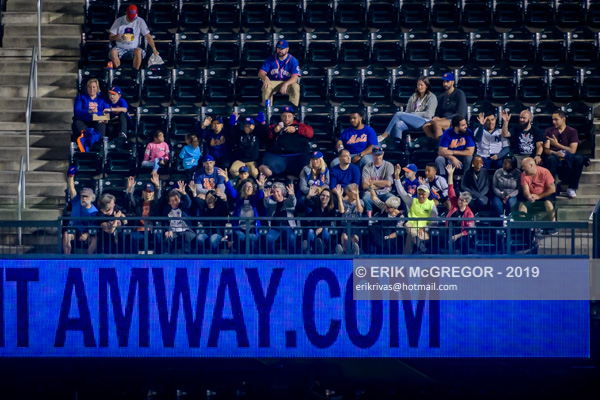 As fans cheer their teams' international stars, most of them Latino, the Administration continues its deadly assault on Latinx people fleeing violence, poverty, and the ravages of climate change. Many of those unlivable conditions were perpetrated by U.S. policies of the last 100 years. Immigrants commit fewer crimes than native-born Americans, and many work dangerous, arduous jobs. More than 90% show up for their asylum/immigration court hearings; they do not need to be locked up in inhumane detention centers.
America's favorite pastime is dominated by immigrants. Some 251 players, 28.5% of the 2019 Opening Day team rosters, were born outside of the 50 United States. 102 of them come from the Dominican Republic, followed by Venezuela (68); Cuba (19); Puerto Rico (18); Mexico (8); Japan (6); with a smattering from 14 other countries.
Immigrants always have and continue to make America great. Yet they are pawns in the Trump Administration's racist, nihilistic campaign to woo the white nationalist vote. The arbitrary, often deadly policies have intensified this summer despite last summer's ruling against family separation as a deterrent.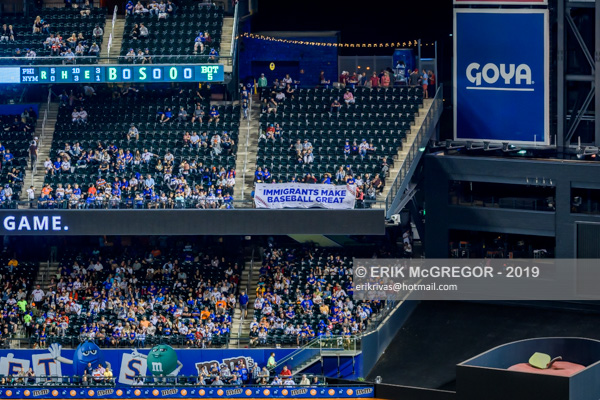 Policies announced in August 2019 alone:
Deporting non-citizens who are receiving treatment for life-threatening illnesses.
Diverting money from FEMA, just as hurricane season begins, to build a border wall.
Denying birthright citizenship to children of U.S. military servicepeople who are born abroad.
The "public charge" rule that turns away immigrants for being poor.
Changing the Flores agreement so children and families can be detained for more than 20 days.
Keeping lawyers and inspectors out of the detention centers.
The largest ICE raid in history, detaining 680 workers in Mississippi on the first day of school.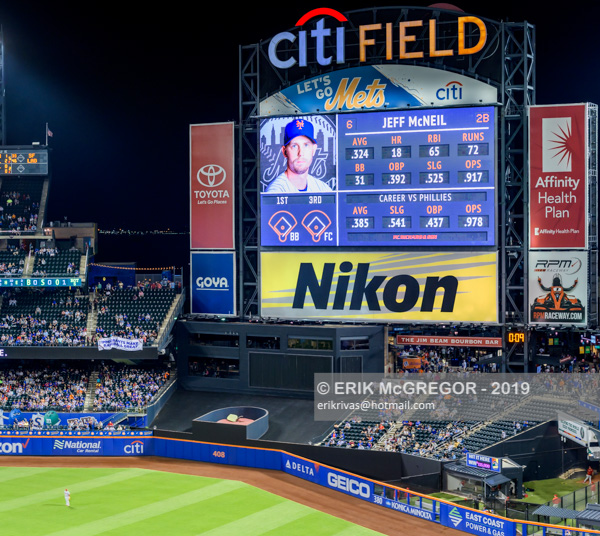 That's one month in an assault on non-white immigrants that began with the Muslim ban in January 2017. Trump's racist, dehumanizing language was also repeated by the mass murderer in El Paso, who slaughtered 22 people on August 3 to "stop the Hispanic invasion."
Baseball is one of the many realms of American life enriched by immigrants. Our banner is both a message of support and a demand for a stop to the deportation and detention of our immigrant brothers and sisters.
© Erik McGregor – erikrivas@hotmail.com – 917-225-8963
PLEASE CONSIDER SUPPORTING MY WORK