New York, NY – Members of the activist group Rise and Resist and concerned New Yorkers held a silent protest on August 15, 2019 at the plaza outside the Staten Island Ferry Terminal, holding NO RAIDS/CLOSE THE CAMPS/ABOLISH ICE banners, photographs of the children who have died in ICE custody, and photographs of the detention camps to object the Border Patrol and ICE cruel and inhumane treatment of immigrants, refugees, and asylum seekers.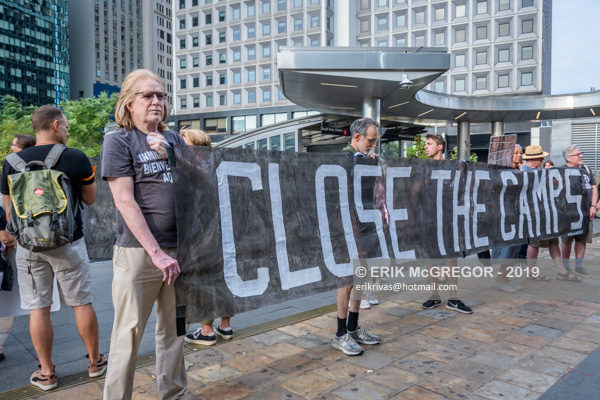 The group called on Congress to close all immigrant detention centers, reunite separated families and for government to cease spending on detention and deportations.
On August 7, U.S. Immigration and Customs Enforcement (ICE) agents took over a small Mississippi community to arrest 680 mostly Latinx workers. According to reports, this is the largest workplace raid in a decade. We're calling these ICE raids for what they are – an act of terror.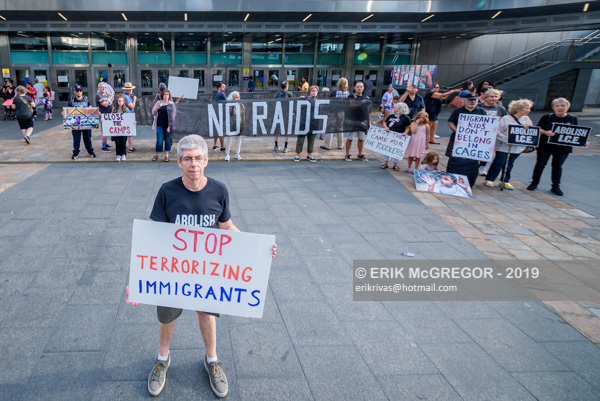 Just days after the El Paso massacre where a gun wielding maniac parroted Trump's anti-immigrant hate, a battalion of ICE agents abducted 680 Latinx and immigrant men and women on Trump's orders.
Latinx and immigrant kids and families have been terrorized this week. The effect of ripping children from their parents at the border or stealing parents away from their children in Mississippi is the same.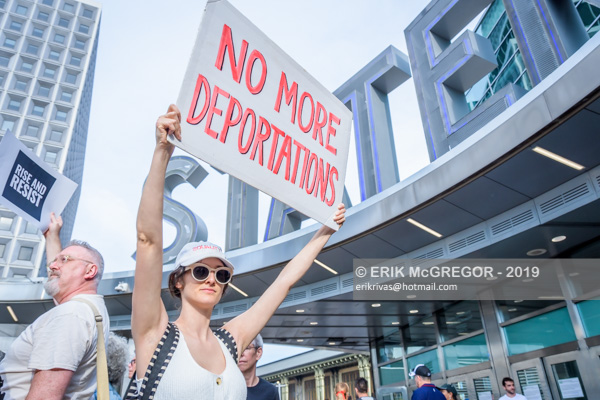 Migrant detention centers have come under scrutiny amid reports of overcrowding and mistreatment. Conditions were so bad at one Texas facility that following media reports, nearly 300 children were removed after it was reported they had no access to showers for extended periods of time, insufficient food and were lacking in other basic necessities.
© Erik McGregor – erikrivas@hotmail.com – 917-225-8963
PLEASE CONSIDER SUPPORTING MY WORK