New York, NY – CUNY students, faculty, community members, joined by Brooklyn Borough President Eric Adams, Manhattan Borough President Gale Brewer, Deputy Public Advocate and newly elected Assembly member Khaleel Anderson participated on a march from Brooklyn Borough Hall to the Defund The Police Occupation at City Hall on June 27, 2020 demanding the city administration to redirect funds from the New York Police Department to the [already underfunded] City University of New York (CUNY), which serves predominantly low-income black and brown students.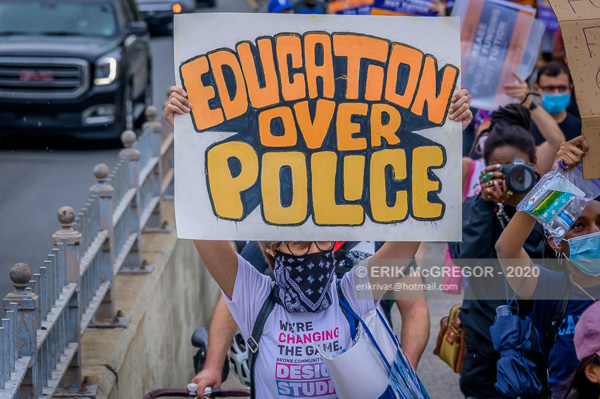 In light of ongoing police violence against our most vulnerable communities, activists are demanding that the City Council cut the NYPD police force and the NYPD budget in half and re-invest in community and social needs.
Even before COVID-19, CUNY was underfunded. Now the CUNY community is in crisis mode; thousands of students have lost their jobs, thousands of adjuncts are in jeopardy of losing their jobs and health insurance, many are facing food insecurity, and to top things off, CUNY will vote to raise our tuition by $320 this June! But the council may rectify this issue.
The University Student Senate calls for the NYPD's budget, which was virtually unchanged in the mayor's first post-COVID financial agenda, to be slashed. It's simply not enough to just cut the NYPD's budget- the Student Senate demands that a portion of their budget ($16 million) gets redirected to the City University of New York to offset the tuition hike community colleges will face if the Board of Trustees vote for it on June 29th.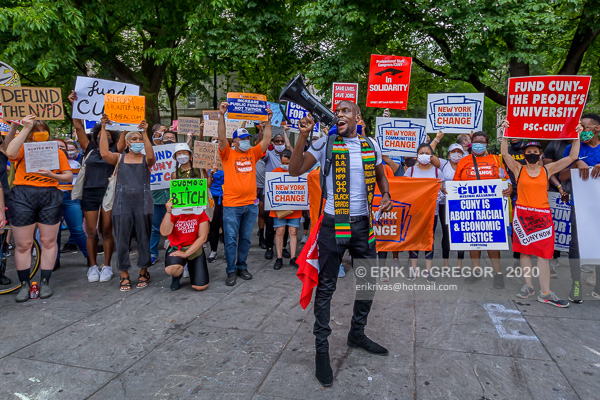 By June 30th, 2020 the City Council will decide on the budget for the 2021 fiscal year.
The City Council has proposed cutting $1 billion from the NYPD budget, though de Blasio has not expressed full support. Earlier this month, he committed to transferring some funds from the NYPD to youth and social services, but did not specify how much.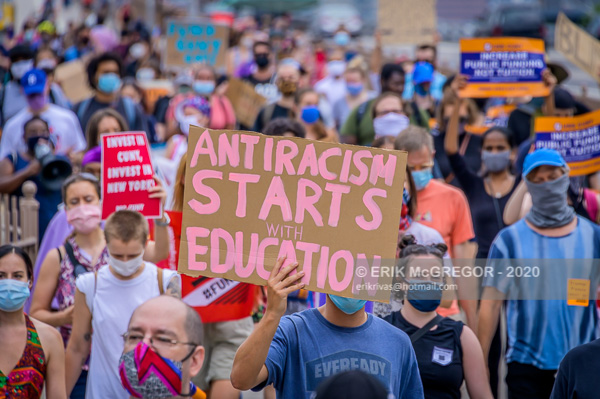 Students and faculty the city and state fund CUNY, not cops!! Even before the pandemic, CUNY was starved of funds. Black and brown students deserve a quality public education! We demand money gets redirected from law enforcement budgets to public higher education.
© Erik McGregor – erikrivas@hotmail.com – 917-225-8963
PLEASE CONSIDER SUPPORTING MY WORK