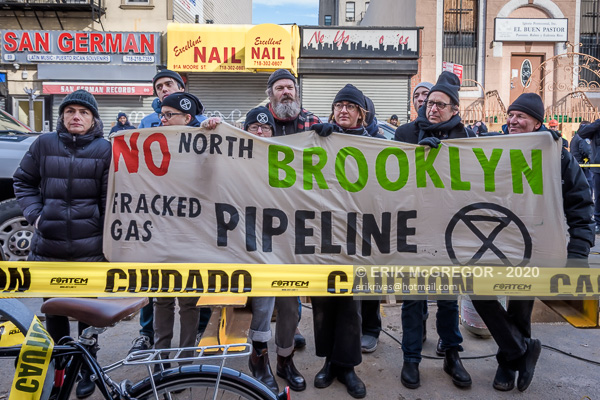 Brooklyn, NY – 10 people from the climate activist group Extinction Rebellion NYC were arrested in Bushwick on February 28, 2020 for blocking the construction of the North Brooklyn fracked gas transmission pipeline for over 2 hours in a non-violent civil disobedience protest of this massive fossil fuel project.
In April of last year, New York City declared a climate and ecological emergency. Just this month, the Mayor's office committed to ban new fossil fuel infrastructure. Despite this, National Grid's Metropolitan Reliability Infrastructure (MRI) project is underway: a 30-inch-wide, 6.8-mile-long natural gas pipe snaking through the heart of Brooklyn, from Brownsville to Greenpoint.
Extinction Rebellion's second demand states that "Government must act now to halt biodiversity loss and reduce greenhouse gas emissions to net zero by 2025." The construction of this pipeline directly conflicts with the governments' statements and the actions necessary to meet that demand.

As severe storms, droughts, and wildfires caused by global heating threaten millions of lives, Jessica Serrante says "Permitting the completion of the North Brooklyn pipeline is not only irresponsible and immoral — it is a crime against humanity and all life on Earth."
For the construction of this pipeline, National Grid continues to tear up streets in low-income neighborhoods and lay down pipe as the community objects. Public Advocate Jumaane Williams has called the project "deceptively undertaken," as construction stealthily began in 2017 without informing residents and business owners who would be directly impacted.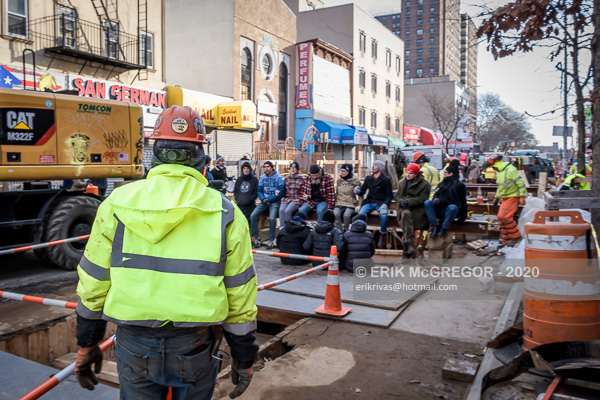 As a consequence of this $185 million expansion, ratepayers will see a spike in their utility bills, as National Grid forces residents to fund a project that elevates the risk of gas leaks and explosions in vulnerable communities, while contributing to deadly greenhouse gas emissions.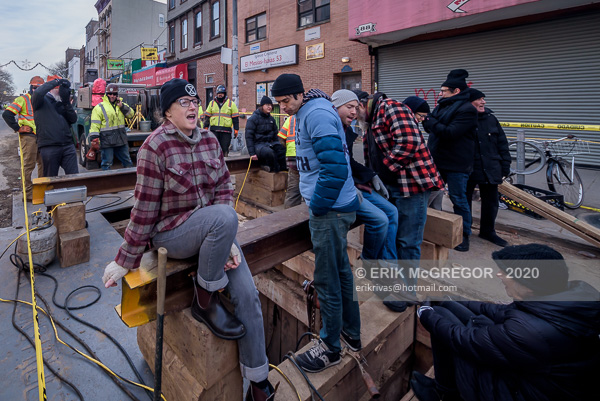 On Saturday, February 18, a coalition of North Brooklyn communities and environmental groups —including Sane Energy and Extinction Rebellion—held a demonstration at Moore Street and Manhattan Avenue, calling on Governor Cuomo to stop the pipeline. In response to the protest, National Grid halted construction on that Saturday, but then resumed the work within three days.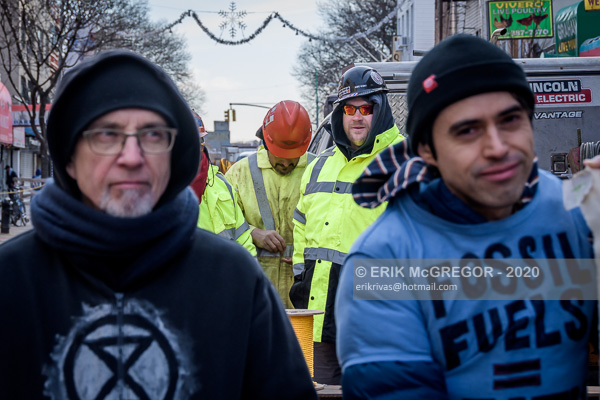 This pipeline—now 80% complete and awaiting approval of its final phase—delivers fracked gas to a Greenpoint depot where bomb trucks will transport the gas to Long Island and New England. New Yorkers will receive no benefit from this "reliability project" while paying for climate destruction.
Next to the Greenpoint depot that could soon house this massive supply of natural gas, a 1978 spill released 30 million gallons of oil into Newtown Creek, poisoning North Brooklyn's groundwater. National Grid's parent company was responsible for this disaster—among the largest oil spills in US history—as their new pipeline may deliver untold volumes of fracked gas to a floodplain increasingly vulnerable to rising seas.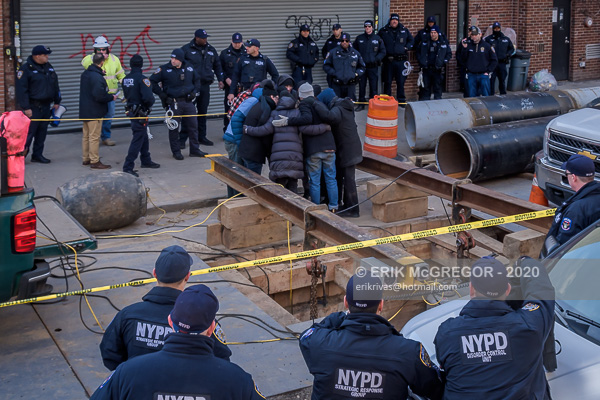 In protesting this pipeline, Extinction Rebellion stands in solidarity with the Wet'suwet'en nation, who continue courageously resisting TC Energy's Coastal GasLink pipeline in British Columbia. It is important to acknowledge that Brooklyn is the unceded territory of the Canarsee people of the Lenape Nation, and this North Brooklyn pipeline represents a further assault on sacred land.
Extinction Rebellion and Sane Energy will hold another public rally to stop the North Brooklyn Pipeline on the morning of Saturday February 29! The coalition demands that Governor Cuomo and Mayor de Blasio halt construction of the North Brooklyn pipeline and act immediately to divest from fossil fuels and bring renewable energy to New York City.
© Erik McGregor – erikrivas@hotmail.com – 917-225-8963
PLEASE CONSIDER SUPPORTING MY WORK