Brooklyn, NY – Community members from across North Brooklyn joined climate activist group Extinction Rebellion NYC at a rally on Manhattan Avenue and Moore Street near the construction site of National Grid's controversial Metropolitan Reliability Infrastructure (MRI) project shutting down again construction for the day on February 29, 2020.
Community calls for immediate, permanent halt of construction and on Mayor De Blasio, and Governor Cuomo to oppose project.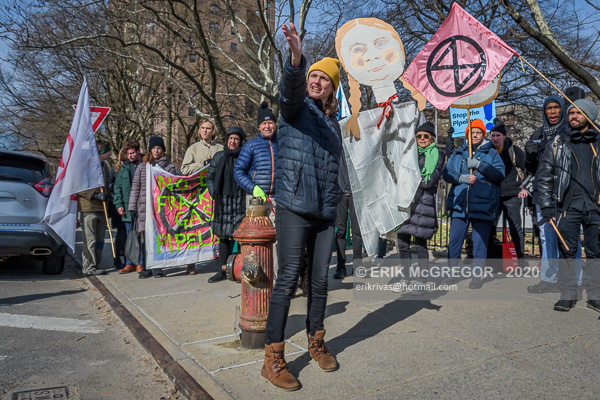 Last weekend, New Yorkers from all over the city came together to shut down the NBK Pipeline — National Grid heard we were coming and cancelled construction.
The next day they went back to work, and as you read this they continue to build their $180 million fracked gas pipeline through the streets of Williamsburg, locking in decades of methane emissions we cannot afford as we teeter off the climate cliff.
We stand in solidarity with the Wet'suwet'en first nation, and all indigenous and marginalized groups who have been fighting corporate climate colonialism for generations. We also stand in a coalition of resistance to this pipeline with Sane Energy, Sunrise Movement, 350 BK, and the DSA.
Together, and only together, can we stop this pipeline and all new fossil fuel infrastructure in favor of community-owned renewable energy for all.
© Erik McGregor – erikrivas@hotmail.com – 917-225-8963
PLEASE CONSIDER SUPPORTING MY WORK