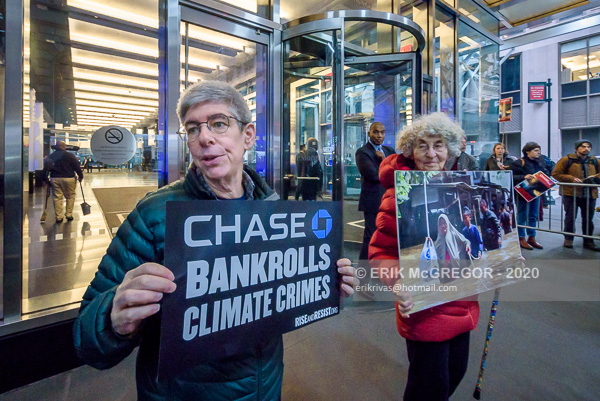 New York, NY – New Yorkers and activists from the Stop the Money Pipeline Coalition gathered outside JP Morgan headquarters in New York on February 25, 2020 during Chase Bank's Investor Day demanding Chase to end its massive funding of fossil fuel industry.
Just days after dozens were arrested and hundreds of climate protesters shut down Chase's Pacific Northwest headquarters in Seattle, a large coalition of activists and community leaders rallied today at Chase Bank's annual Investor Day event in Midtown Manhattan to hold the world's worst funder of fossil fuels accountable for its financing practices.
Protest organizers say they are united in determination to continue to grow their campaign, despite yesterday's announcement of a modest new policy barring financing of some types of fossil fuels, determined to confront them with their climate crimes and make sure they understand that we won't stand for business as usual anymore.
The colorful and at times raucous demonstration focused attention on Chase as a primary driver of the planetary climate crisis, and activists delivered a petition with tens of thousands of signatures by Sierra Club and Friends of the Earth calling on notorious climate denier and former Exxon CEO Lee Raymond to be fired from Chase's Board of Directors.
Chase's biggest investors —Vanguard, Fidelity, BlackRock, State Street, the Capital Group, etc.— will gather at JP Morgan Chase's headquarters for the annual Investors' Day meeting. Without their support, Chase wouldn't have the billions to trash the planet. We will greet the investors in force as they arrive for the meeting.
In the three years after the Paris Agreement, JPMorgan Chase provided $196 billion in finance for fossil fuels. According to the Banking on Climate Change 2019 report, Chase is by far the world's biggest banker of fossil fuels and fossil fuel expansion, making it the worst banker of climate change.
JPMorgan Chase's volume of finance for fossil fuels 2016-2018 is a shocking 29% higher than the second placed bank, Wells Fargo; and it's $67 billion in finance for the companies expanding fossil fuels is 68% higher than that of Citi, in distant second place.
Chase CEO Jamie Dimon has been interrupted during public speaking events nearly a dozen times over the past year, while hundreds have been arrested and thousands have taken to the streets at Chase branches across the country protesting the bank's influential role in driving the climate crisis.
Here in North America, Chase is funding the companies behind two proposed tar sands pipelines, and the Coastal GasLink fracked gas pipeline which is being opposed by the hereditary chiefs of the Wet'suwet'en Nation in British Columbia and which has sparked solidarity protests throughout North America.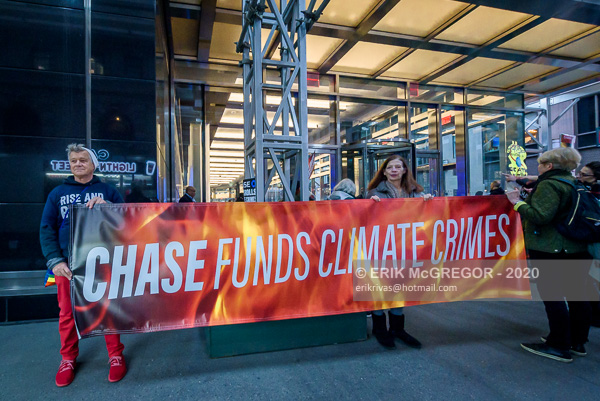 These pipelines threaten natural ecosystems, violate Iindigenous people's rights, and would further lock us into fossil fuel dependency at a time when we know we must rapidly phase out of coal, oil and gas and transition to clean energy.
Globally, Chase is funding companies planning big new fossil fuel projects – new pipelines, new coal mines, new coal power plants and tapping new oil and gas reserves. Today's funding of these industries equals tomorrow's climate chaos.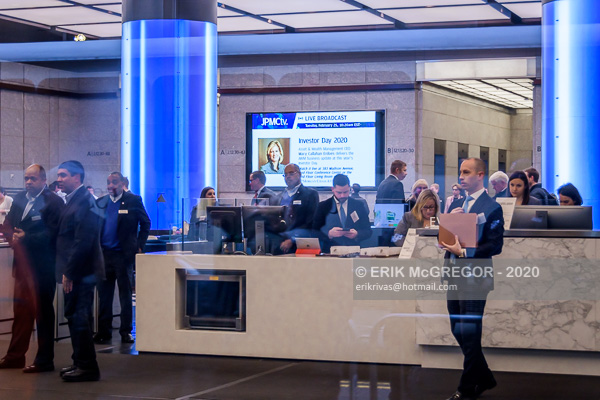 Chase has been the target of escalating climate campaigns for a number of years, but since RAN's report identifying it as the worst of the worst, the campaign has grown rapidly into a broad national movement endorsed by dozens of organizations, called the Stop the Money Pipeline coalition.
Today's protest was organized by New York-based Rise and Resist, 350.org/350 Brooklyn/350 NYC, Friends of the Earth U.S., Rainforest Action Network (RAN), Brooklyn For Peace, Sunrise NYC, Seeding Sovereignty, Food and Water Watch NY, People's Climate Movement NY, Climate Mondays, Mighty Earth, Bronx Climate Justice North, Extinction Rebellion NYC, and Indivisible Nation BK.
© Erik McGregor – erikrivas@hotmail.com – 917-225-8963
PLEASE CONSIDER SUPPORTING MY WORK