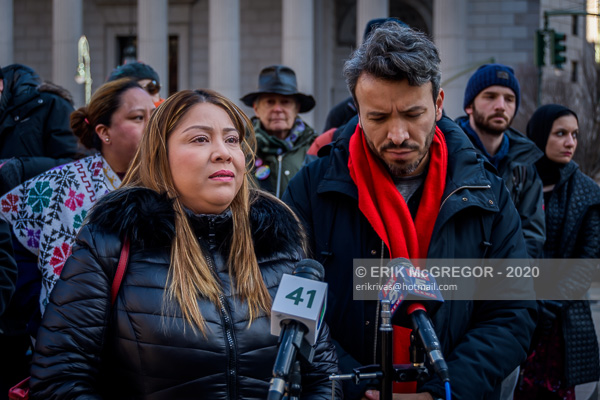 New York, NY – Immigration advocates, community organizations, elected officials and Friends gathered at Foley Square on February 21, 2020 for a press conference with Carmen Cruz, mother of Erick Díaz-Cruz, who was shot in the cheek by ICE agents at his family's Brooklyn home, to demand that our Congressional Elected Officials support asylum and parole for Gaspar Avendaño-Hernandez who was kidnapped by I.C.E. and for AG Tish James to investigate I.C.E. for the unjust shooting of Erick Diaz-Cruz.
Erick Diaz Cruz, 26, was traveling with his girlfriend on tourist visas when he became embroiled in a confrontation between ICE agents and his mother's longtime partner earlier this month in Brooklyn.
Erick Díaz-Cruz was supposed to return to his native Mexico last Wednesday. Instead, that was the day he was released from Brooklyn's Maimonides Hospital, where he underwent extensive facial surgery after an Immigration and Customs Enforcement (ICE) agent shot him in the cheek during a Feb. 6 raid in Gravesend.
The agents were seeking to detain his mom's partner of 12 years, Gaspar Avendaño-Hernández, who had been arrested three days earlier on a felony criminal charge.
Carmen Cruz — Erick's mother, who has lived in the U.S. for 21 years — saw the whole thing. "It was so painful. There are no words," she said. "I want justice for my son and for my partner to be free."
The incident is being investigated by the Department of Homeland Security's Inspector General.
© Erik McGregor – erikrivas@hotmail.com – 917-225-8963
PLEASE CONSIDER SUPPORTING MY WORK