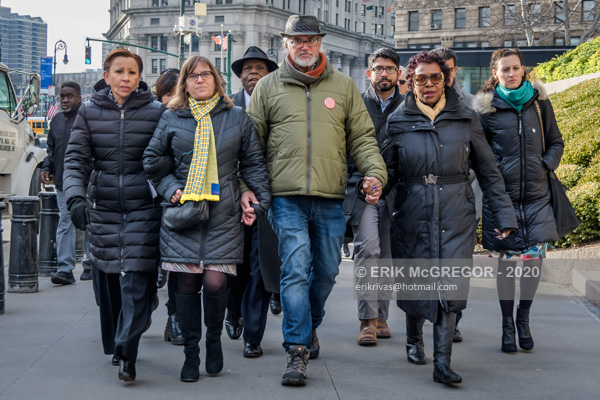 New York, NY – Immigration advocacy groups, faith leaders, elected officials and supporters gathered at Foley Square outside the immigration court building at 26 Federal Plaza, in a solidarity action for Ravi Ragbir, New Sanctuary Coalition Director at his U.S. Immigration and Customs Enforcement (ICE) check-in, to speak out against ICE's harassment of immigrant communities and targeting of their leaders.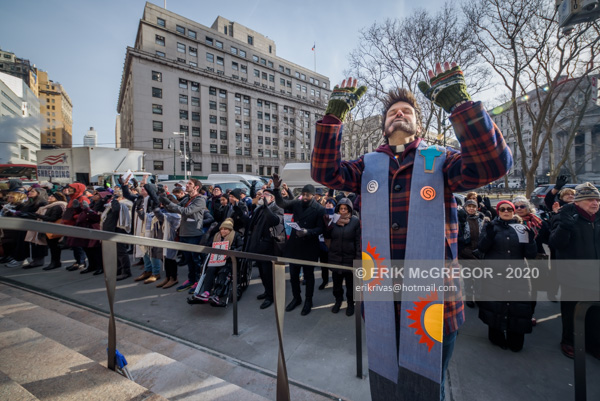 Supporters with posters outside immigration court building, held a silent march known as Jericho Walk around federal building to honor those leaders who have already been deported, and pledge to continue the fight to dismantle this unjust system.
On January 23, 2020 Ravi Ragbir, Executive Director of the New Sanctuary Coalition, attended his supervision appointment with U.S. Immigration and Customs Enforcement (ICE). Ragbir was accompanied by a delegation of elected officials and faith leaders to his appointment inside 26 Federal Plaza. Although he was not detained, Ragbir must return on July 23.
The agency continues to target Ravi for his activism, as part of a nationwide pattern and practice of targeting activist leaders. A federal court stay of removal prevents ICE from deporting him.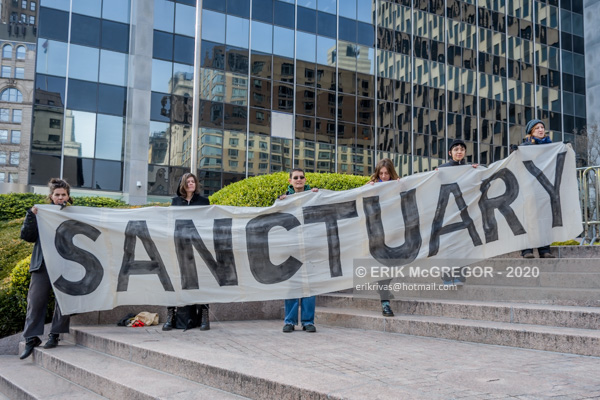 Ragbir came to the U.S. as a greencard holder but now faces the double punishment of deportation based on a single fraud conviction he received almost twenty years ago.
He was given a final order of deportation in 2007 but was placed on an order of supervision in 2008, allowing him to live and work in the U.S. During that time, he became active in the immigrant rights movement, and paid the price for that activism when ICE detained him on Jan. 11, 2018, and tried to deport him.
A federal appeals court has recognized that the First Amendment protects immigrants from retaliation for their protected political speech and has issued a temporary stay of Mr. Ragbir's deportation. The government is deciding whether to appeal the decision.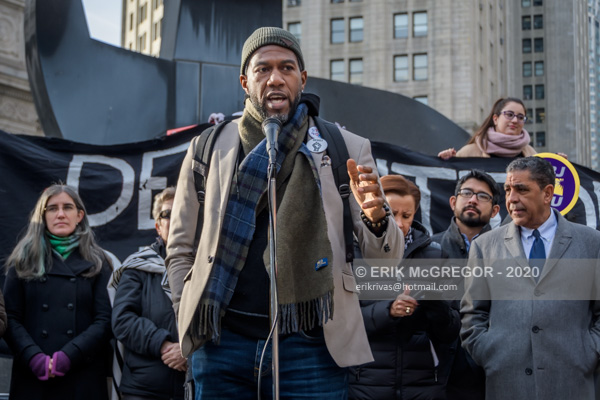 At the rally, Public Advocate Jumaane Williams told the assembled crowd, "I happen to have the privilege of being a citizen. And everybody who has privilege has to use that to protect those who don't, those who are being abused and oppressed. That is our duty to stand in the gap. It is our duty to make sure we are lifting up those who have been oppressed by a system…. How do you have a life when you have to check in every six months and you don't know what's going to happen?"
Pastor Kaji Dousa, Senior Pastor, Park Avenue Christian Church and co-chair, New Sanctuary Coalition, said at the rally, "Ravi Ragbir is one of the strongest forces in the immigration movement, standing up with and for righteousness, rights, and the soul of our city and nation. For his work, ICE has tried to silence and disappear him. Ravi belongs right here, in his home, New York City, which stands with him every step of the way. When he walks out of ICE today, he will walk right back into his activism. Because the government of this impeached President cannot and will not stop this movement."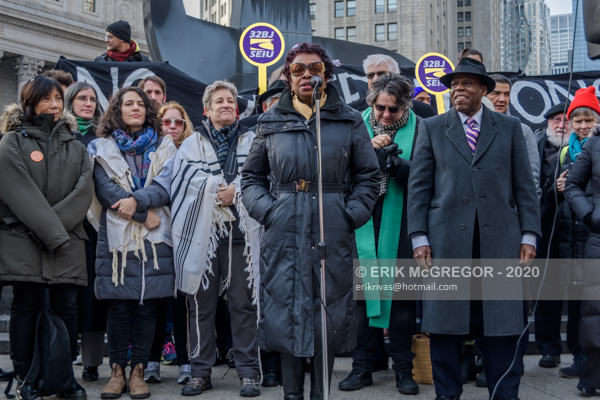 Congressmember Yvette Clarke, who also spoke at the rally and accompanied Ragbir inside the ICE office, said "I was honored to accompany Ravi, a highly revered human rights activist to his check in today, joined by Congressmember Nydia Velasquez. Of course there was a lot of bureaucratic tousling but we ultimately got into his check in. He is stayed again for another six months, but this system needs to be changed. He is no threat to our communities. He has been lawful in his presence and we look forward to his vindication."
Alina Das, Ragbir's attorney said, "When ICE detained Ravi two years ago, they said it was because of public safety. But we are the public, and we are safer because Ravi is here. ICE targeted Ravi because he spoke out against a cruel and unjust system. He is still here because the public has spoken out for him. We are grateful that Ravi is still with us, and we will continue to fight to protect the rights of all immigrants."
Ragbir's wife, Amy Gottlieb, said "We are so grateful to have the support of our legal team, our families, our friends, our elected officials, our faith leaders, as ICE continues to try to exert power over our lives. But we know that we will walk out each time, and that our power as a united community will overcome injustice and lead us to victory."
© Erik McGregor – erikrivas@hotmail.com – 917-225-8963
PLEASE CONSIDER SUPPORTING MY WORK