New York, NY – One year after Malaysia Goodson's death falling on subway stairs carrying her daughter's stroller and three years after filing CIDNY v MTA, NY State subway accessibility lawsuit, public transportation and disability rights advocacy groups gathered on January 28, 2020 outside the New York County Courthouse before the hearing with Judge Shlomo Hagler to demand Governor Cuomo, Mayor DeBlasio and MTA settle subway access lawsuits.
Disability advocacy groups and members of the plaintiff gathered on November 6, 2019 outside the New York County Courthouse to rally before the hearing with Judge Shlomo Hagler for their righteous lawsuit mandating elevators in every New York City subway station and to demand true MTA system accessibility. (Photo by Erik McGregor)
Activists are demanding a binding, legal timeline for full accessibility (MTA, Put It In Writing!) to address the fundamental inequity in public transportation caused by NYC's worst-in-country accessibility. The subway is the literal through-line between work, school and home for most New Yorkers; future generations need this agreement to make transit truly public –safe, accessible and inclusive for everyone.
Malaysia Goodson died Jan 28, 2019 after falling down stairs carrying her infant daughter in a stroller. For nearly two years prior, MTA had been fighting CIDNY v MTA lawsuits, filed in April 2017, demanding safe access for people with disabilities — and parents with strollers — stations like the one where Malaysia died.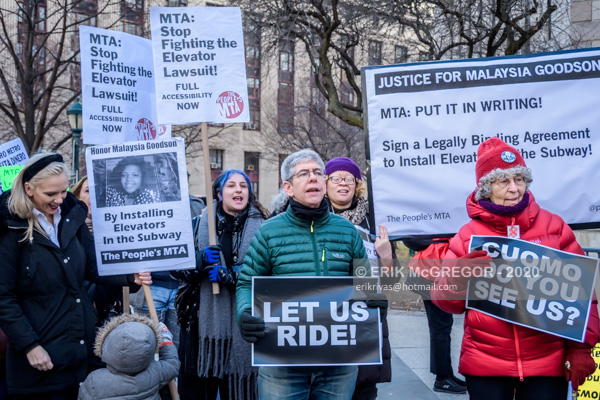 What's happened since? On June 5 2019, Judge Hagler emphatically denied MTA motions, citing settled law — and recent decisions — and repeating his refrain: "Justice Delayed is Justice Denied." Yet rather than backing down, MTA doubled down. Appealing even as case proceeds toward trial (there will be a hearing in Hagler's courtroom at 10 am on Jan 28, immediately following Tuesday's rally).
And since then, rather than legally committing to a timeline for full accessibility, MTA has announced $5.5B plans to renovate 70 stations with elevators. Sounds good — before recognizing (1) lack of legal guarantees; (2) relatively meager improvement — system still les than 40 percent inaccessible even if work completed and (3 inordinate costliness of proposal, which ignores more reliable, less costly alternatives like ramps.
Instead, MTA leadership asked attorneys at Paul Weiss to fight accessibility guarantees at full tilt. Including bombardment of individual plaintiffs with paperwork demanding documentation of family (location of children's schools), medical (listing of medical providers) and recreational activities (wheelchair tennis league information). This tenuously relevant legal work is being paid — at hourly rates exceeding $1k — from a budget MTA leaders claim cannot afford accessibility. A budget funded by taxpayers and riders who need safe, accessible transit around their city. It just doesn't add up.
© Erik McGregor – erikrivas@hotmail.com – 917-225-8963
PLEASE CONSIDER SUPPORTING MY WORK