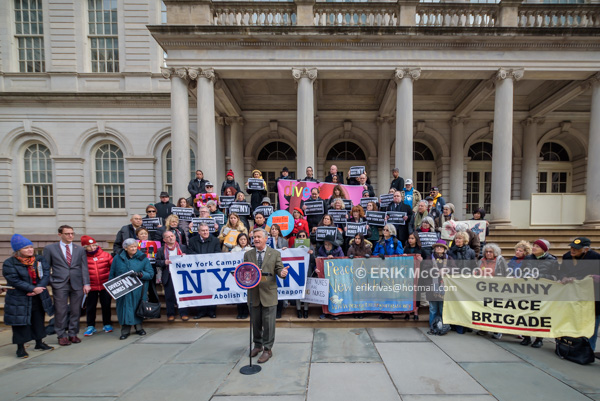 New York, NY – Activists and advocates seeking to abolish nuclear weapons gathered on January 28, 2020 at the steps of City Hall for a press conference followed by a hearing at New York City Council on two pieces of disarmament legislation that instruct the Comptroller of New York to divest the city's pensions and finances from nuclear weapons producers, to affirm New York City as a nuclear weapons-free zone and for the City Council to officially urge the federal government to sign and ratify the 2017 Treaty on the Prohibition of Nuclear Weapons.
Ray Acheson of the International Campaign to Abolish Nuclear Weapons (ICAN), 2017 Nobel Peace Laureate, together with Zia Mian of Princeton University, will address the historic Treaty on the Prohibition of Nuclear Weapons and how the risk of nuclear war is increasing. Retired NYC public school teacher and pension holder Robert Croonquist will encourage divestment from nuclear weapon producers. Supporting Council Members, including lead sponsor Council Member Daniel Dromm (D-Jackson Heights, Elmhurst) also spoke at the press conference.
The Bulletin of the Atomic Scientists announced on January 23rd that the Doomsday Clock is now at 100 seconds to midnight, the closest it has ever been to nuclear catastrophe in the 75 years of the nuclear age. Dr. Rachel Bronson President of the Bulletin said, "The current environment is profoundly unstable and urgent action and immediate engagement is required by all."
"Now is the time to cease investing in our mutually assured destruction and redirect our investments to our mutually assured survival," said Robert Croonquist, retired NYC public high school teacher.
New York City Council is taking such bold action for nuclear disarmament in new legislation to be considered on January 28 at 1 PM in Council Chambers. The resolution "calls upon the New York City Comptroller to instruct the pension funds of public employees in New York City to divest from and avoid any financial exposure to companies involved in the production and maintenance of nuclear weapons, reaffirms New York City as a Nuclear Weapons Free Zone, and joins the ICAN Cities Appeal, which welcomes the adoption of and calls on the United States to support and join the Treaty on the Prohibition of Nuclear Weapons", this together with a bill that will create an "advisory committee to examine nuclear disarmament and issues related to recognizing and reaffirming New York city as a nuclear weapons-free zone."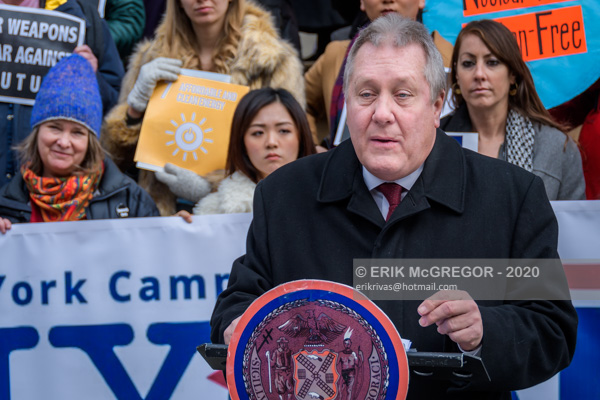 Leading the charge is Finance Chair and New York City Council Member Daniel Dromm (D-Jackson Heights, Elmhurst). "Our divestment from nuclear weapon producers will send a clear signal to financial institutions and corporations around the world that hard-working New Yorkers refuse to profit from the sordid and arguably illegal industry that maintains weapons of mass destruction, the very same that target our city and endanger our first responders. Through this progressive legislation on nuclear disarmament we are aligning our city's financial power with our progressive values."
The world is increasingly concerned about a renewed nuclear arms race. Just since the start of the new year, a year that marks the 75th anniversary of the bombing of Hiroshima and Nagasaki, Iranians are enriching uranium at a higher rate than before the nuclear deal which is now in tatters; the US has doubled down on its modernization plans to spend $1.7 trillion on new nuclear weapons, and Russia has introduced new nuclear delivery systems suggesting a missile gap. In response, New York City is stepping up to its responsibility for its historic role in the creation of the first nuclear weapons by spending cultural and economic capital to call time on nuclear brinkmanship.
© Erik McGregor – erikrivas@hotmail.com – 917-225-8963
PLEASE CONSIDER SUPPORTING MY WORK