New York, NY – Disability, transit and other activists held a rally outside the 60 Centre Street courthouse on Thursday, August 1, 2019 calling on Gov. Cuomo, who controls the MTA, to make a legally binding commitment for full subway accessibility.
The rally-goers held Cuomo masks and have a full-size Cuomo cutout. They then attended a 10 a.m. hearing before Judge Shlomo Hagler, who is presiding over a court case, filed in 2017, charging that the lack of subway elevators is a violation of the city's Human Rights Law. The governor and the MTA have not settled the lawsuit.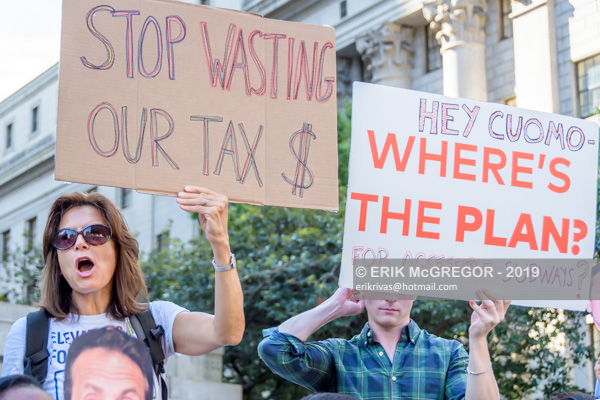 In June, Judge Hagler rejected the MTA and the City's motions to dismiss the case, but the MTA has said it will appeal. Currently, fewer than 25% of the city's 472 subway stations are accessible.
Note: Another case, Forsee v. MTA, will be heard before Judge Edgardo Ramos in federal court on August 1 at 2 p.m., 40 Foley Square, Courtroom 619.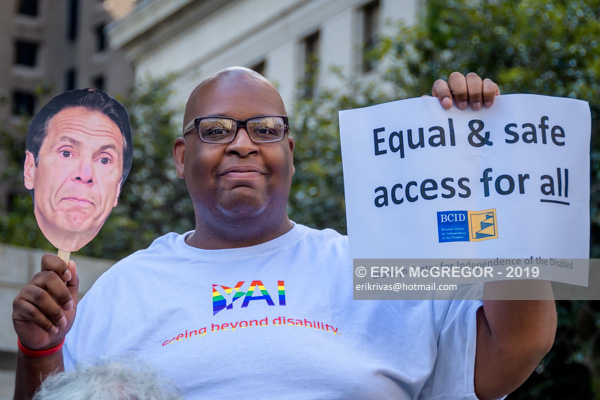 The lawsuit charges the MTA and the City with violating the Americans with Disabilities Act by renovating subway stations without making them accessible.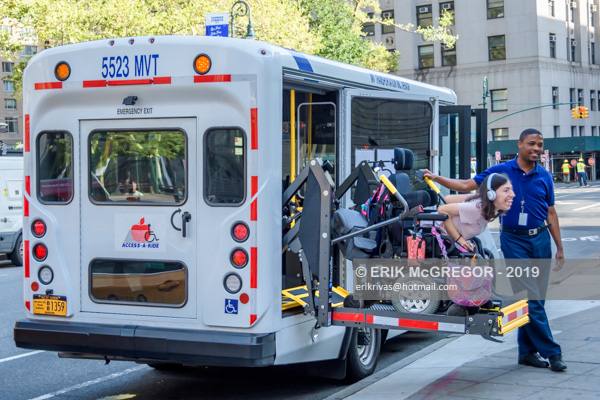 Organized by Brooklyn Center for Independence of the Disabled (BCID); Center for Independence of the Disabled, New York (CIDNY); Disabled In Action; Elevator Action Group—Rise and Resist; and other groups and individual plaintiffs.
© Erik McGregor – erikrivas@hotmail.com – 917-225-8963
PLEASE CONSIDER SUPPORTING MY WORK