New York, NY – In the aftermath of Trump Tower forbidding protest signs, placards and posters, activists from the group Rise and Resist circumvented the rule staging a protest on July 31, 2019 inside Trump Tower.
Participants conveyed their message by wearing T-shirts printed with messages supporting the four congresswomen attacked on Trump's recent racially inflammatory tweets.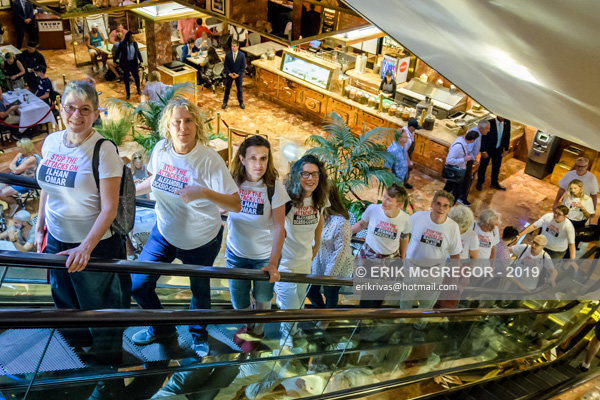 Sickened and saddened by Trump's racist attacks and policies, members of Rise and Resist wore shirts in support of Reps. Tlaib, Omar, Pressley, and Ocasio-Cortez at Trump Tower.
Thousands of activists have taken to the streets and public places recently to counter the constant injustices of this administration. The resistance movement is gaining strength.
In racist tweets over past weeks, Donald Trump almost certainly was referring to this group of liberal House freshmen whose elections in 2018 helped return the chamber to Democratic control.
Among Trump's tweets: "Why don't they go back and help fix the totally broken and crime infested places from which they came."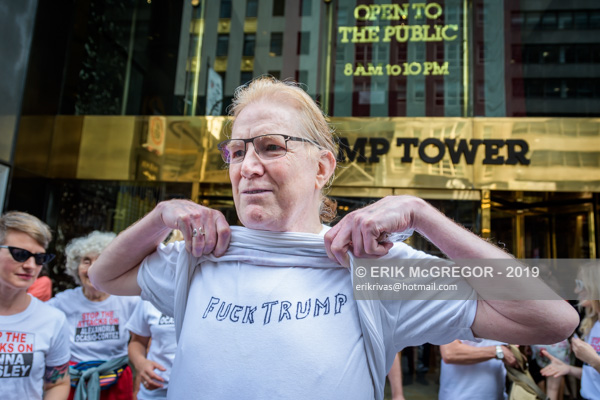 They're all women of color. Every one of them is an American citizen. And of the four members of the self-styled "squad" duly elected to the House of Representatives, only one was born outside the U.S.
© Erik McGregor – erikrivas@hotmail.com – 917-225-8963
PLEASE CONSIDER SUPPORTING MY WORK