New York, NY – Three immigrants died in US custody this month. They're packed into facilities so tightly that they're standing on toilets, struggling to breathe. In some cases medical care is being denied to folks crossing the border. And thousands of detainees are being held in isolation cells, some because they're transgender or mentally ill.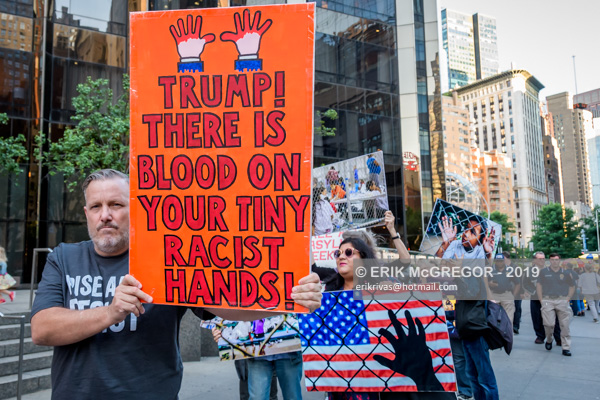 Absorbing the daily reporting of atrocities is sometime difficult to process. Americans grew up learning about concentration camps as a historical evil, never to be repeated again. What do we do now that our own elected officials are the progenitors of a culture of hate, causing death and injury to innocent people?
Of the many disturbing and illegal actions by this Trump administration, the continued treatment of families at the Mexican border is deeply upsetting.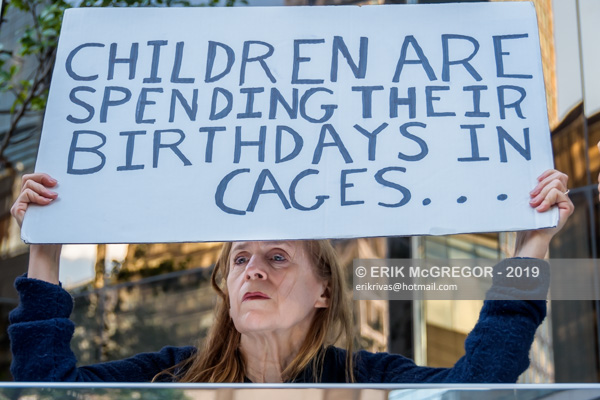 The administration recently reduced much needed aid to Honduras, Guatemala, and El Salvador, many of the families that arrive from those and other countries are here as a matter of life and death, and they are met with racism, brutality, family separation, and inhumane policy.
Activists in New York City used the opportunity on Trump's birthday to call attention to the atrocities. Direct action group held a demonstration outside the Trump International Hotel on June 14, 2019 holding poster-sized pictures illustrating the cruel conditions asylum seekers are facing when crossing the border.
A cage from the #NoKidsInCages campaign created by Badger & Winters in support of RAICES will be used during the demonstration.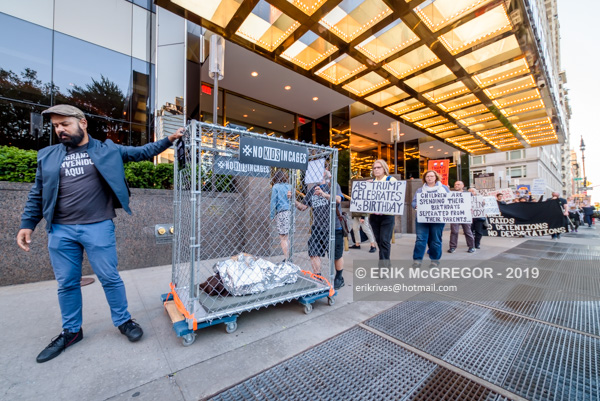 Previous Rise and Resist demonstrations include "Seeking Asylum Is Not a Crime" protests at The Oculus and Trump Tower, and a Trump Hotel civil disobedience action where 20 people were arrested protesting Trump's declaration of a national emergency.
© Erik McGregor – erikrivas@hotmail.com – 917-225-8963
PLEASE CONSIDER SUPPORTING MY WORK