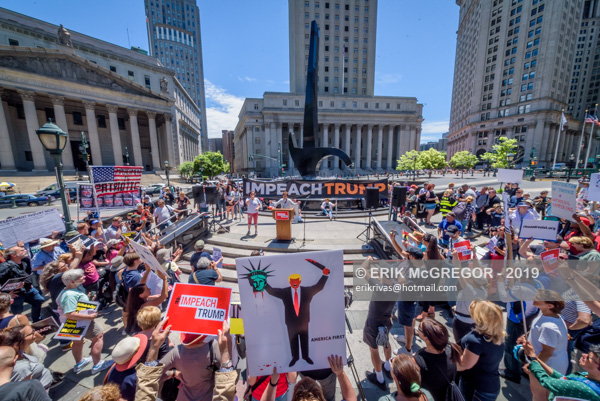 New York, NY – Concerned Americans in New York City joined The New York City Coalition to Impeach Donald Trump on a nationwide day of action coordinated by Move On and By the People and dozens of other partners calling for an impeachment inquiry on June 15, 2019 at Foley Square.
Similar events took place in more than 130+ cities and towns around the country, including New York, Los Angeles, Phoenix, Miami, Juneau, AK, Livingston, MT, Boston, and Detroit.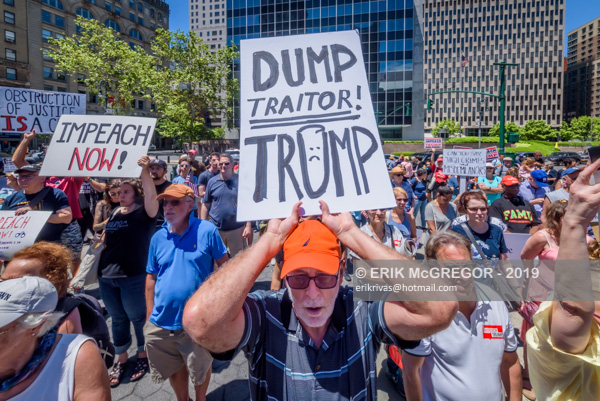 Day of Action events will take numerous forms to demonstrate public outrage at Trump and pressure on Congress to act. In New York's Foley Square, a coalition of New York City, Congresswoman Carolyn Maloney, NY-12, will give remarks.
Grassroots organizers will also give public readings of impeachment calls from Rep. Rashida Tlaib (D-MI), Rep. Al Green (D-TX), and Sen. Elizabeth Warren (D-MA), and a discussion of the range of abuses and crimes against our communities and Constitution that warrant an immediate impeachment inquiry. Tlaib and Green are co-sponsors of a House resolution to begin an impeachment inquiry.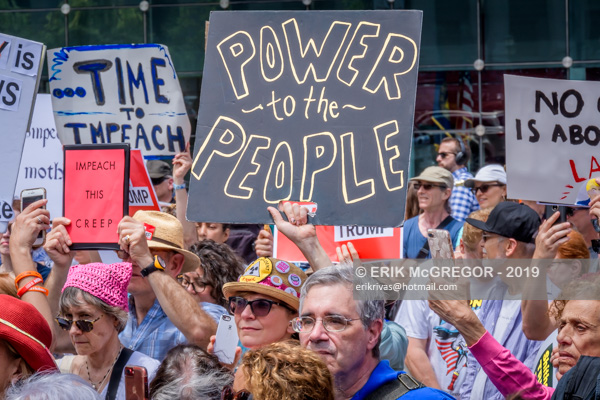 The percentage of Americans in favor of impeachment has steadily risen in response to the release of the Mueller report and Mueller's subsequent statement. A recent Reuters poll found that 45 percent of Americans currently support impeachment, compared to 42 percent opposed. Public support for impeachment is significantly higher than it was when Congress began impeachment inquiries into Richard Nixon.
Donald Trump's abuses of our communities and country demand action from Congress, which has the responsibility and authority to hold Trump accountable. The next crucial step is an inquiry into whether to draft articles of impeachment.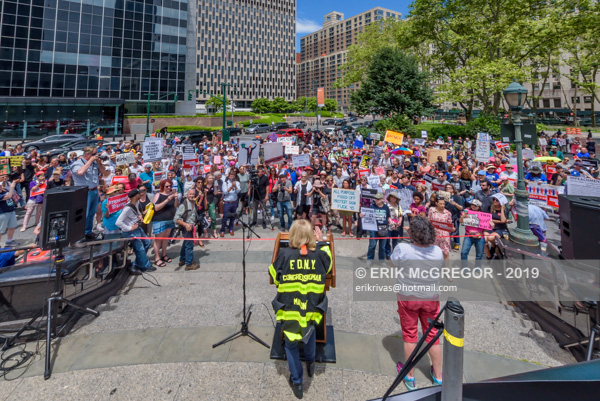 The New York City Coalition to Impeach Donald Trump include: Empire State Indivisible, By the People, Need to Impeach, Black Lives Matter Greater New York, CREDO Mobile, The New York Immigrant Coalition, Rise and Resist, Indivisible Nation BK, Four Freedoms Democratic Club, Indivisible Activate NYC, Indivisible Queens, Indivisible Westchester Districts 6&7, Upper West Side MoveOn/Indivisible Action Group, Action Group Network, Indivisible Harlem, Indivisible New Rochelle and more.
© Erik McGregor – erikrivas@hotmail.com – 917-225-8963
PLEASE CONSIDER SUPPORTING MY WORK