New York, NY – Hundreds of women gathered at Washington Square Park and took to the streets of Manhattan on October 17, 2020 as part of several nationwide coordinated events to denounce Donald Trump's actions to replace a Supreme Court justice ahead of the presidential election. Although the fourth annual Women's March occurred earlier this year, today's event was organized in honor of the late Justice Ruth Bader Ginsburg.
The group behind the Women's March, which is held in January, called on women across the country to organize events following the death of Supreme Court Justice Ruth Bader Ginsburg and the Republican Party's decision to push through a replacement before the Nov. 3 presidential election. Ginsburg died last month of complications from pancreatic cancer. She was 87.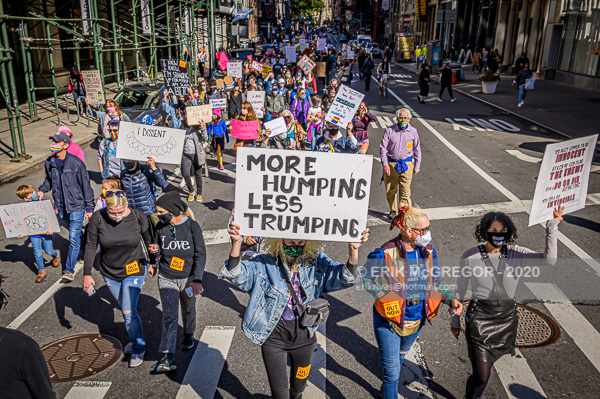 Despite several Republicans previously saying they would not replace a Supreme Court justice during a presidential election year — and Ginsburg's dying wish to be replaced after a new president was elected — Trump nominated Judge Amy Coney Barrett.
The Republican-led Senate held committee confirmation hearings for Barrett this week. The Senate is expected to vote on her nomination on Thursday.
Several events took place in Manhattan Saturday, including one that started with a rally in Washington Square Park before participants marched to join another rally at the New York Stock Exchange.
The Women's March was first held in January 2017 on the day after Trump's inauguration as president. The protest draws thousands of participants each year.
In an effort to ensure the safety of participants, everyone who attends was required to wear a mask and practice social distancing. There will also be hand sanitizing stations throughout the march, and anyone who felt too ill to attend in person could participate in a virtual event.
© Erik McGregor – erikrivas@hotmail.com – 917-225-8963
PLEASE CONSIDER SUPPORTING MY WORK