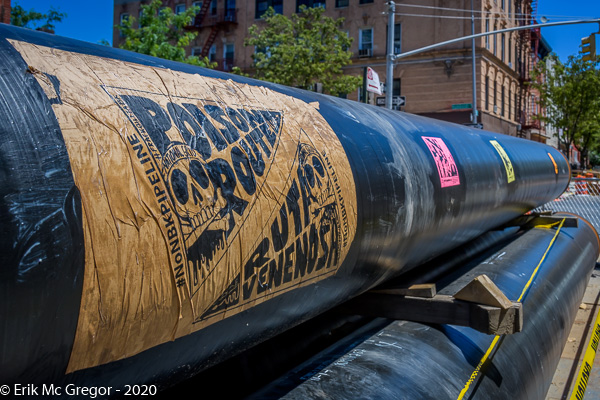 Brooklyn, NY – On June 13, 2020 Activists with the No NBK Pipeline Coalition and community members gathered again in the streets of Bushwick to speak out against National Grid and to demand the just, renewable energy future proposed by Governor Cuomo, walking along the active pipeline construction to outreach to local businesses and residents.
Participants met at Graham Avenue and Moore Street and then march along the construction site of National Grid's highly protested Metropolitan Reliability Infrastructure (MRI) project, calling on Governor Cuomo and the Public Service Commission to stop the 7-mile long fracked gas transmission pipeline from Brownsville to Greenpoint Brooklyn.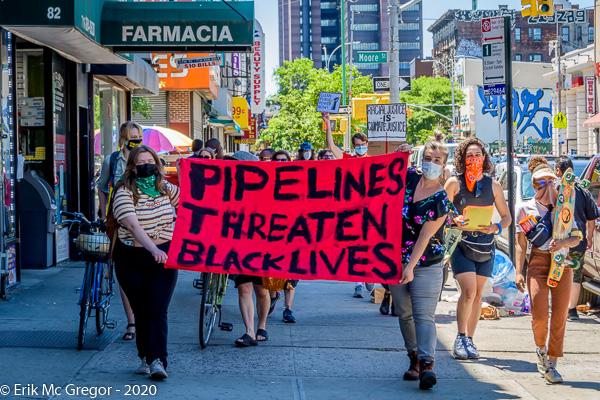 National Grid is constructing the MRI project, known as the North Brooklyn pipeline, without community consent. Instead of listening to the community, elected officials and thousands of public comments opposing the fracked gas pipeline, National Grid has been speeding up construction and restarted confidential settlement negotiations which could allow them to nearly complete a critical phase of construction before state regulators will even have a chance to approve or deny a rate hike to pay for the pipeline.
National Grid is requesting a significant rate hike, with $185 million to go to finishing the pipeline. When ratepayers are struggling to pay bills, get food on the table and stay healthy during the COVID-19 and economic crisis, New York State should be forgiving debts of those most greatly impacted, not forcing New Yorkers to go into debt to pay for dirty fossil fuel infrastructure.
The pipeline predominantly goes through black and brown communities and the entire route snake from Brownsville through Bushwick and Williamsburg all the way to Greenpoint in order to expand their volatile liquified "natural gas" (ie, fracked methane gas) depot along Newtown Creek. These are neighborhoods that have suffered from environmental pollution for decades.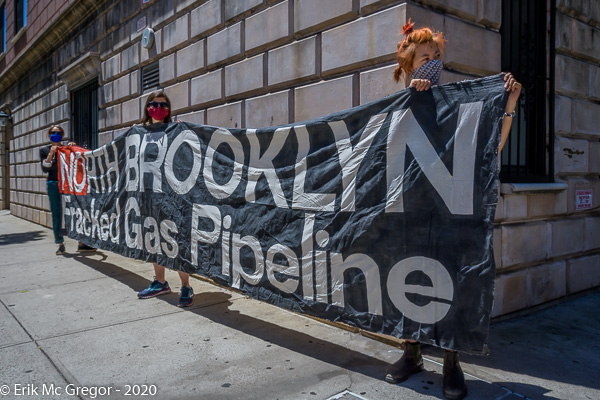 Many public comments focused on the Climate Leadership and Community Protection Act's (CLCPA) requirements to protect environmental justice communities and drastically lower greenhouse gas emissions, claiming the pipeline violates both those provisions.
We DO NOT CONSENT to National Grid entering our communities without permission and tearing up our streets to build destructive fossil fuel infrastructure. We say NO to rate hikes that will force us to pay for it. We say NO to systematic environmental racism and to the monopolistic corporate utility model that perpetuates it.
© Erik McGregor – erikrivas@hotmail.com – 917-225-8963
PLEASE CONSIDER SUPPORTING MY WORK