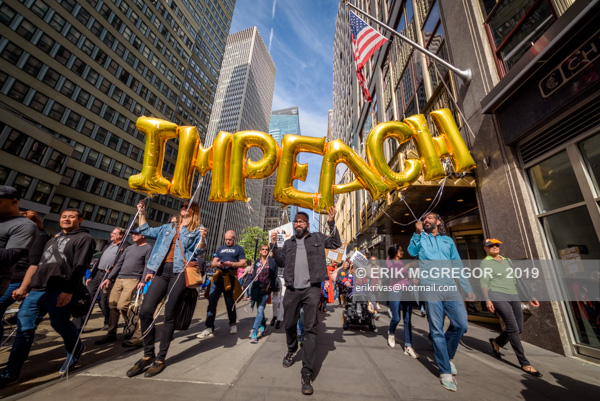 New York, NY – Hundreds of protesters took to the streets on October 13, 2019 to demand Congress to "Impeach Now" and deliver a powerful send off to their elected representatives at the end of their recess. In New York City participants gathered at Father Duffy Square in Times Square, and marched down Broadway to Union Square.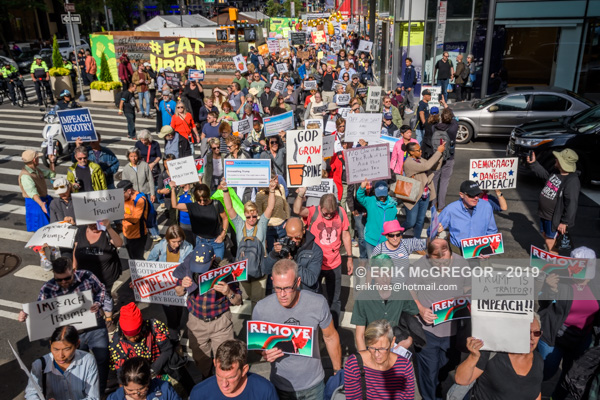 The marches in over 50 cities and towns across the country, are powered by local volunteers and organized by activist groups By the People, March for Truth, Rise and Resist, Free Speech For People, Climate Hawks Vote, and Women's March along with over a dozen national partners.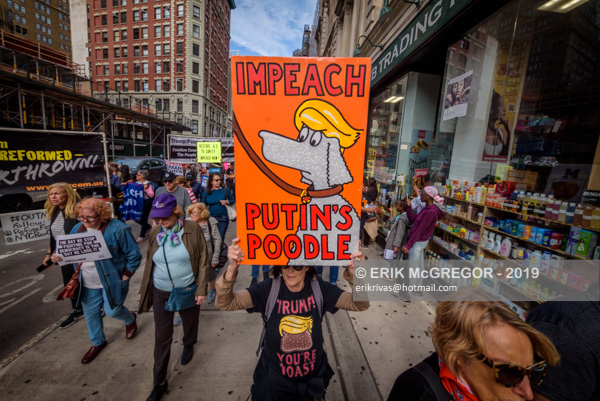 Other march locations include:
Farragut Square, Washington DC
Wilshire Federal Building, Los Angeles, CA
Civic Center Park, Denver, CO
Ann Arbor Federal Building, Ann Arbor, MI
City Hall, Philadelphia, PA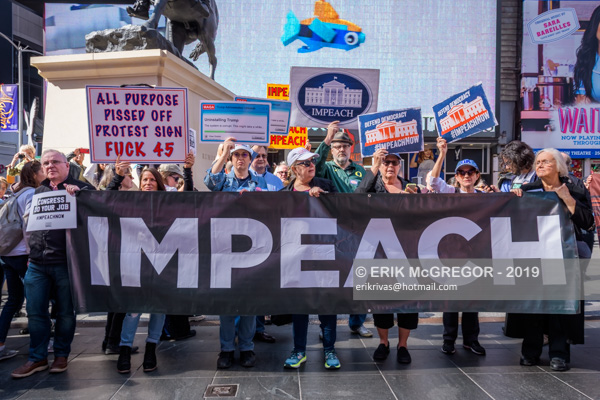 Trump's use of military aid to pressure Ukraine to interfere in the 2020 elections is the latest example of the President abusing the power of his power and undermining American democracy for his own personal gain.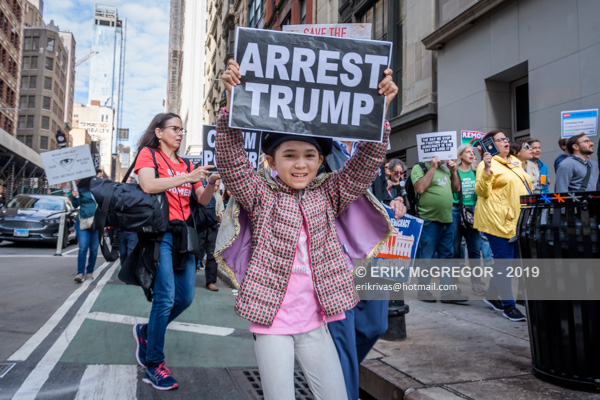 Trump and his administration have been wielding the executive branch to undermine our democracy, divide Americans against each other, and enrich and empower themselves. The latest incident with Ukraine is just further evidence of Trump selling out the American people in order to maintain his hold on power.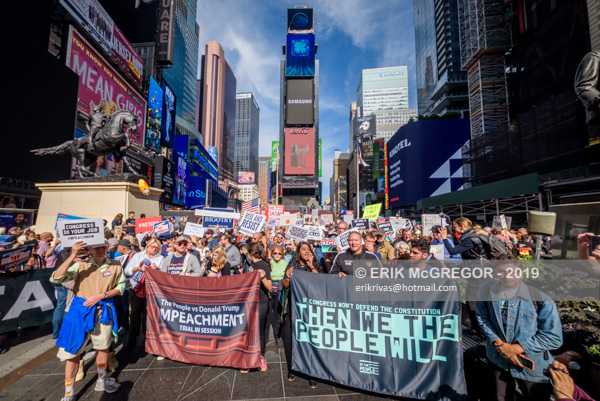 Americans are taking to the streets to call for an America where all are treated equal before the law — and for their elected representatives to impeach President Trump to make that happen.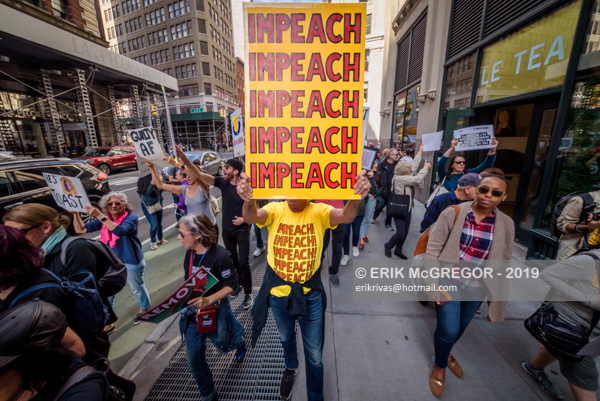 The day of action, slated for the end of a two-week congressional recess, will deliver a final message to Members of Congress as they prepare to return to Capitol Hill: it's time to impeach now.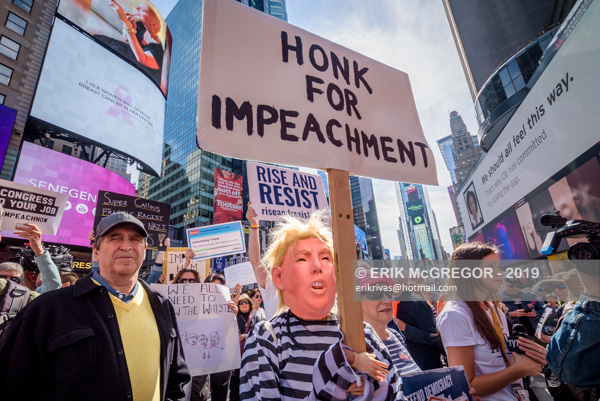 That's why we came together across across race, gender, class, and geography to say: we want a government that works for all Americans, not for the personal gain of Trump and his friends—and we're demanding our elected representatives #impeachnow to make it happen.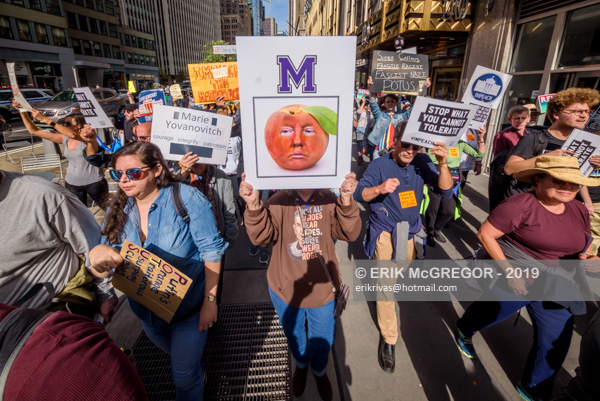 If we don't act now to demand that Congress fulfill its duty, Trump will be emboldened to carry out further abuses of power that trample on our rights, harm our families, and violate the Constitution.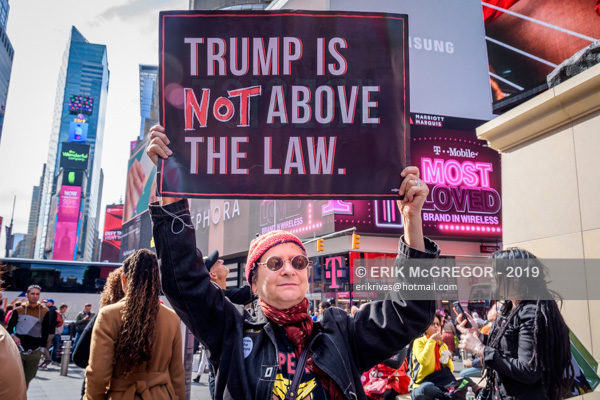 Enough is enough. On October 13th, we will be delivering a loud send off to our elected representatives as they head back to session. it's time to take to the streets and demand congress #impeachnow.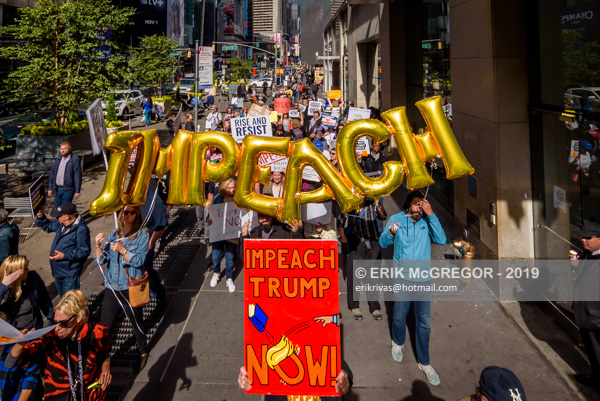 Marches, especially the flagship events, will feature speaker programs with activists and constituents. Many posters will read "Impeach Now," "Congress: Do Your Job," "and Equal Before the Law."
© Erik McGregor – erikrivas@hotmail.com – 917-225-8963
PLEASE CONSIDER SUPPORTING MY WORK