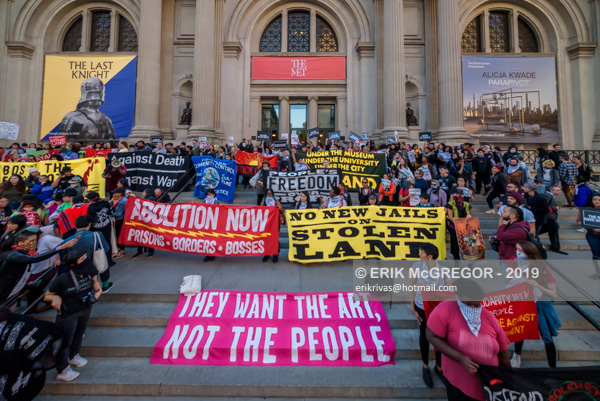 New York, NY – Activist group Decolonize This Place and a citywide coalition of grassroots groups organized the fourth Anti-Columbus Day tour on October 14, 2019. The tour began at the Roosevelt Monument, and took to the streets moving into the city at large, joining together the movements for Decolonization, Abolition, Anti-Gentrification, and Demilitarization.
Our three demands to the Museum remain outstanding:
Rename the Day,
Remove the Statue, and
Respect the Ancestors.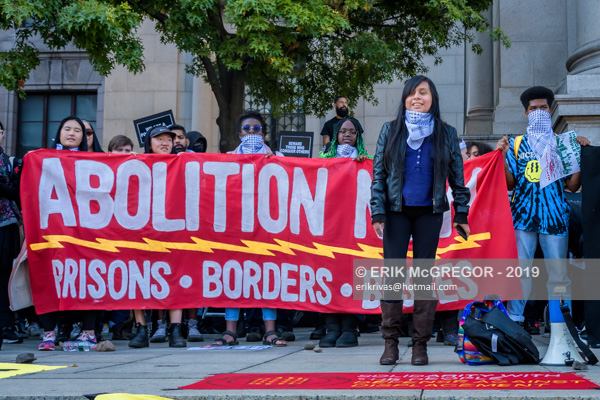 The museum has made superficial changes to some of its displays, and, following the recommendation of the NYC Monuments Commission in 2018, it has placed a plaque on the Roosevelt statue encouraging viewers to consider "both sides" of the racist monument that stands. This is inadequate, to say the least.
Today, we are escalating against this museum by highlighting the presence of figures like Richard Lefrak and Rebekah Mercer on the board, but also looking beyond the AMNH to the broader landscape of power and wealth in the city.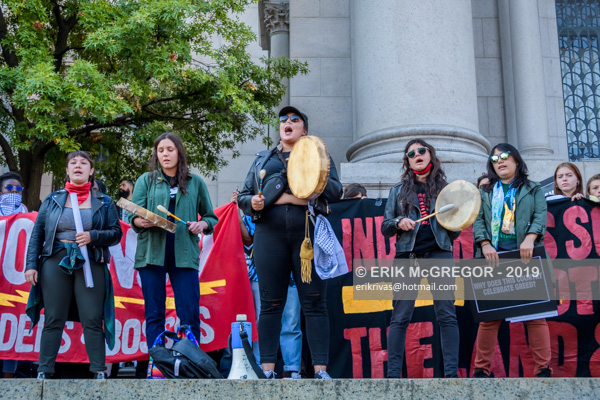 Today's action comes in the aftermath of the removal of Warren Kanders from the Whitney, bringing into alignment ongoing campaigns calling not only for institutional divestment from prisons, war, and climate destruction, but also for reinvestment in community-led initiatives for land, housing, and health.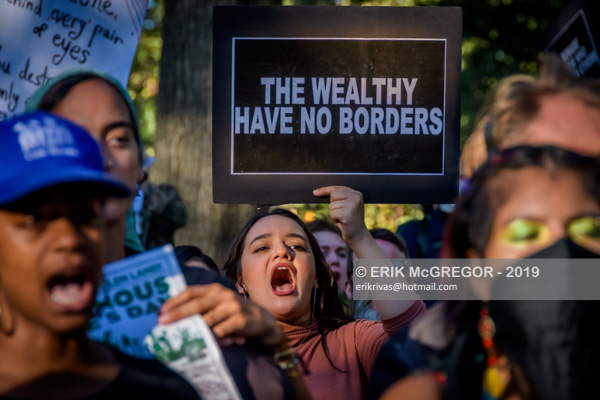 The action stands in solidarity with the Indigenous movements of this city, and it will amplify the work of coalitions including No New Jails NYC, MoMA Divest, and the People's Housing Plan, among others.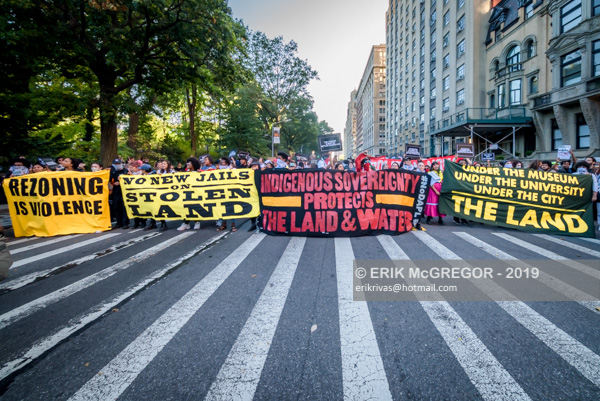 Participating groups included: No New Jails NYC, Indigenous Kinship Collective, Harlem Solidarity and Defense Committee, Art Space Sanctuary. Take Back the Bronx, Hydropunk, Semillas Collective and Friends, Chinatown Art Brigade, Queens Anti-Gentrification Project, Mi Casa No Es Su Casa: Illumination Against Gentrification, South Asia Solidarity Initiative, Stand With Kashmir, NYC Shut it Down, In Our Lifetime-United For Palestine, Direct Action Front for Palestine, and more.
© Erik McGregor – erikrivas@hotmail.com – 917-225-8963
PLEASE CONSIDER SUPPORTING MY WORK