New York, NY – Members of the Kurdish community and allies gathered on the south side of Union Square on October 12, 2019 to raise their voices publicly against Trump's support for fascists in Turkey and Syria, the Turkish invasion and occupation of Kurdish and Syrian lands, and their de facto support for ISIS, one of the most barbaric terrorist organizations in the region or around the world.
On October 6th, the White House announced that, following a phone call with Erdoğan, Turkey would be given the green light for an invasion of Syrian territory and given responsibility for ISIS terrorists captured.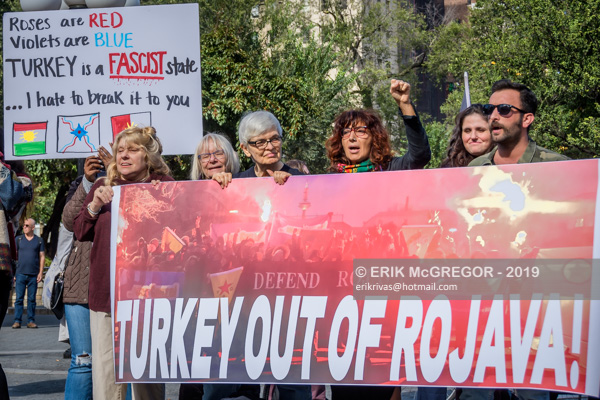 In actuality, the purpose of this operation is to crush the new democratic administration in the north-east of Syria headed by the PYD, which came out of the freedom movement of the Kurdish people in Rojava, and defended by the multi-ethnic Syrian Democratic Forces.
Turkey, which has made use of ISIS to attack the Kurdish people and any democratic elements which defend their rights in Turkey or Syria, seeks to revive ISIS, which the Syrian Democratic Forces had defeated, and whose prisoners are now being promised to Turkey.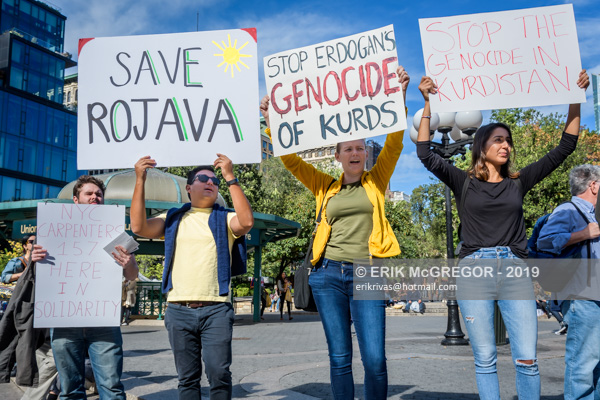 Turkey's own track record of genocidal violence against minorities in its own borders and support for sectarian and genocidal massacres in Syria speaks for itself. The light in the darkness represented by the Rojava Revolution likewise has shown brightly and is known around the world for its commitment to women's liberation, minority representation, ecological revolution, and human egalitarianism.
Do not stand silent as Turkey seeks to impose its fascist anti-Kurdish policy beyond its own borders, taking with it the rights of Assyrians, Christian Arabs, and countless other minorities other than the Kurds! Do not be fooled that Turkey has any different position than ISIS with regard to a democratic life for Arabs and Kurds in Syria! Everywhere the Turkish state and its army goes, it promotes Turkish chauvinism and Islamism!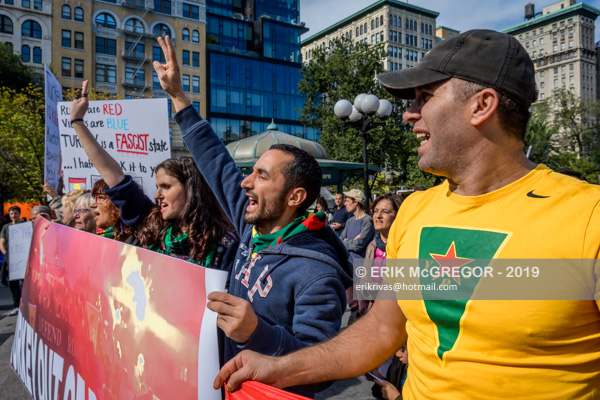 Fascism must never be allowed to pass. We call on all socialist, feminist, ecologist, democratic, anarchist, anti-fascist and pro-peace forces to join with us in this protest, and to stand up and organise for our common cause of humanity.
© Erik McGregor – erikrivas@hotmail.com – 917-225-8963
PLEASE CONSIDER SUPPORTING MY WORK