New York, NY – On January 4, 2020 hundreds of New Yorkers joined the ANSWER Coalition, CODEPINK, and other advocacy groups on a rally in Times Square, calling on people from around the United States to organize local demonstrations to demand: No more U.S. troops to Iraq or the Middle East! U.S. out of Iraq now! and No war/no sanctions on Iran!
As we enter the new year at a time of great volatility. The impeachment of Trump is sharpening up the conflict at the highest levels of US government, and with profound international reverberations.
Ominously, Trump ordered the U.S. military to assassinate by drone missile strike the high ranking Iranian military leader Maj. Gen. Qassim Suleimani at the Baghdad airport. This action follows US bombing of Iranian-affiliated militias in Iraq and Syria.
This is a major and extremely dangerous and provocative escalation. A military strike killing a leader of a state, in another sovereign state, is an act of aggression, if not war, against both Iran and Iraq, and has potentially huge and unpredictable consequences.
At such a moment of conspicuous change – yes at the top of the US government, and between nations – our actions, our daring, our determination can have potentially historic impact.
2019 saw an global wave of massive and sustained protests all over the world that took on, and in many cases drove out, hated regimes. No less is needed here.
In response to the massive protests in Iraq following the latest U.S. aerial assault that killed scores of Iraqis, Donald Trump has ordered 750 more U.S. troops to the Middle East and potentially 3,000 more. This is in addition to the 5,200 U.S. troops already stationed in Iraq.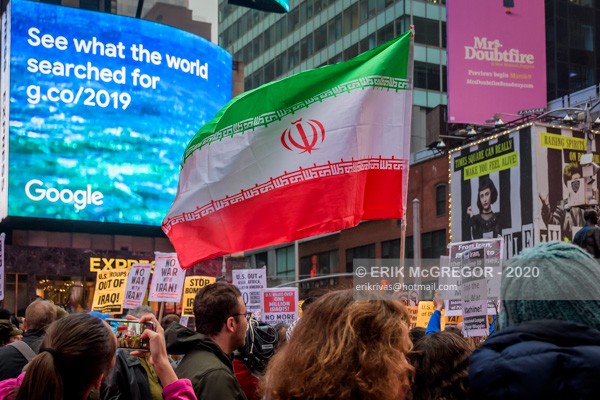 Every U.S. president over the last 28 years has ordered the bombing of Iraq. The decision by Donald Trump and the Pentagon to launch new air assaults against Iraqis in the past week ignited nationwide resistance by Iraqis who want to reclaim their full sovereignty and do not want Iraq to be used in a U.S. war on Iran.
More than a million Iraqis have died during the past 28 years as a consequence of U.S. occupation, bombings and sanctions. Tens of thousands of U.S. troops have either been killed or suffered life-changing wounds.
The U.S. government has spent more than $3 trillion dollars in the on-going occupation and bombing of this oil-rich country. Instead of taking the United States out of this endless war, Trump is building up U.S. forces in the region and threatening a war with Iran.
© Erik McGregor – erikrivas@hotmail.com – 917-225-8963
PLEASE CONSIDER SUPPORTING MY WORK