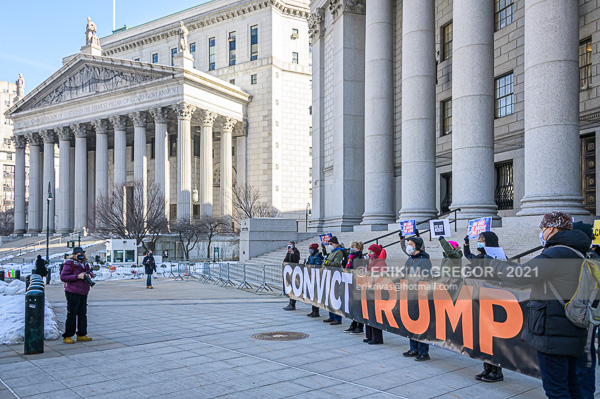 New York, NY – On February 10, 2021, the beginning day of Trump's impeachment trial, members of the NYC activist group Rise and Resist held a demonstration outside the Thurgood Marshall United States Federal Courthouse in Manhattan, holding signs and banners for a public reading of the list of crimes attributed to Donald Trump. Activists are calling for his immediate arrest.
The group believed that it is important for all to take a moment to demand that Trump be convicted, and to hold him accountable for refusing to concede, for creating a false narrative about the election results (Stop The Steal), for attempting to bully election officials into overturning the results, and for inciting violence to stop the certification of the election.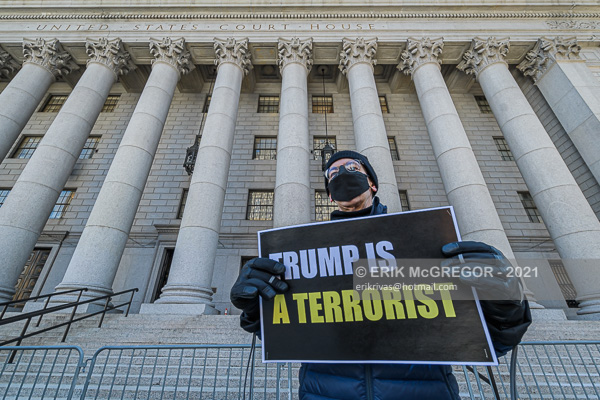 Protesters held a short demo, with a reading of the charges, holding a 30 foot CONVICT TRUMP banner and signs reading No One Is Above The Law, Trump Is A Terrorist, Incitement of Insurrection, Convict.
© Erik McGregor – erikrivas@hotmail.com – 917-225-8963
PLEASE CONSIDER SUPPORTING MY WORK