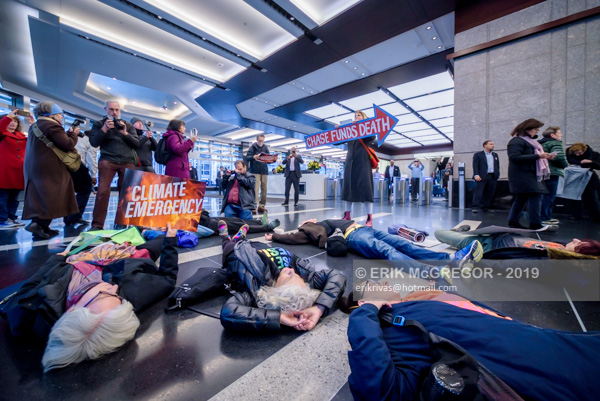 New York, NY – Expanding on the momentum of the quickly growing national movement to hold Chase Bank accountable for its central role in funding the global fossil fuel industry, dozens of New York residents with the organization Rise and Resist, with co-sponsor Rainforest Action Network stormed the new JPMorgan Chase headquarters in central Manhattan on November 20, 2019 demanding the megabank end its massive financing of the climate crisis.
The colorful protest included a 'die-in' inside Chase's central lobby as well as disruptive call and response chants that exposed the many specific fossil fuel infrastructure projects supported by the bank.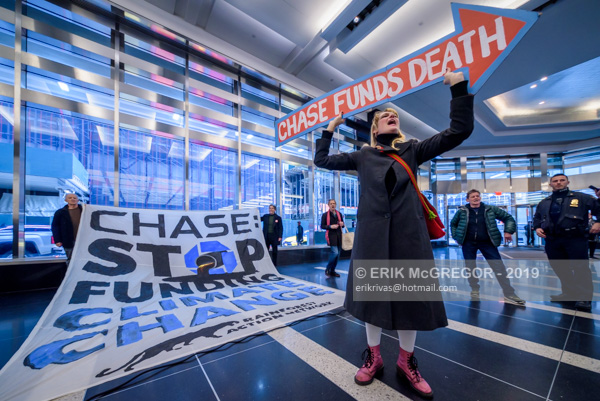 JPMorgan Chase is the world's largest funder of the fossil fuel industry. According to data from Rainforest Action Network's Banking on Climate Change 2019 report, it has loaned over $196 billion to the fossil fuel industry in the four years since the Paris Accord was signed. The Paris Accord committed the world's leaders to fighting climate change, but Chase is taking us in the opposite direction.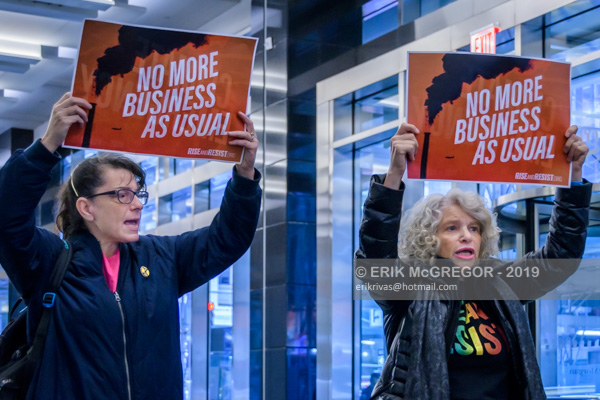 Scientists tell us we need to stop burning fossil fuels immediately to avoid the worst effects of climate change. But JPMorgan Chase funds new coal terminals, new oil terminals, new tar sands pipelines, and new Arctic drilling exploration.
Chase funds companies building disastrous projects, such as the Enbridge Line 3 pipeline and the Keystone XL pipeline. Chase's investments condemn us to a future of unbearable human suffering and the mass extinction of species as we face terrible wildfires, droughts, and floods.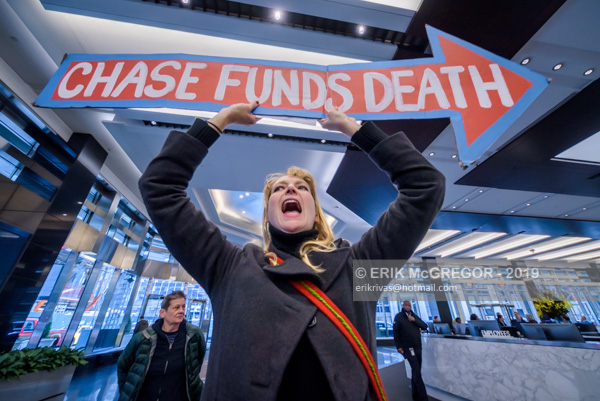 Behind every tar sands pipeline, coal terminal, and major fossil fuel project lies a private bank that is financing the destruction of our climate. Stopping that flow of money will stop the flow of oil.
As Stu Waldman of Rise and Resist explains, "Climate Emergency isn't just a slogan. It's a terrifying reality has affected the lives of millions today and will effect hundreds of millions in the near future. By investing nearly 200 billion dollars in the fossil fuel industry, JP Morgan Chase puts profits over lives."
Claire Ullman of Rise and Resist says, "If enough of us make our voices heard, banks will be forced act to preserve their reputations. They will have to invest in renewable energy sources instead of oil and gas. We truly can make a difference."
This morning's action is part of a broader, growing pattern of the U.S. turning its ire on Chase as the worst of the worst climate culprit. Chase bank and Chase CEO Jamie Dimon have been hounded with the same message at many events across the country, including the bank's AGM, various speaking engagements, and outside its headquarters.
Activists are determined to continue disrupting Chase bank and Chase CEO Jamie Dimon until he takes responsibility for his role as one of the most powerful causes of our climate emergency.
© Erik McGregor – erikrivas@hotmail.com – 917-225-8963
PLEASE CONSIDER SUPPORTING MY WORK