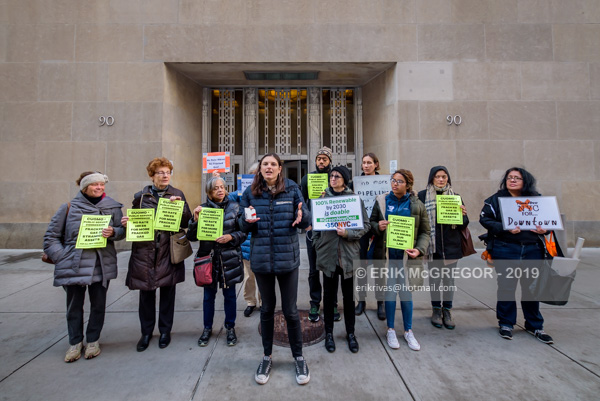 New York, NY – Before an administrative hearing on a negotiated settlement on Consolidated Edison's (ConEd) recent proposal to raise rates in New York City, New Yorkers rallied outside the offices of the New York State Public Service Commission, saying the plan fails the climate test by investing nearly a billion dollars a year expanding and extending the life of fracked gas infrastructure.
As Consolidated Edison's rate hike request is heard before a judge, New Yorkers call out their negligence for locking customers into higher rates for more fossil fuels, ignoring Cuomo's bold climate law and globally consented climate science.
"Con Ed wants to spend hundreds of millions of our ratepayer dollars every year on fracked gas pipelines and a liquified natural gas facility," said Lee Ziesche, an organizer with Sane Energy Project which is a party in the rate case. "Climate science says we need to be getting off gas, but Con Ed wants to continue business as usual because investments in gas infrastructure is what makes their shareholders money. We are further dismayed to see that the City of New York and the New York State Department of Public Service, also parties to this case, lack the leadership we need by signing onto this request that keeps business-as-usual, and closes its eyes to the hard work of NYC and NYS legislators who passed a package of bold climate laws this year to protect our frontline city, and comply with international agreements to act on what climate science tells us."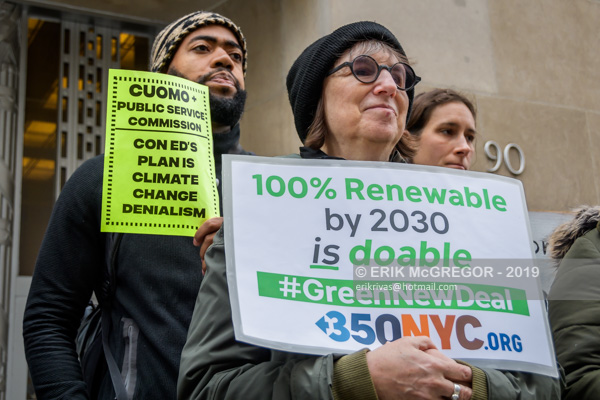 Multiple parties in the rate case including Alliance For a Green Economy, Sane Energy Project and Pace Energy and Climate Center have ace Energy and Climate Center have argued for months that Con Ed's plans to heavily invest ratepayer dollars in fracked gas infrastructure goes against recently passed New York State climate legislation, a position supported by those who fought for it.
"The Climate Leadership and Community Protection Act (CLCPA) is now the law of the land, informing the operations of all the departments of the State of New York, including the Department of Public Services and the entities they regulate. Corporate utilities cannot simply declare that the law doesn't apply to them," said Stephan Edel, Project Director, NY Working Families. "It contradicts the clear intent of the Governor, Legislature, State agencies, and communities across the state to say otherwise. Utilities can and must begin to change their operations to avoid wasted investments that the law will preclude in the future as it comes into effect and New York works to meet our new legally mandated climate goals."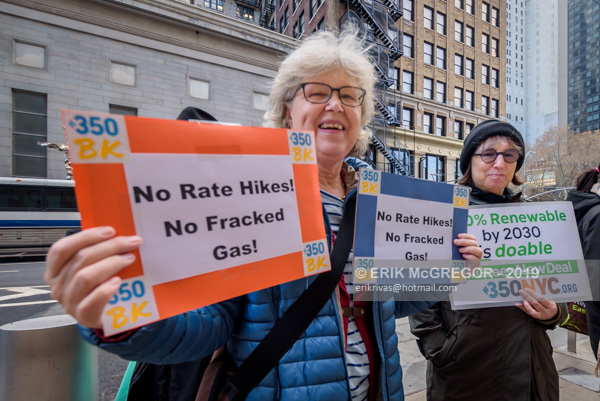 NY Working Families is a member of the NY Renews coalition, which includes environmental justice advocates, community groups, labor unions and faith communities. NY Renews was the lead group organizing to get the CLCPA passed.
New York's climate law, passed by the New York State Legislature and signed by Governor Cuomo in June mandates 40% greenhouse gas emissions reductions by 2030 and 85% emissions reductions by 2050. The law requires state agencies — including utility regulators — to align their actions with those targets. Yet Con Edison's plan to bring more fossil fuels into New York City while rejecting calls to immediately begin reducing its sales of the potent greenhouse gas methane, the main component of the gas it delivers to customers. The company has repeatedly argued that the CLCPA is not yet in effect and that it's not clear whether the gas system will need to be reduced in favor of renewable heating.
"Con Edison had months to negotiate with parties in this case to plan for the inevitable transition away from methane gas, but instead they chose to thumb their nose at the Governor, the Legislature and most importantly the thousands of New Yorkers who fought hard to enact aggressive climate law," said Jessica Azulay, Executive Director of Alliance for a Green Economy. "The company is insisting on saddling customers with the costs of what will soon become a defunct gas system. Now the question is: will the Governor stand up to this utility climate denialism and insist that utilities be held to New York's climate goals?"
After rallying outside, New Yorkers went into the hearing and held signs opposing Con Ed's rate hike in order to send a message to the city and state that residents are demanding that their government's actions match their climate rhetoric.
© Erik McGregor – erikrivas@hotmail.com – 917-225-8963
PLEASE CONSIDER SUPPORTING MY WORK