Brooklyn, NY – Over a thousand people filled main avenues as they marched through downtown Brooklyn on November 1, 2019 to voice their outrage at the conduct of the NYPD, protesting what they see as police brutality. The march came several days after a video emerged on social media showing NYPD officers fighting with teenagers inside city subway stations.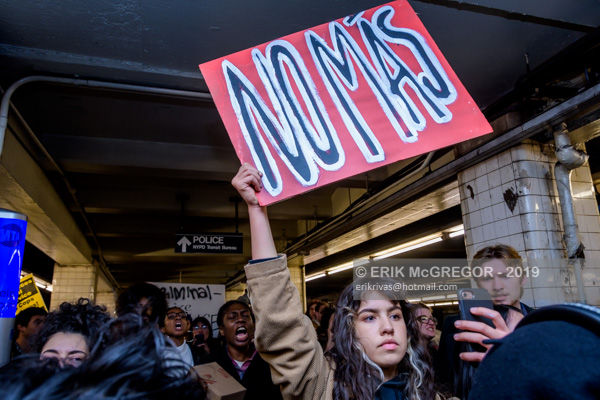 Community members citywide, students, families and New Yorkers at large joined grassroots community organizations Decolonize this Place, No New Jails NYC, Why Accountability, Take Back the Bronx, and NYC Shut it Down to express outrage at the conduct of the NYPD in New York City, prompted by the deaths of Antonio Williams, Allan Feliz in the Bronx and Victor Hernandez in Harlem, by NYPD officers.
On October 25 afternoon in Brooklyn, the NYPD went hunting for black and brown youth on the subway.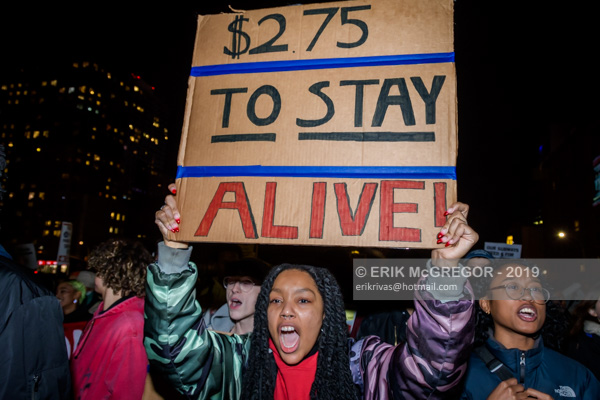 On the Franklin Avenue stop, 19 yr old Adrian Napier was held at gunpoint by a gang of police aiming their weapons through the subway cart windows as commuters screamed and ran for cover.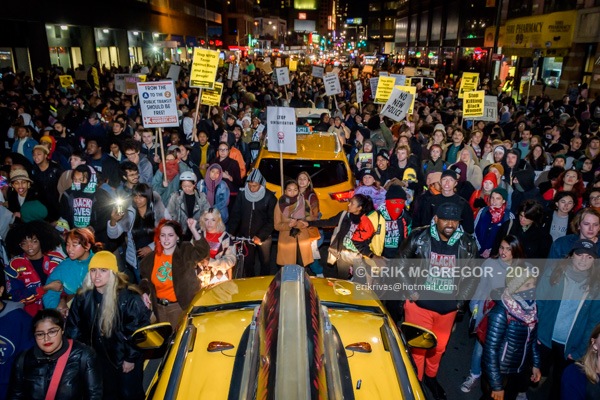 On the Jay Street Metrotech stop, NYPD physically assaulted children, punching them in the face multiple times, and tackling them to the ground.
In Queens, NYPD was filmed tasing a teenager while he lay face down, already restrained by another officer.
The NYPD has unleashed terror on the poor and working class Black and Latinx youth, as well as Indigenous and other POC, of this city.
"It was just a week ago, on October 17th that City council voted in favor of building 8-12 new jails in this city and the escalation of violence and death upon poor and working class black and brown people is being felt immediately! The No New Jails Coalition has repeatedly reminded us all that if they build these jails, they will fill these jails" – Shellyne Rodriguez from No New Jails NYC.
We will not accept the NYPD, politicians, and the wealthy's concerted effort to disappear us. Whether through rigged rezonings and gentrification or through Police murder and incarceration! We stand in solidarity with all oppressed people, and warn the city establishment that they should reverse course. See what is happening in Chile, in Lebanon, in Haiti, in Ecuador. We are rising up. – Amin Husain from Decolonize This Place.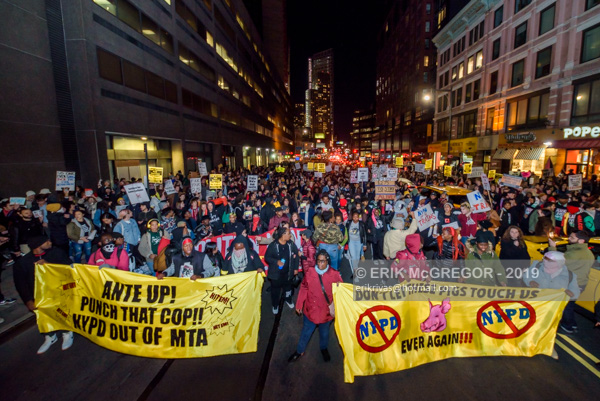 Community members are demanding the immediate removal of the 500 additional cops Cuomo and DeBlasio added to the MTA in June of this year.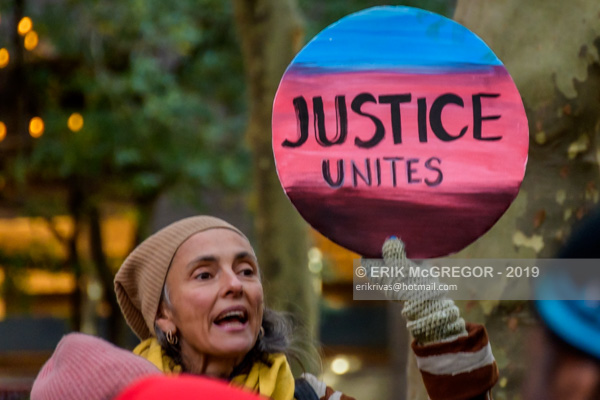 We demand a moratorium of all police hires as well as the immediate cancellation of the fare evasion campaign by the city, which criminalizes the poor of this city, especially Black and Latino people who's communities NYPD already operate in with impunity.
Community members demand ALL charges against the teens attacked by police are dropped, especially the unjust charge of assaulting a police officer against 15 yr old Benjamin Marshall.
© Erik McGregor – erikrivas@hotmail.com – 917-225-8963
PLEASE CONSIDER SUPPORTING MY WORK