New York, NY – Environmental advocacy groups and over a hundred New Yorkers rallied outside Governor Cuomo's Manhattan office on August 7, 2019 to deliver tens of thousands of petition signatures and public comments calling on the Governor and the Department of Environmental Conservation (DEC) to deny construction permits for the unwanted and unnecessary Williams NESE fracked gas pipeline.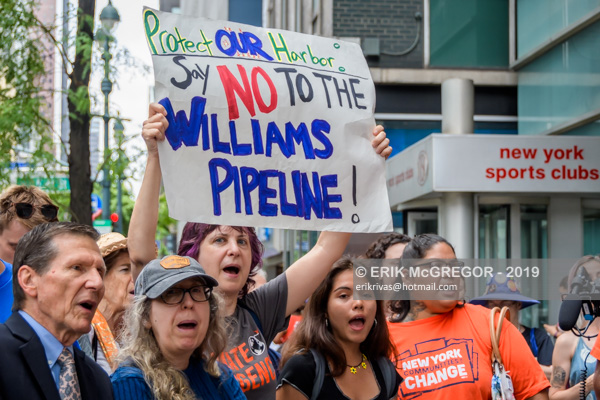 The rally follows New Yorkers submitting over 25,000 public comments in just 6 short weeks this summer to the DEC opposing the Williams Pipeline, and the release of a new poll that shows the more New Yorkers learn about the pipeline, the more they oppose it.
"On May 15, New York denied permission for Williams Co. to destroy our waters and lock us in to decades of more fossil fuels. Two days later, Williams claims they can mitigate their destruction in a re-application," said Kim Fraczek of Sane Energy Project. "This time, they're coming with their corporate utility bullies, National Grid And Con Ed to manipulate customers that the economy will collapse without this pipeline, and denying service as a last ditch effort to create a manufactured crisis. New Yorkers are onto their games, and 25,000 residents plus bi-partisan elected leaders are standing up and demanding action on renewables NOW!"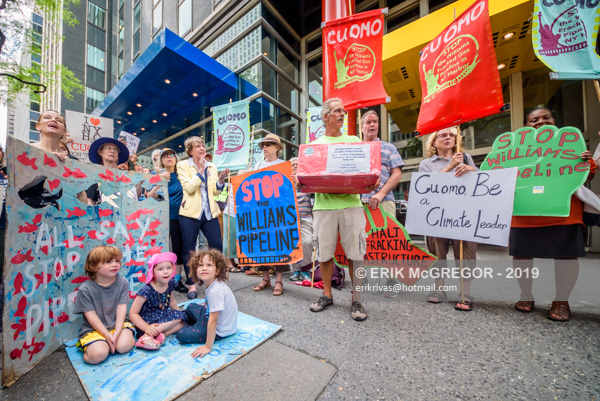 The Williams Company is seeking approval to construct the Northeast Supply Enhancement (NESE) pipeline to transport fracked gas from Pennsylvania to Brooklyn, Queens and Long Island, but a report from a former NYSDEC regional director proves there is no need for the gas.
"Construction of this pipeline would re-suspend very dangerous toxic sediment into our harbor," said Rob Friedman of the National Resources Defence Council talking about one of the main issues New Yorkers submitted comments on. "It time for him (Governor Cuomo) to stand with all of us and block this pipeline."
The DEC temporarily denied Williams' permit in May after determining the project would negatively impact New York waters. In their public comments to the DEC, many New Yorkers also said the pipeline should not be built because of its climate impacts.
"We will not be fooled by false choices," said Patrick Houston of New York Communities for Change. "We will not be manipulated by the fossil fuel industry and the utilities who want to continue business as usual. Because we know business as usual means Greenland melting. We know business as usual means another Hurricane Sandy."
The Williams fracked gas pipeline proposed for the shores of New York City puts beachgoers, marine life, and our climate at risk.
In May, Governor Cuomo's DEC rejected a critical water quality permit for the pipeline- temporarily stopping the proposal. But Williams Company quickly reapplied, and the project is back up for consideration.
Activist stood out through the offices' lunch break to send a loud message: There's no room for the Williams fracked gas pipeline in a world facing a climate crisis. Governor Cuomo must stop the Williams fracked gas pipeline once and for all and implement renewable alternatives now.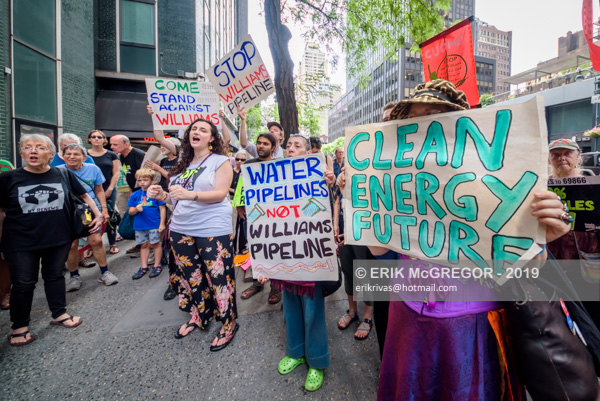 A similar rally against the pipeline will take place on Long Island on Wednesday August 14 outside Senator Todd Kaminsky's office in Rockville Center.
© Erik McGregor – erikrivas@hotmail.com – 917-225-8963
PLEASE CONSIDER SUPPORTING MY WORK