New York, NY – New York City joined over three dozen cities across the world on March 16, 2019 holding major demonstrations to mark the United Nations' International Day for the Elimination of Racial Discrimination. Beginning in Foley Square, Manhattan, at noon, the March Against Racism and Fascism was organized by the coalition of United Against Racism and Fascism-NYC, community groups and individuals describing themselves as "united to mobilize mass opposition to the resurgent far-right."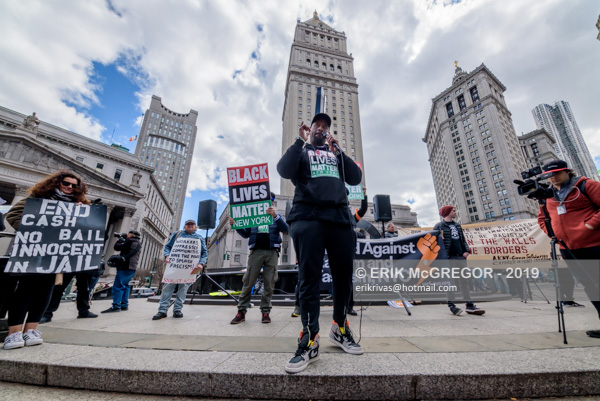 For the last four years, the number of hate groups and hate crimes in the U.S. has dramatically increased, as the election of Donald Trump in 2016 emboldened organized white nationalists and fascist gangs to take to the streets across the country. At a time in which crime in NYC is at an all-time low, hate crimes and sexual assaults are on a steady climb.
Far-right parties are on the rise worldwide. Just like in the U.S., right-wing extremists use the global refugee crisis to push anti-immigrant laws. Their extreme ideology also targets women, people of color, LGBTQI+ people, Muslims and Jews, poor people, and workers.
"In recent months we've witnessed an increase in fascist violence and intimidation," said Morris ben Leon of Outlive Them NYC, a Jewish anti-fascist group that is part of the UARF-NYC coalition. "In Pittsburgh, Louisville, Tallahassee and across the country Jews, Muslims, Black, Brown, queer and trans people are under attack. Antisemitism, racism, Islamophobia, xenophobia, misogyny, homophobia and transphobia are being incited from the top levels of the government and manifesting as state and vigilante violence against vulnerable communities on the streets. Only we can keep our people safe, and we're coming together on March 16 to show that we are strong enough to do so."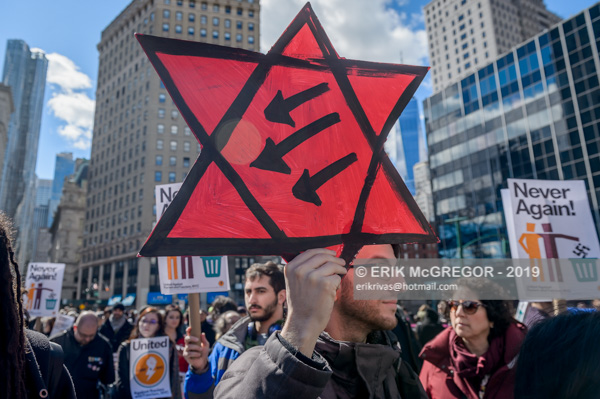 Marguerite Frarey of Black Rose NYC, another endorsing organization, said, "As capitalism shows itself increasingly unable to provide opportunities for prosperity and happiness to all but the most wealthy and powerful, its fascist hangers-on threaten the communities, organizations, and the very lives of those they consider 'less than'. We call on all organizations of workers and oppressed people — the AFL-CIO, CtW, NAACP, NAN, &c. — to mobilize their members as we are mobilizing here today, to drive the fascists and white supremacists from the streets."
"It is very crucial for us to get united today against racism and xenophobia as we do not want history being repeated," said Lyosha Gorshkov, president of RUSA LGBT, which also endorsed the rally and march. "We should remember that we cannot fight against injustice alone!"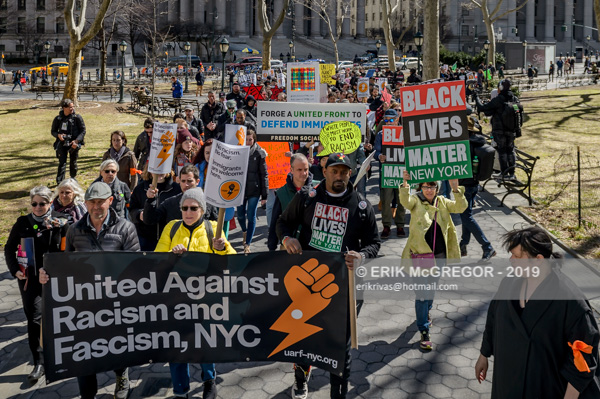 More organizations, unions, and groups have endorsed the March 16 action, including the Association of Legal Aid Attorneys — UAW Local 2325, National Lawyers' Guild-NYC Chapter, New Sanctuary Coalition, NYU Graduate Student Organizing Committee, Redneck Revolt of NYC and Long Island, and Rise and Resist. A full list of endorsers is posted on UARF-NYC's website and social media pages. More endorsements are being added each day.
© Erik McGregor – erikrivas@hotmail.com – 917-225-8963
PLEASE CONSIDER SUPPORTING MY WORK