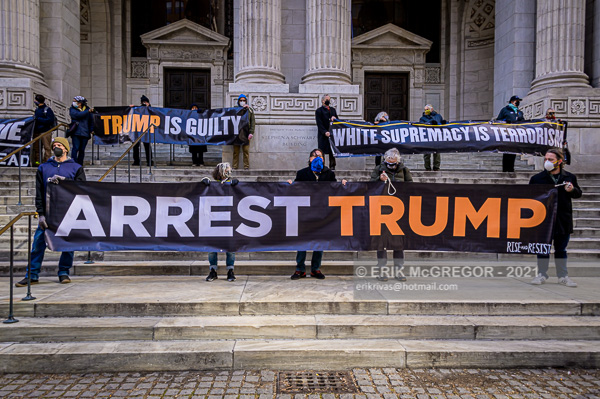 New York, NY – On January 19, 2021 members of the activist group Rise and Resist gathered at the steps of the New York Public Library (42nd St.-5th Ave) holding signs and banners for a public reading of the list of crimes attributed to Donald Trump on both impeachment procedures.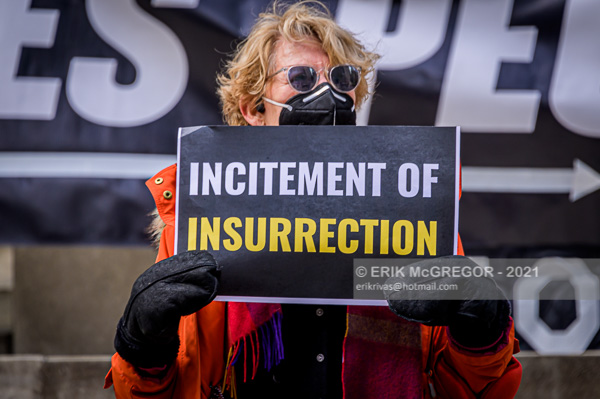 These include Insurrection, Seditious Conspiracy, Accessory to Murder, violating the Emoluments Clause, violating the Hatch Act, Treason, Obstruction of Justice, Witness Tampering, Suborning Perjury, Sexual Assaut, Rape, Tax Fraud, Tax Evasion, Wire Fraud, Bank Fraud, Money Laundering, and Immigration and Environmental policies that are crimes against humanity.
Rise and Resist chose this date because it is Trump's last day in office. On January 20th he will no longer be protected from prosecution.
Activists called on the Southern District of NY (Audrey Strauss), The State Attorney General of New York (Letitia James), and the Manhattan District Attorney (Cyrus Vance) to "throw the book at Trump" – i.e. prosecute Trump, his organization, and his family members for the crimes they have committed.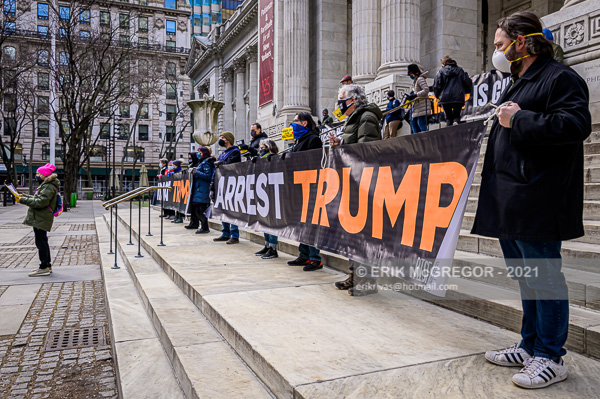 Participants stood at the steps of the NYPL holding banners (ARREST TRUMP, INDICT TRUMP, WHITE SUPREMACY IS TERRORISM, TRUMP IS GUILTY, and TRUMP LIES PEOPLE DIE) and signs.
© Erik McGregor – erikrivas@hotmail.com – 917-225-8963
PLEASE CONSIDER SUPPORTING MY WORK