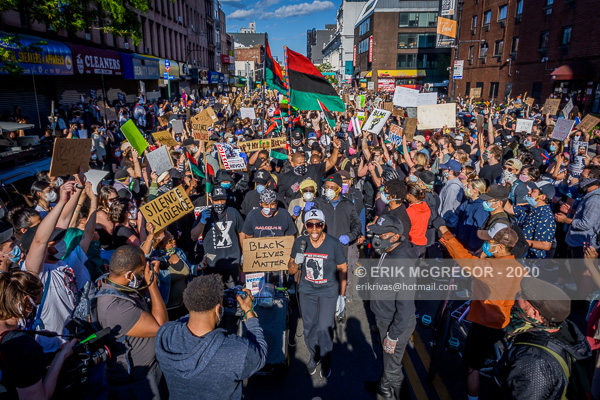 Brooklyn, NY – Thousands of protesters gathered in Crown Heights on June 1, 2020 to demand the defunding of the police force and to demonstrate against police brutality in the wake of George Floyd's death by Officer Derek Chauvin who kept his knee on Floyd's neck for more than 8 1/2 minutes, including 2 1/2 minutes after Floyd became unresponsive.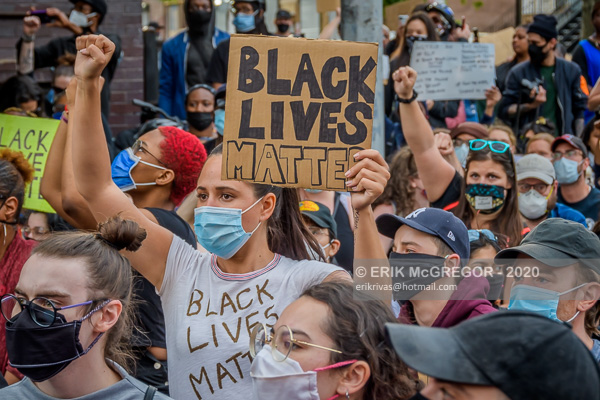 The December 12th Movement organized the Black Power rally in Brooklyn. a peaceful march around the streets of Crown Heights culminating on a massive protest against police brutality and demand to defund the NYPD outside the 77th Precinct.
New York has failed to hold our killer cops to account, has failed to stop the NYPD from brutalizing protesters, has failed to cancel rent and has failed to provide relief for undocumented people and other excluded workers who have been left out of COVID-19 recovery.
NYPD need to protect people, not property. Over 1 million tenants in New York can't pay rent. 92,000 New Yorkers are homeless. The State and the Federal Government are continuing to fail New Yorkers by refusing to #CancelRent and refusing to invest in housing and communities.
Community groups demand to defund the NYPD and invest in those resources to support our communities including canceling rent and providing relief for excluded workers.
© Erik McGregor – erikrivas@hotmail.com – 917-225-8963
PLEASE CONSIDER SUPPORTING MY WORK