New York, NY – The night before the House of Representatives takes a somber vote to impeach Trump, hundreds of thousands of Americans joined the "Nobody Is Above the Law" coalition, which includes CREDO Action, Indivisible, and Public Citizen at more than 500 rallies planned around the country, calling on the U.S. House to vote to impeach President Donald Trump. In New York City thousands of protesters took to the streets, gathering on December 17, 2019 at Father Duffy Square in Times Square, and marched down Broadway to Union Square.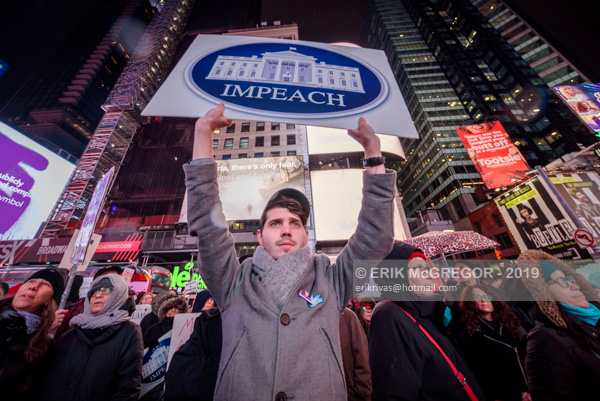 The rallies took place at congressional offices and other public spaces, the night before the House is expected to vote on two articles of impeachment accusing Trump of abusing his power when he pressured the Ukrainian president to investigate former Vice President Joe Biden and obstructing Congress by stonewalling its investigation.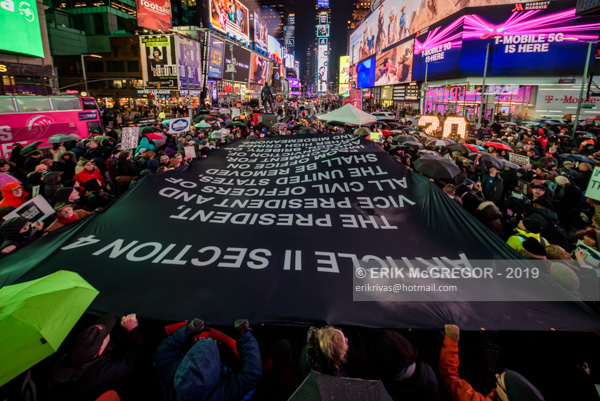 The New York City Coalition to Impeach and Remove joined the national demonstrations to demand an end to Donald Trump's presidency gatherting in Times Square. Participating local organizations include Rise and Resist, Action Group Network, Common Cause New York, By the People, Empire State Indivisible, Indivisible Harlem, Indivisible Nation BK, Indivisible Brooklyn, Indivisible UWS, Indivisible Queens, Persist NY, Morningside Heights Resistance, Indivisible New Rochelle and more.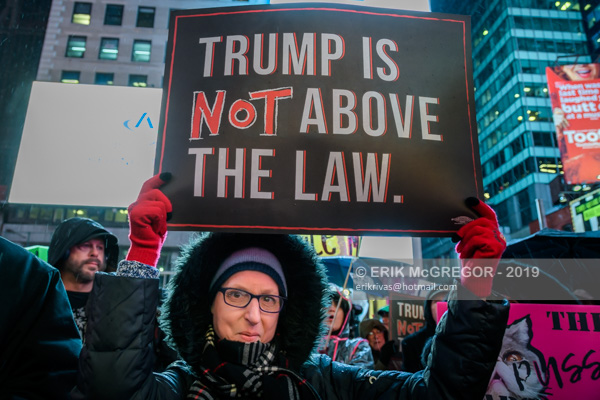 With these protests, we have an opportunity to lead Americans in historic demonstrations demanding an end to a bigoted, hateful presidency. We have the opportunity to make the impeachment vote a turning point—the moment when the American people stood up against the corruption and lawlessness that is threatening the core of our democracy.
"The facts are uncontested," organizers said Saturday. "An extensive investigation turned up phone records, transcripts, and first hand witness testimony that prove Trump demanded Ukraine interfere in the 2020 election on his behalf before he'd give them critical military aid or a White House meeting."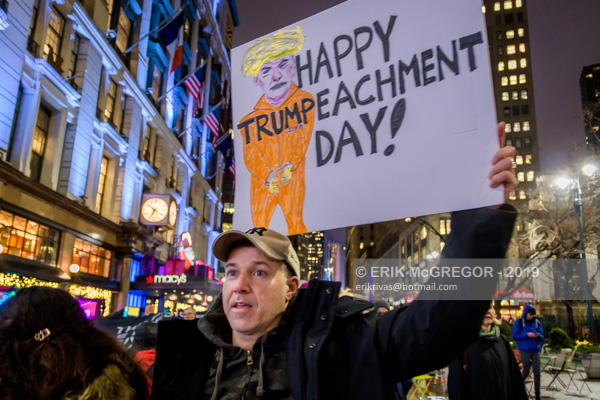 "Americans from California to West Virginia are ready to hold their representatives accountable and declare that no one—not even the president—is above the law," they added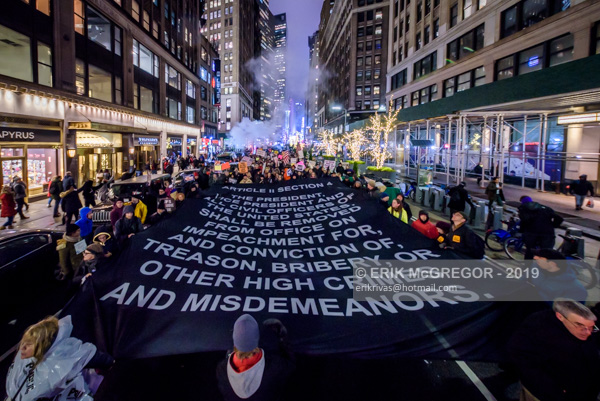 To make sure Congress puts an end to Trump's bigoted hateful presidency, we have to keep the drum beat going at every point in this fight. The night before the House vote is a key moment – representatives will be finalizing their positions and senators will be carefully tracking the mood of the country. That's why it's so important for us to make a strong show of force, and why more than 40 progressive organizations, including CREDO, MoveOn, By the People, Free Speech for People, Democracy for America and Women's March, are working together to organize these events.
© Erik McGregor – erikrivas@hotmail.com – 917-225-8963
PLEASE CONSIDER SUPPORTING MY WORK