New York City – Activists from Rainforest Action Network staged a flash mob disruption during the Global Climate Week of Action at the lobby of the new Chase headquarters in Manhattan. Launching into a theatrical parody of Chase CEO Jamie Dimon, activists unfurled a 24 foot oil Slip N' Slide and performed lively renditions of song and dance calling attention to Chase Bank's massive financing of fossil fuels and its funding of energy company Williams' Northeast Supply Enhancement Pipeline (NESE).
"There is no room for new fossils in the world's carbon budget, yet Chase Bank continues to pump billions into the companies engaged in fossil fuel expansion," says Laurel Sutherlin, a spokesperson at Rainforest Action Network. "These new projects, like Williams' NESE pipeline, fly in the face of the Paris Agreement goals. Emissions just from the oil, gas and coal reserves already in production would take the world well beyond 1.5° Celsius."
The proposed NESE pipeline would carry fracked natural gas (methane) from Pennsylvania across the Lower Bay of New York's harbor.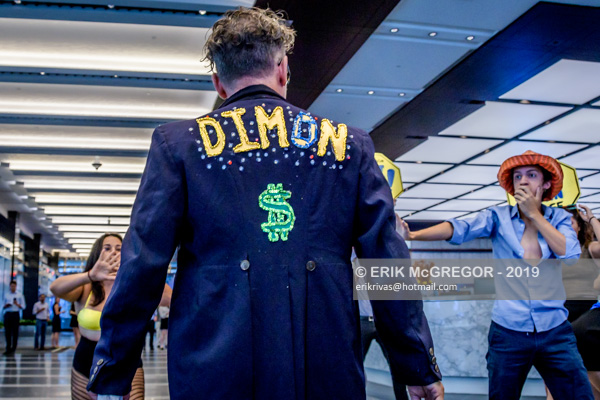 The action follows a blitz of demonstrations across the country this month targeting Chase Bank; from Chicago to San Francisco; and dozens of demonstrations this year; from Seattle where protesters shut down 44 Chase bank branches, to Boulder, where activists staged a "die-in" at the regional branch, to New York City, where protesters unfurled a 30ft. banner in front of Grand Central Station directly across Chase's headquarters, to the very hearing where CEO Jamie Dimon was being questioned by congressional members.
"Megabanks like Chase supply the oxygen to the fire of climate change, and this movement to hold them accountable is snowballing," said Monica Hunken, Organizer at Rainforest Action Network. "We will continue to hold them responsible until they take real action on climate and defund dirty energy."
According to data from Rainforest Action Network's Banking on Climate Change 2019 report, since the Paris Agreement, JPMorgan Chase has provided $196 billion in finance for fossil fuels
© Erik McGregor – erikrivas@hotmail.com – 917-225-8963
PLEASE CONSIDER SUPPORTING MY WORK