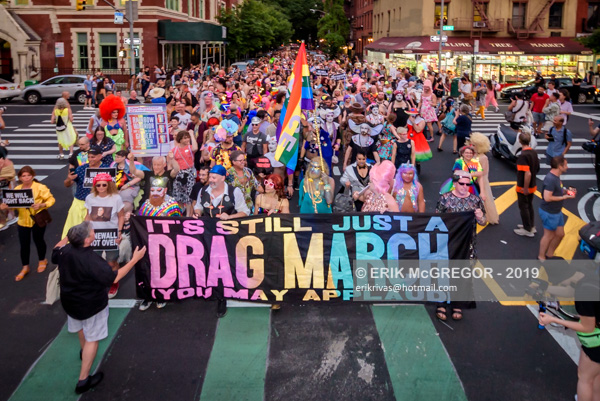 New York, NY – The New York City Drag March, or NYC Drag March, is an annual drag protest and visibility march taking place in June, the traditional LGBTQ pride month in New York City.
Organized to coincide ahead of the NYC Pride March, both demonstrations commemorate the 1969 riots at the Stonewall Inn, widely considered the pivotal event sparking the gay liberation movement, and the modern fight for LGBT rights.
The Drag March takes place on Friday night as a kick-off to NYC Pride weekend. The event starts in Tompkins Square Park and ends in front of the Stonewall Inn; it is purposefully non-corporate, punk, inclusive, and largely leaderless.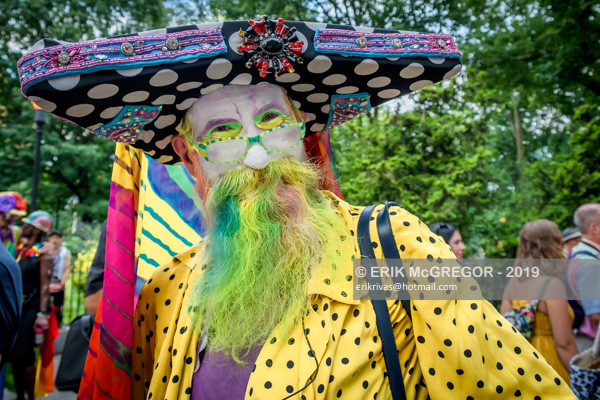 Participants were directed to Tompkins Square Park as the starting point, chosen to honor the rebellious spirit of two previous riots that had taken place. The Tompkins Square Park riot of 1988 where city officials attempted to remove squatters and punks who had been living in the park, and the Tompkins Square Park riot of 1874, over a hundred years prior where "thousands of unemployed New Yorkers demonstrated to demand that the government establish public works programs following the Panic of 1873 and the ensuing depression".
In 2019 the 25th Drag March coincides with Stonewall 50 – WorldPride NYC 2019, anticipated to be the largest international LGBTQ event in history, with many as four million people attending in Manhattan alone; the Drag March will take place June 28, 2019.
© Erik McGregor – erikrivas@hotmail.com – 917-225-8963
PLEASE CONSIDER SUPPORTING MY WORK