New York, NY – Thousands of New Yorkers ditched the corporate sponsored Heritage of Pride Parade to participate on the Reclaim Pride Coalition's Queer Liberation March on June 30, 2019 where no police, politicians or corporations were allowed to participate.
About 50 thousand people participated on the march starting at the Stonewall National monument up Sixth Avenue ending with a rally at the Great Lawn in Central Park.
The Queer Liberation March pay homage to the founding Members of the Gay Liberation Front as well as ACT UP NY among others and feature performances such as John Cameron Mitchell and Stephen Trask singing "The Origin Of Love" from Hedwig And The Angry Inch.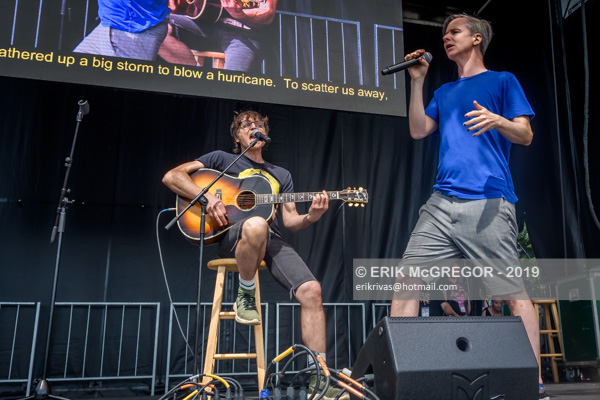 The annual Heritage of Pride Parade has become a bloated, over-policed circuit party, stuffed with 150 corporate floats. This does not represent the "Spirit of Stonewall" on this 50th anniversary year of the 1969 Stonewall Rebellion.
It does not address the urgent continuing needs of the Trans, Bisexual, Lesbian, Gay, Queer, Intersex, Two-Spirit, Asexual, Non-Binary, Gender Non-Conforming and related communities — still under daily attack by the Trump administration and by countries around the world.
At this historic milestone, the Reclaim Pride Coalition's inaugural Queer Liberation March will return this event to the people, celebrating our victories and recommitting to fight our current battles. HOP's Parade excludes most individual marchers.
The Queer Liberation March welcomes all people, tens of thousands from New York, the United States, and overseas, to follow the original route of the 1970 Christopher Street Liberation Day March, from the Stonewall, up Sixth Ave., into Central Park's Great Lawn for a major rally, on the same day — the traditional last Sunday in June.
The Reclaim Pride Coalition is a group of individuals and organizations producing a massive Queer Liberation March people's protest for June 30th (reclaimpridenyc.org).
No corporations and no uniformed police in our March. From our first meetings in the months prior to the 2018 Pride Parade, the Reclaim Pride Coalition has called for a comprehensive NYPD apology including for their ongoing brutality against marginalized groups and for a systemic change in their operations.
© Erik McGregor – erikrivas@hotmail.com – 917-225-8963
PLEASE CONSIDER SUPPORTING MY WORK