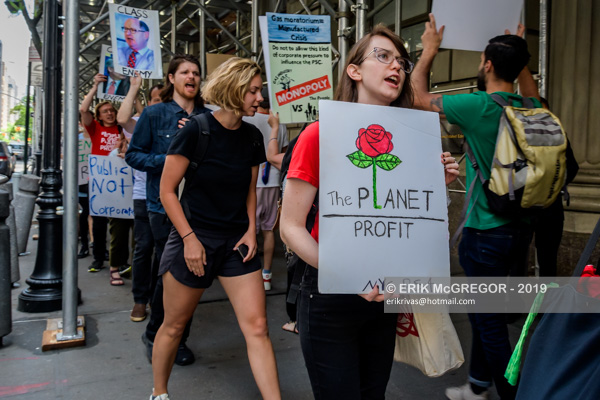 NEW YORK, NY – New York City Democratic Socialists and allies dropped a banner and held a picketing outside Con Ed's offices in Manhattan on May 20, 2019 as shareholders enter the building for their annual shareholders' meeting.
These shareholders will meet to make important decisions about our energy system where decisions about our energy system are generally made: behind closed doors and without any input from the public, communities, or workers who will be most affected by the consequences.
With the IPCC saying that we have only 11 years left to radically transform our energy system, NYC-DSA has launched their Public Power NYC campaign, which will be calling out the destructiveness of the profit-first private utility model that is more concerned with shareholders' bottom line than civilization's continued existence. The campaign will also be demanding democratic control over our major energy systems and resources.
"We face two global emergencies: the climate crisis and the crisis of economic inequality. Con Edison stands in the way of both," says NYC-DSA Ecosocialist Organizer Gustavo Gordillo. "Scientists tell us we are facing a planetary emergency and that we risk societal collapse, yet our investor owned utilities are desperate to delay climate action to protect the short-term profits of their investors."
NYC-DSA and our allies know that renewable energy must be a right if we are to achieve a Green New Deal. But Con Edison, a fossil fuel reliant monopoly, charge some of the the highest rates in the nation, and these high rates perpetuate unjust energy cost burdens that punish the poor. These punishingly high rates help subsidize huge dividends for shareholders, think tanks like the Edison Electric Institute that lobby to cripple renewable energy, the $9.5 million salary for CEO John McAvoy, and annual retainers of $115,000 for each member of the board of directors.
On top of already high power bills, Con Ed wants to raise rates even more. If Con Ed's proposed rate hike goes through, the people of New York City will be helping to pay $200 million more for new gas infrastructure, $1.6 million for a strike contingency fund to prepare for UWUA Local 1-2's contract expiration next year, for a new IT systems to surveil and police customers who struggle to pay Con Ed's astronomical rates, and $60 million in environmental cleanup costs for toxic remediation sites for which Con Ed is responsible.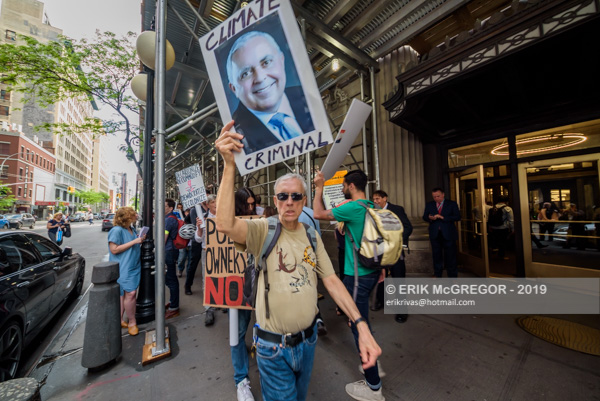 What is missing from the rate hike proposal is anything that realistically comes close to a rapid and just transition to renewables. New York's adaptation to renewables has slowed down considerably, with only 3 percent of our renewable energy coming from wind and solar. And Con Ed, along with other private utilities, has played a part in this, working with state regulators to change how solar is valued to their own benefit. The change in value has caused more than $800 million worth of solar projects in the state to be threatened or outright canceled. This, along with Con Ed arguing for the now temporarily defeated William's fracked gas pipeline, clearly shows which side of the fight Con Ed is on.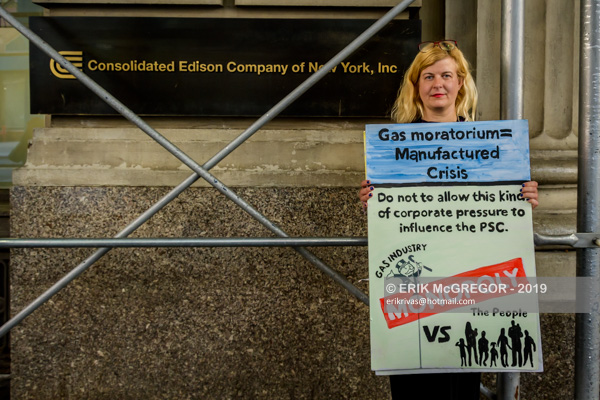 NYC-DSA is fighting for a Green New Deal that brings utilities like Con Edison into public ownership in order to put people and planet over profit, and make sure ALL the profits generated are reinvested into a just transition of our energy system. Together we can end the utilities' wasteful stranglehold over our shared resources and public goods, and remake an energy system that is democratized, decarbonized, and decommodified.
New York City Democratic Socialists is the NYC local of Democratic Socialists of America, the largest socialist organization in the United States with about 50,000 members (as of April 2019). NYC-DSA is run by its 5,000+ members and activists who are working together to build a democratic socialist organization in the five boroughs.
© Erik McGregor – erikrivas@hotmail.com – 917-225-8963
PLEASE CONSIDER SUPPORTING MY WORK