New York, NY – A new right wing group called "Ilhan Must Go", run by Coalition Organizer Joe Diamond, a man who literally thinks Palestinians aren't human, attempted to unveil a billboard in Times Square on May 20, 2019 calling Rep. Ilhan Omar an antisemite and demanding her removal from the House Foreign Relations Committee.
IlhanMustGo.org purchased time on a Times Square billboard to "alert the nation and mobilize Americans to kick Ilhan Omar off the Foreign Affairs Committee" but was turned down after deemed "controversial" by the advertisement company.
The billboard launch was supposed to go up at 6 pm, according to a flyer announcing the event, instead a billboard truck was utilized to spread their message.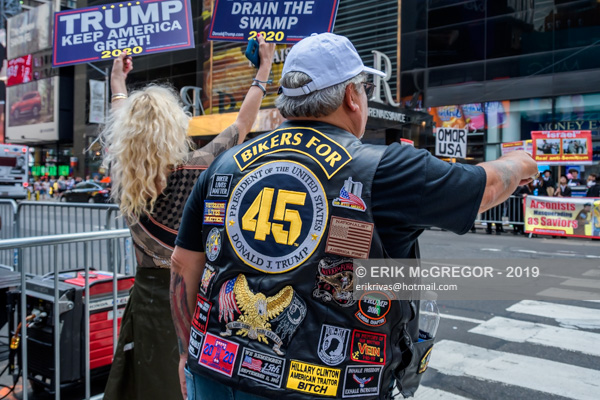 New Yorkers Supporting Representative Ilhan Omar stood up across the street to let the right wing groups know solidarity with Palestine is NOT antisemitic. Ilhan Omar and NYC Jews/allies have solidarity that will NOT be broken.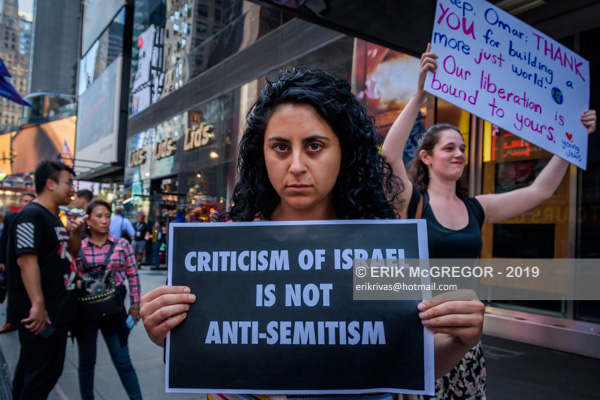 IfNotNow and Jewish / non-Jewish allies organized a solid contingent of Jews and allies with supportive signs, so the media doesn't latch on to these hatemongers' false narrative.
This an opportunity to support Ilhan and flip the media narrative on its head and show up loud and proud that Ilhan Omar has support in NYC.
© Erik McGregor – erikrivas@hotmail.com – 917-225-8963
PLEASE CONSIDER SUPPORTING MY WORK