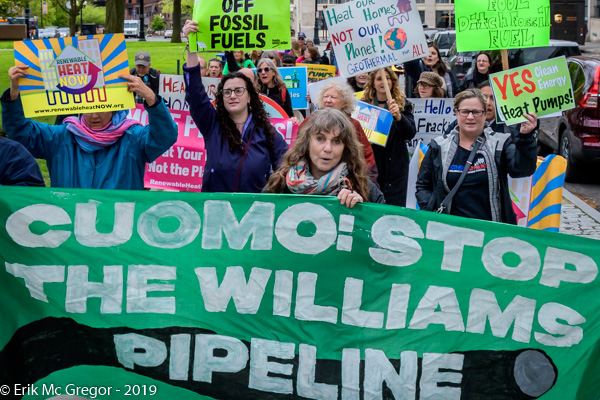 ALBANY, NY – On May 13, 2019 just three days shy of the regulatory deadline for Governor Cuomo to exercise New York State's authority to stop the Williams Northeast Supply Enhancement pipeline, dozens gathered outside of National Grid's "80×50 Pathway Forum" to send a strong message to the utilities and the Governor to invest in renewable solutions for heating buildings instead of more fracked gas pipelines.
"The choice is simple," said State Assembly member Robert Carroll (AD-44). "We either believe in a future that is based on renewable energy or we commit to a future that is apocalyptic."
"The urgency of climate change requires a rapid transition to clean energy and the economic and environmental benefits that it promises," State Senator Jen Metzger (SD-42). "That's why I am proud to sponsor the Freedom from Fossil Fuels Act, a bill that would end the development of all new fossil fuel infrastructure in New York state, including the Williams Pipeline, and set a course for New York to shift to a clean energy economy."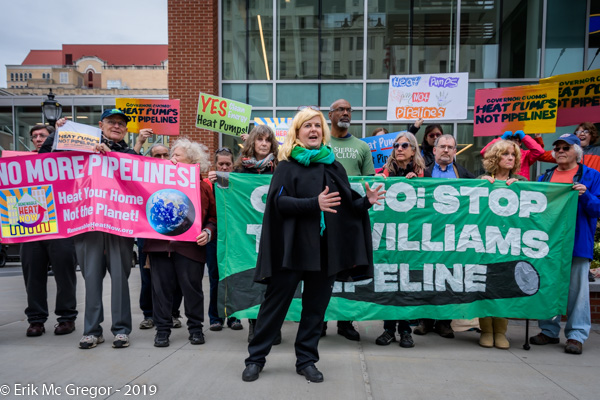 "Working to build the movement for a regenerative economy for the past decade and growing up in Pennsylvania where fracking is now being done, I've seen the big picture financial shell games, the community bullying and poisoning, and the abuse of loopholes in our democracy for the fossil fuel industry to profit, "said Kim Fraczek, director of Sane Energy Project. "Now, the trend to use the utilities to prey upon and threaten people with fear tactics is a final standoff as communities across this country are getting savvy to industry tricks as fossil fuels strive to maintain power. It's Governor Cuomo's responsibility to hear us and use our money to shift the economy to work for the people. 100% by 2030!"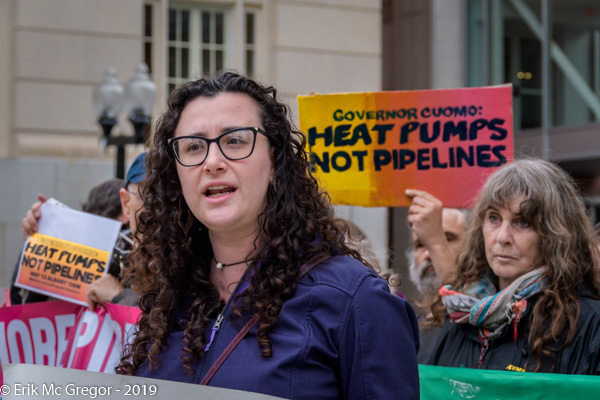 "If Governor Cuomo means what he says about protecting the environment, he'll rebuke Trump's dirty energy agenda and stop the Williams fracked gas pipeline before his May 16th deadline," said Laura Shindell, New York Organizer, Food and Water Watch.
"It's time to send the utilities a message. The era of fossil fuel growth is over. Your gas business must change to a renewable heat business or you will be left behind," said Jessica Azulay, Executive Director of Alliance for a Green Economy, "Governor Cuomo's Westchester Clean Energy Action Plan shows how we can divert investments away from gas infrastructure and into energy efficiency and renewable heating systems. We have the technologies to make renewable heating possible, now we need the political will to take this transition to the scale necessary to avoid catastrophic climate change. . "
"What will it take for our decision-makers to listen to climate science?" said Lisa Marshall of Mothers Out Front. "As a teacher and a mother, I've dedicated my life to the well-being of children only to see their future stolen from them while our elected leaders temporize. We have children skipping school, begging the adults to act like responsible adults. On the day after Mother's Day, this is the moment for the Governor to side with our children, stand up to the utilities, and halt all gas expansion in New York."
"The Con Ed Gas moratorium was a teachable moment," said New York State Senator Pete Harckham (SD40), " Rather than succumbing to the call for more gas infrastructure, New York responded with aid for clean alternatives for Westchester building owners and developers. This is the model we need to roll out statewide while implementing a Marshall Plan for renewable, clean energy."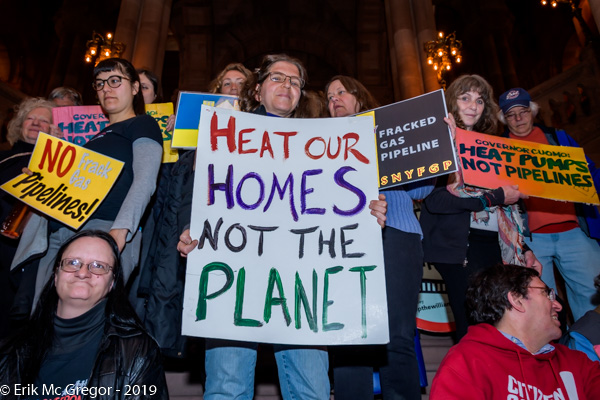 The protest – dubbed, "Heat Pumps, Not Pipelines" – was organized by members of the Renewable Heat Now Campaign and the Stop the Williams Pipeline Coalition.
Following the rally, a letter signed by more than 150 environmental and social justice organizations was presented to the Governor along with hundreds of postcards delivered by children and signed by New Yorkers who are deeply concerned about the proliferation of methane gas infrastructure and the need for more investment in climate-friendly heat pump technology.
© Erik McGregor – erikrivas@hotmail.com – 917-225-8963
PLEASE CONSIDER SUPPORTING MY WORK