New York, NY – Activists with Rainforest Action Network took on Chase Bank lobbies in Manhattan on February 14, 2019 to deliver a "Valentine's Singing Telegram" to shame CEO Jamie Dimon for funding private prisons and fossil fuels, on a day of action against Wall Street's largest funder of both industries.
Chase Bank has been in a toxic love triangle with private prison companies and fracked gas and oil pipelines. It's time for CEO Jamie Dimon to break up with these nasty industries. This Valentines Day, Show some real love to the families imprisoned at the border and the communities at the front lines of fossil fuel battles. Chase also has invested millions in Williams Co, the builders trying to shove a dangerous pipeline through the Rockaways.
CHASE FUNDS FOSSIL FUELS: "JPMorgan Chase funds a slew of environmentally destructive tar sands projects. In June, it lent $243 million to the Kinder Morgan Trans Mountain expansion project loan, despite a coalition of more than 20 Indigenous and environmental organizations warning the bank about the Indigenous rights and climate impacts of the projects, and legal challenges from over a dozen First Nations and the British Columbia government. (Notably, no major U.S. or European bank that was on the Dakota Access Pipeline project loan participated.)
In December, the bank re-upped support for TransCanada, despite the controversy around its Keystone XL pipeline, approving a renewal of a $1.5 billion credit facility that JPMorgan Chase led.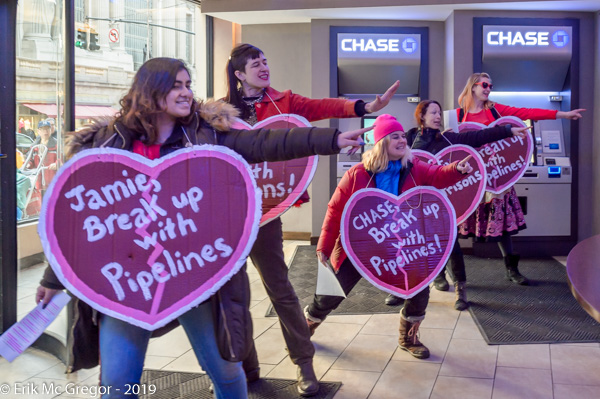 JPMorgan Chase is a major lender to Enbridge (read the case study on Line 3 here) and Teck, the company behind Frontier, an enormous proposed open-pit tar sands megamine in Alberta. JPMorgan Chase's fossil fuel financing has impacts far beyond North America.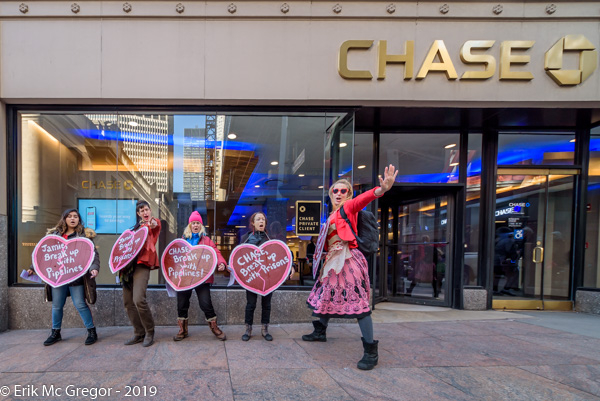 As highlighted in a November Amazon Watch report, the bank invests in at least three companies that drill for oil in the Amazon rainforest — in spite of direct opposition from Indigenous Peoples, and with devastating impacts on local communities and the rainforest ecosystem. And it continues to take advantage of glaring loopholes in its coal policy to finance companies like Polish utility Energa, which is planning the destructive Ostroleka coal-fired power plant."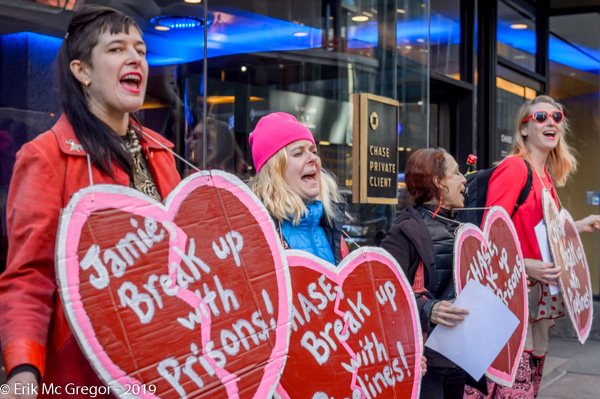 CHASE FUNDS PRIVATE PRISONS: "One of America's largest banks, JPMorgan Chase, is quietly financing the immigration detention centers that have detained an average of 26,240 people per day through July 2017, according to a new report by the Center for Popular Democracy and Make the Road New York. Through over $100 million loans, lines of credit and bonds, Wall Street has been financially propping up CoreCivic and GeoCorp, America's two largest private immigration detention centers."
© Erik McGregor – erikrivas@hotmail.com – 917-225-8963
PLEASE CONSIDER SUPPORTING MY WORK