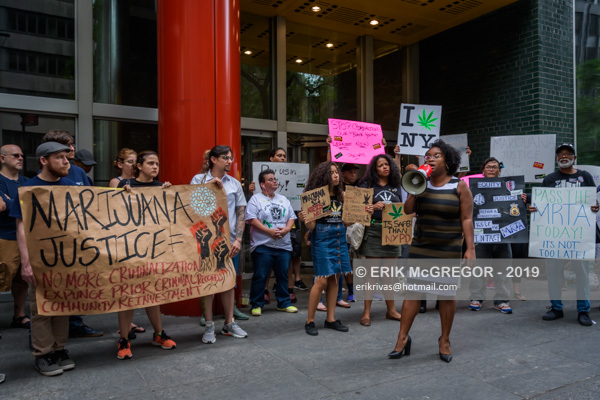 NEW YORK, NY – With just days left in the New York State legislative session and amid resumed negotiations, Start SMART NY – a coalition comprised of organizations and advocates dedicated to criminal justice reform, civil rights, public health, and community-based organizations who support marijuana legalization with robust social justice and equity provisions – rallied out front of New York State Governor Andrew Cuomo's New York City office urging lawmakers to enact the Marijuana Regulation and Taxation Act (S.1527B/A.1617B), known as the MRTA immediately.
Sponsored by Senator Liz Kruger and Assembly Majority Leader Peoples-Stokes, the amended MRTA ends prohibition, which has long criminalized Black and Latino people and other communities of color; clears prior cannabis-related criminal records; addresses additional devastating impacts of marijuana criminalization in the fields of immigration, family law, housing, and employment; and includes a social and economic equity plan that prioritizes licenses for people from communities most affected by criminalization.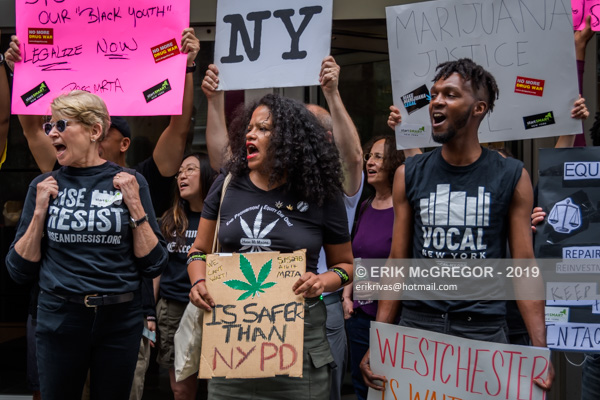 The bill also directs tax revenue from legal marijuana sales to be reinvested in communities most harmed by the war on drugs through the Community Grants Reinvestment Fund, which will fund job training, economic empowerment, youth development programming, and re-entry services. Additional revenue will be used to support public schools in the state plus drug treatment programs and evidence-based public education campaigns. If enacted, it will be the first law of its kind to devote such substantial permanent funding for community reinvestment.
Over the past week, both New York State Senate Majority Leader Andrea Stewart-Cousins and New York State Assembly Speaker Carl Heastie have discussed the MRTA in conference with their members. The Legislature has until Wednesday, June 19, 2019 to act unless lawmakers decide to extend this year's session.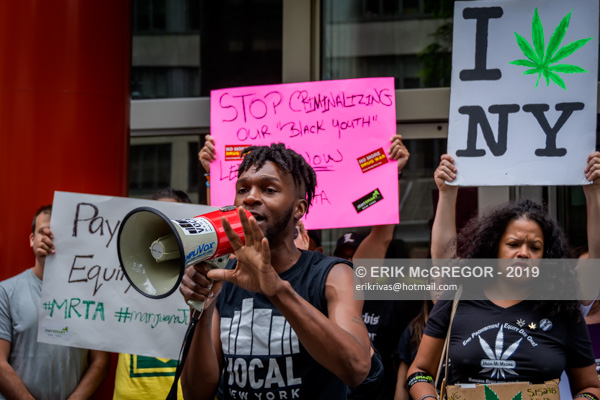 "We have worked for years to mitigate the damaging legacy of marijuana arrests and prohibition for some of the most marginalized communities in New York," said Jawanza Williams, Director of Organizing at VOCAL-NY. "Now we are calling on Senate and Assembly leadership to center the same people that are criminalized, in the solution, by ensuring that legalization addresses the often racist and classist realities of prohibition."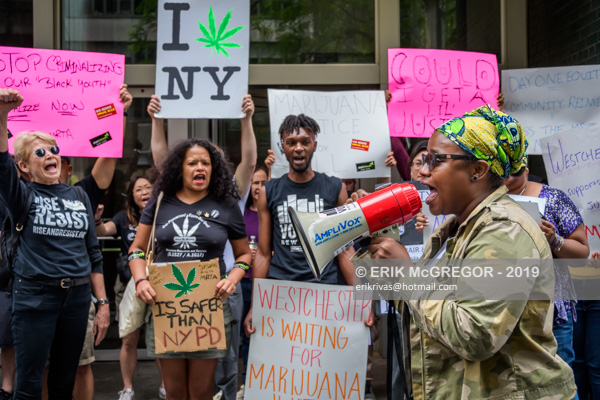 "Passing the MRTA is essential to ensure that the communities most harmed by the war on drugs get access to an industry they helped build. Since its introduction in America, Black and Latinx culture has driven cannabis consumption from the margins of popular culture to the mainstream," said Imani Dawson, Executive Director, Cannabis Education Advocacy Symposium and Expo (C.E.A.S.E.) "Those communities are at the forefront of the social justice and equity movements powering much of the local and national conversations about legalization. We must ensure that the groups responsible for popularizing and sustaining cannabis culture also get a financial stake in the multi-billion dollar legalized industry. The MRTA designates day one funding to secure their participation and the restoration of New York communities ravaged by the drug war."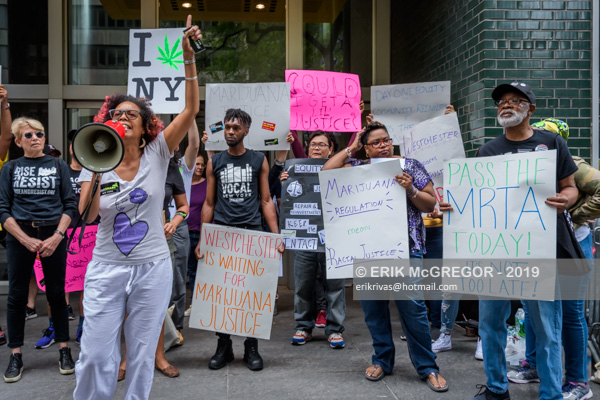 "New York has one of the biggest unlicensed or "legacy" markets in the United States currently generating $3.8 billion per year in untaxed revenue. As we move closer to a society where cannabis is legal, we must be mindful to build pathways to the tax-paying regulated market rather than re-introduce legacy market members into the criminal justice system. The MRTA takes this element into account allowing for a space to build new opportunities, sustainable businesses and safer communities," said Saki Fenderson, Co-Founder, Tainted Love BK.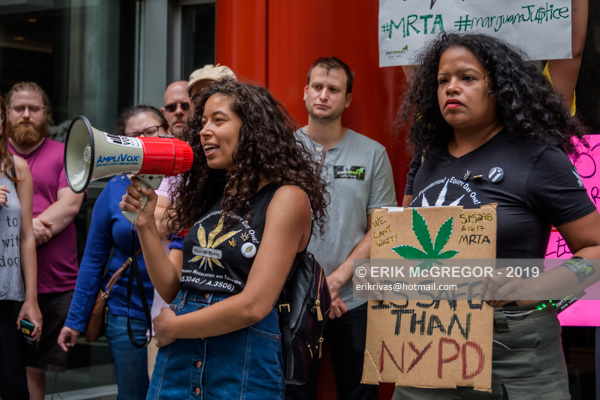 "The Marijuana Regulation and Taxation Act (MRTA – S.1527/A.1617) centers communities that have been targeted by the War on Drugs through community reinvestment, equity programs, expungement, and no re-criminalization of the underground market. We recognize that people of color have historically been farmers, practitioners, and pharmacists of the marijuana plant and should have support and opportunities to transition into the regulated market," said Emily M Ramos, Founder of High Mi Madre, a womyn and femme of color Marijuana Cooperative. "MRTA is the most progressive bill introduced in the country: 25% of the tax revenue goes to the state education department, 25% to drug treatment programs and a public education fund, and 50% into a community reinvestment fund. MRTA ensures our communities are no longer surviving, but thriving."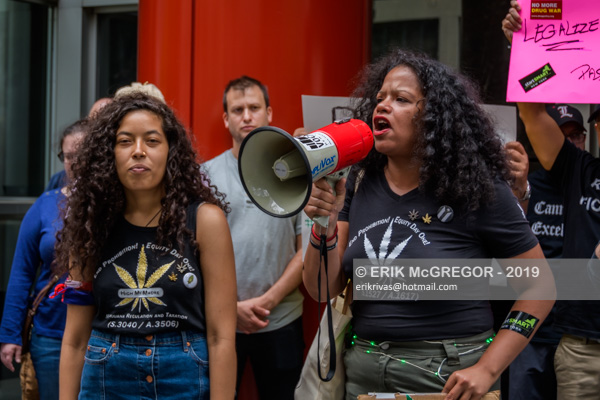 "Marijuana prohibition in El Barrio (East Harlem) has been a war on our Latino and Black families who have built this community! What MRTA would mean for El Barrio; it ENDS criminalizing our black and brown families including those who would remain in the gray market. It means community development. It means we can help families have generational wealth. Families cannot wait for Cuomo to use as a campaign hook next year! Our people need MRTA NOW," said Pilar DeJesus, Board Member of East Harlem Preservation.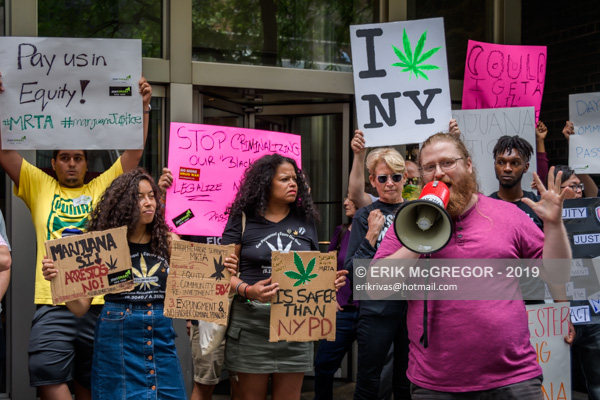 "Marijuana prohibition is one the most successful misinformation campaigns to ever exist," said Powerplant Global Strategies Senior Communications Strategist Leland Radovanovic. "The MRTA allows New York the opportunity to right the wrongs of its past and chart a new path forward for its future. A path without criminal cannabis penalties or records and a path with small business entrepreneurship opportunities and lifelong reinvestment into our communities that need it most. These MRTA provisions put New Yorkers, and our diverse communities, first."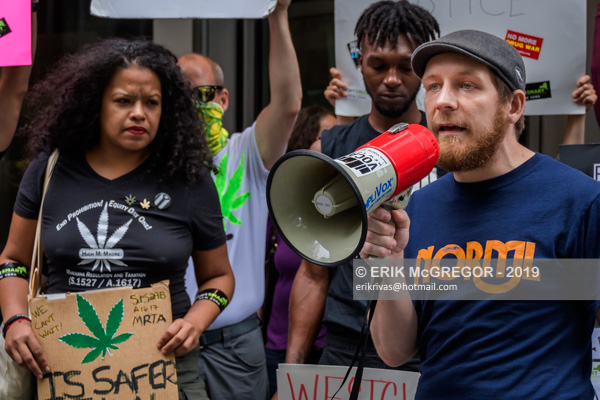 "Since 2013 activists and drug policy experts from around the state have been tirelessly working on the MRTA, a landmark piece of legislation to regulate cannabis in our state," said Deputy Director of Empire State NORML, Troy Smit. "What the legislature has in front of them is the result of legislators and advocates striving to craft a program that institutes monumental changes in our state. Changes like securing dedicated funds for community reinvestment, social justice on day one, legalizing personal cultivation for all New Yorkers, and ending the criminal penalties associated with using and possessing cannabis that have affected millions of New Yorkers. This bill in its current form is what a majority of New Yorkers' want, and it's what they deserve."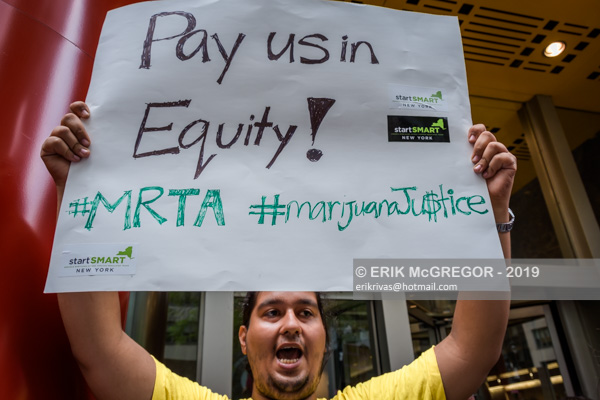 The Westchester Coalition for Police Reform applauds our legislators for acting with vision and courage in drafting a cannabis reform bill that truly prioritizes social and racial equity. We strongly encourage our leaders to make this vision a reality of which we can all be proud by passing this historic measure.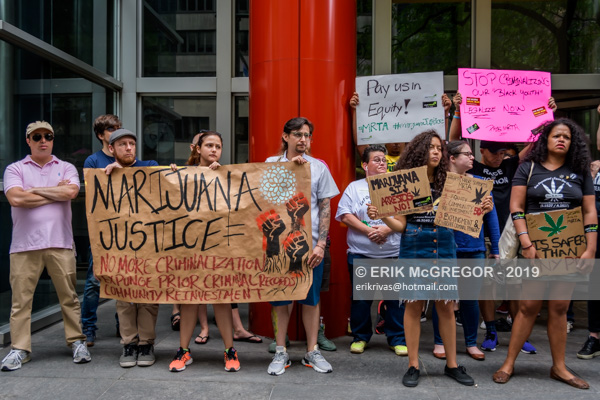 Start SMART NY is a campaign to end marijuana prohibition and repair the harms to communities convened by the Drug Policy Alliance in partnership with groups dedicated to ending marijuana prohibition.
© Erik McGregor – erikrivas@hotmail.com – 917-225-8963
PLEASE CONSIDER SUPPORTING MY WORK