New York, NY – On the commemoration of the International Day for the Elimination of Violence against Women, November 25, 2020 a group of seven laundromat workers in New York City, confronted their employer at Wash Supply in Manhattan, alleging abuses of labor law and labor rights. These women have been designated essential workers and their labor makes it possible for people on Manhattan's Upper West Side to have their clothes cleaned.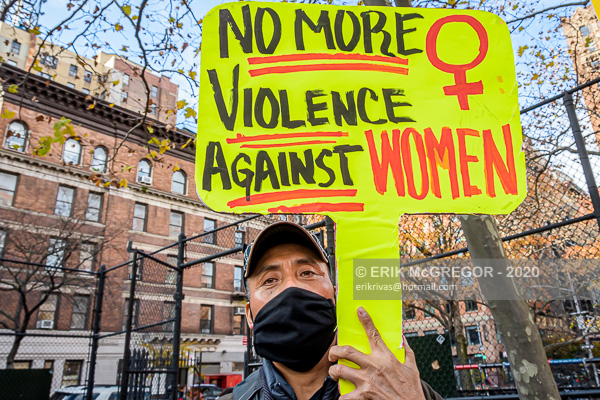 However, despite being designated essential, the employees of this retail laundromat are forced to choose between their health and safety or losing their jobs.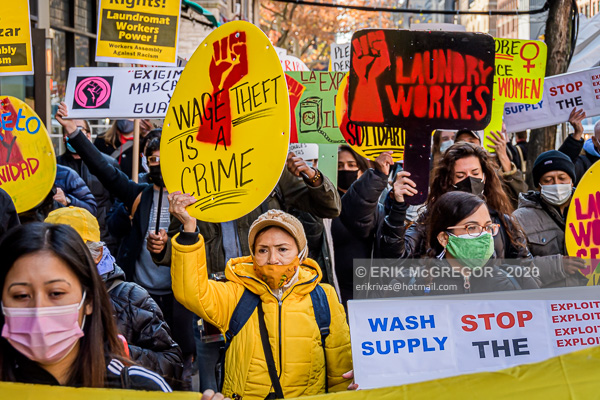 Over the past 12 months, eight immigrant women laundry workers have been training through our Leadership Institute to launch a campaign for a better, safer workplace. They have suffered many abuses and endured deplorable conditions at the laundromat where they work, including:
-Paid under minimum wage with no overtime,
-No paid sick days
-Poor health & safety conditions: working in a basement with no ventilation, no heat in the winter, no emergency exits, and lack of PPE
-Exposure to COVID with no space to social distance or even protocol for workplace disinfecting by management
-Forced to buy their own toilet paper, and
-Gender discrimination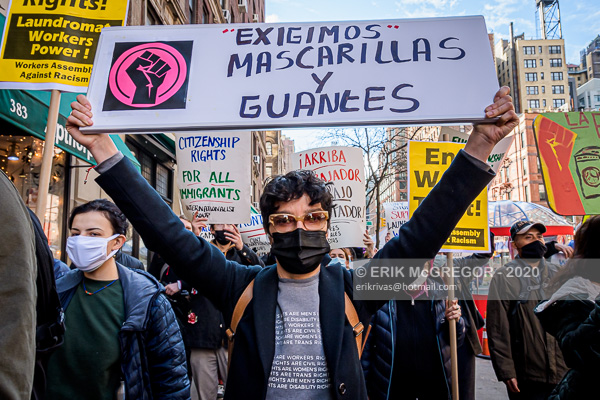 When the workers asked their employer to follow the law, management attempted to silence their voices through punitively increased workloads and threats of termination.
Yuriana Alejo, an employee for eight years with the company, says: I am organizing with my coworkers to fight against discrimination and wage theft, to have a healthy and safe environment, and to be respected as essential workers.
Another employee, Cecilia Davila, emphasizes that: I am an essential retail laundromat worker, and we are using our collective voice to demand our rights in our workplace and the rights of all migrant women workers in the retail laundromat industry to stop unsafe working conditions and discrimination."
Covid-19 has highlighted violations in retail laundromats, ranging from employers' withholding workers' wages illegally to health and safety violations. The Laundry Workers Center, a not-for-profit organization that educates workers on their rights, conducted a study in 2018 after observing working conditions in more than 100 laundries in NYC, and "found that one in five workers were paid $10.00 or less in violation of New York's minimum wage requirements."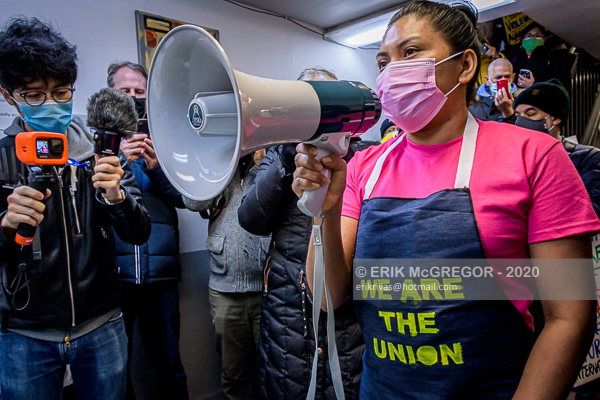 According to the research, "more than a third of workers report being underpaid, or not paid at all for overtime. "Nearly all of the laundromat workers surveyed face significant health and safety issues due to exposure to at least one potential workplace hazard."
The pandemic has exacerbated those issues with a second wave hitting NYC. According to the study, more than 86% of retail laundromat workers in NYC are women, and 99% of women of color, and 79% of immigrants.
© Erik McGregor – erikrivas@hotmail.com – 917-225-8963
PLEASE CONSIDER SUPPORTING MY WORK