New York, NY – Members of the activist group Rise and Resist gathered on November 19, 2020 outside Rudy Giuliani's apartment building at 45 East 66th Street in Manhattan, to protest his attempts -under Trump's orders- to overturn the results of the Presidential election.
Rudy Giuliani is sowing distrust in the electoral system and encouraging Americans to refuse to accept the results of a free and fair election.
In a tweet, Trump named Rudy Giuliani to lead his legal effort to overthrow the legitimate results of the election.
Trump wrote "I look forward to Mayor Giuliani spearheading the legal effort to defend OUR RIGHT to FREE and FAIR ELECTIONS! Rudy Giuliani, Joseph diGenova, Victoria Toensing, Sidney Powell, and Jenna Ellis, a truly great team, added to our other wonderful lawyers and representatives!"
On November 17, Giuliani joined a lawsuit in Pennsylvania seeking to stop Pennsylvania from certifying election results showing President-elect Biden as winning the state. According to the AP, Biden leads Trump in Pennsylvania by more than 73,000 votes.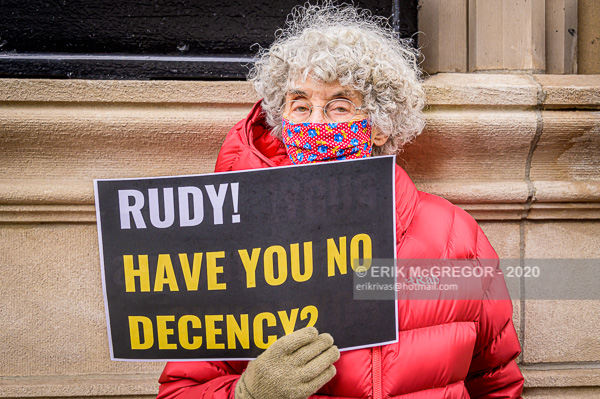 New Yorkers refuse to watch passively while Trump and his allies undermine the integrity of our election – and we will hold the lawyers and elected officials that are aiding and abetting his efforts accountable.
Filing frivolous and malicious lawsuits is a clear violation of legal ethics, and we demand that Giuliani and his team withdraw from and halt these suits immediately.
© Erik McGregor – erikrivas@hotmail.com – 917-225-8963
PLEASE CONSIDER SUPPORTING MY WORK