New York, NY – In a somber procession on May 24, 2020 members of Indivisible Nation BK and the direct action group Rise and Resist delivered body bags on the steps of the Trump International Hotel and Tower at Columbus Circle. Other protesters held a banner that read: "TRUMP LIES, PEOPLE DIE" and "100,000 DEAD".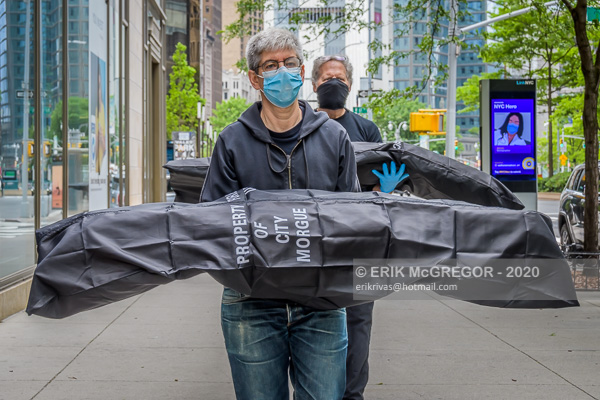 Many of the folks protesting have lost friends and family members to the coronavirus, and aimed to draw attention to Trump and the GOP's dereliction of duty to prevent further negligence, deceit, and death.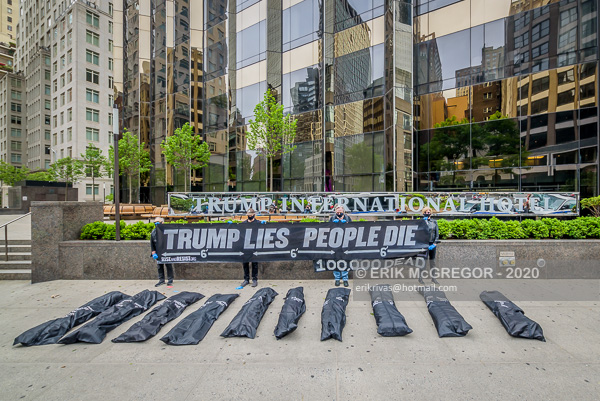 The lies and misinformation that Trump continues to spread about the pandemic are costing countless lives across the country as well as around the world. The false choice the Republican party presents between commerce and human lives has been devastating.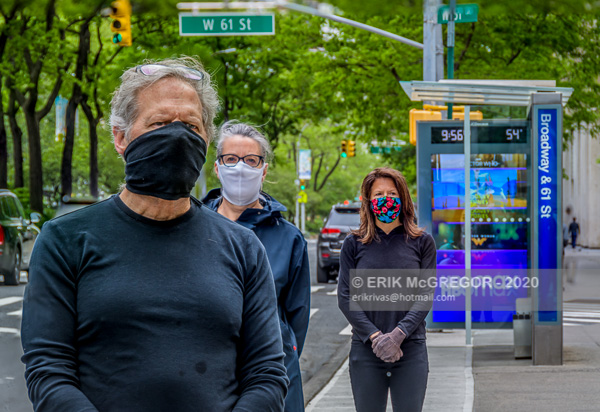 Covid 19 deaths have mostly affected the oldest, the poorest and the most marginalized. As always, the president promotes hate rather than compassion, creating and perpetuating lies and misinformation instead of truths, facts and science.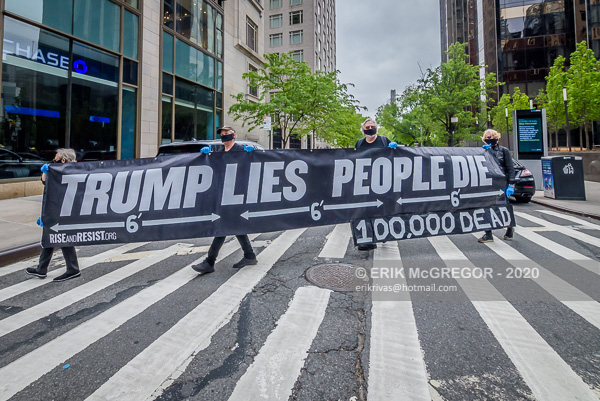 "People are suffering and dying because this administration buried its head in the sand for too long," said Jonathan Walker, a member of Rise and Resist. "they're still not providing the aid and assistance that the people — including healthcare workers — in this country need."
INBK member Liat Olenick stated "Trump has explicitly refused to get aid to cities and states like New York for political reasons. He is not only disseminating dangerous lies about the virus that put vulnerable people at risk, but by denying us medical supplies, PPE and funding while pushing his supporters to reopen states before it is safe to do so, he is ensuring even more death. We are laying bodybags on his doorstep in recognition of his culpability in mass murder, but he alone isn't responsible. The Senate GOP is complicit in the deaths of thousands of Americans that could have been avoided if Trump had been removed from office in January, and in their current failure to pass the HEROES Act to get urgently needed resources to hard hit cities like New York. "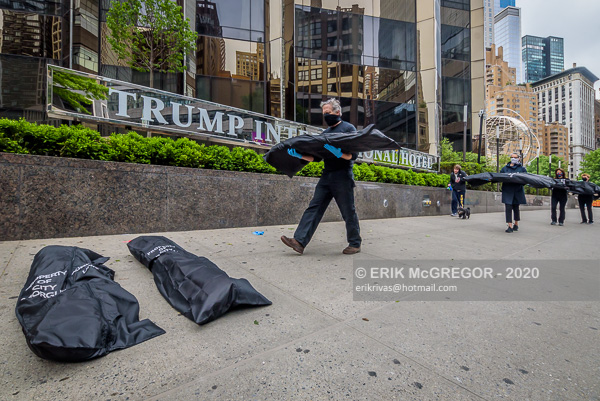 Two months ago the handling of this pandemic by Trump and his administration was described as the biggest blunder in presidential history. Since then we've lost 100,000 lives. When America needed leadership we got lies.
© Erik McGregor – erikrivas@hotmail.com – 917-225-8963
PLEASE CONSIDER SUPPORTING MY WORK