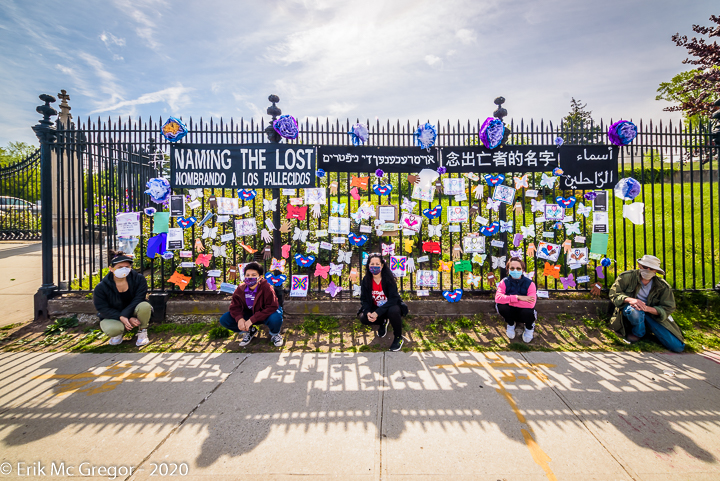 New York, NY – Artists and volunteer organizers across New York City put up physical memorials throughout the five boroughs in connection with Naming the Lost to honor the lives lost to COVID-19 in solidarity with Americans across the country holding a national online vigil to come together in mourning to recognize and grieve for the thousands of lives lost during the pandemic.
On May 20, 2020 over the course of 24 hours, volunteers read the names of many of those who have died. The event comes as the US death toll approaches 100,000 people and as the country prepares to recognize Memorial Day.
A group of volunteer organizers from New York City to Nashville to New Orleans put together the online vigil to draw attention to the lack of a national mourning for those killed, to highlight the impact of decisions made by the country's leaders to make the crisis worse, and to encourage attendees to unite across differences to ensure everyone receives the care they need.
By taking 24 hours to read the names of those we have lost, organizers seek to humanize and honor each person – and those whose names we do not know – at a time when people must be physically apart.
The event begins at 2pm ET, Wed, May 20 and ends at 2pm ET Thurs, May 21. The names will be read by those who have lost loved ones, by people from communities hit hardest by the virus, such as Brooklyn, NY, and a number of interfaith leaders and special guests.
Artists across New York City built memorials in each borough to honor those lost.
Bronx: Outside the entrance to the EMS Station at Jacobi Hospital
Manhattan: Corner of Ridge & Broome Streets
Brooklyn: Greenwood Cemetery, entrance at 25th Street & 5th Avenue
Queens: Corona Plaza
Staten Island: Verrazano Nursing Home, 100 Castleton Ave
Naming The Lost is not sponsored by any organization but is instead an offering from many people who saw a gaping hole – a narrative of death and sickness absent the sick and the dead – and came together to make this happen.
© Erik McGregor – erikrivas@hotmail.com – 917-225-8963
PLEASE CONSIDER SUPPORTING MY WORK