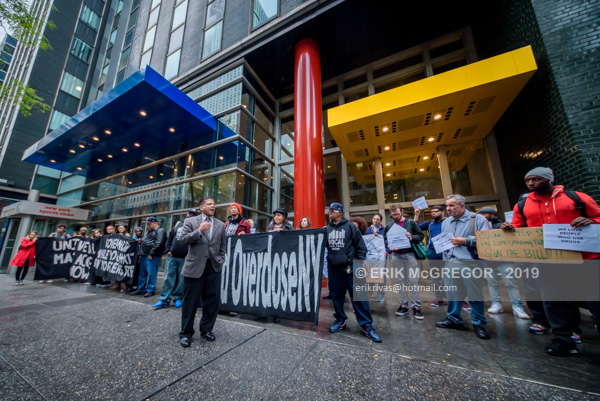 New York, NY – Drug policy activists and advocates held a rally outside Governor Cuomo's NYC office on October 22, 2019 to denounce his legacy of neglecting the overdose crisis. With two months left to determine the fate of bill to expand lifesaving treatment to end overdose in New York, activists returned to the Governor's Office demanding him to stop stalling and sign it into law.
Speakers criticized the Governor for not yet signing the only overdose prevention bill that was passed for low-income New Yorkers last session.
The organizers highlighted that despite this bill's bipartisanship support and the fact that someone dies of an overdose in New York State every six hours, Governor Cuomo continues to hold out on expanding lifesaving treatment.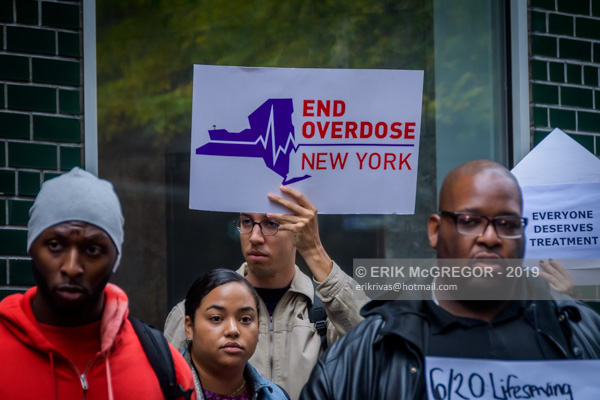 Over 20,000 New Yorkers have died from an overdose during Governor Cuomo's tenure while Medication-Assisted Treatment, the gold standard of treatment For opioid use disorder remains inaccessible for New Yorkers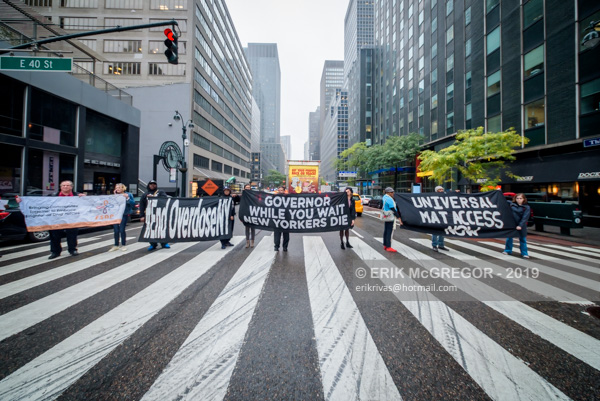 Speakers also illustrated that the Governor has never been a leader on addressing the overdose crisis, as he weighs saving lives against concerns about financial cost. In stalling, "progressive" Governor Cuomo stands to the right of even staunch Republicans– in 2016, Kansas Governor Sam Brownback removed prior authorization through executive action.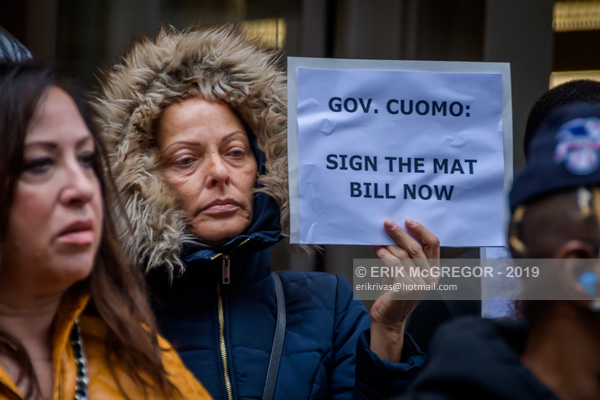 In the 2019 legislative session, S5935A/A7246B passed with bipartisan support in both houses. This bill will provide broader treatment access for low-income New Yorkers enrolled in Medicaid, removing the prior authorization to all formularies of medication-assisted treatment (MAT).
Research shows that states with expanded Medicaid coverage have fewer overdose deaths. New York State has adopted policy measures to promote insurance parity, and the Attorney General has intervened to remove the use of prior authorization requirements for MAT with certain insurance plans.
However, without the universal elimination of prior authorization requirements, healthcare and treatment providers have to navigate bureaucratic hurdles that solely benefit insurance companies seeking to cut costs at the expense of patient health and safety.
© Erik McGregor – erikrivas@hotmail.com – 917-225-8963
PLEASE CONSIDER SUPPORTING MY WORK