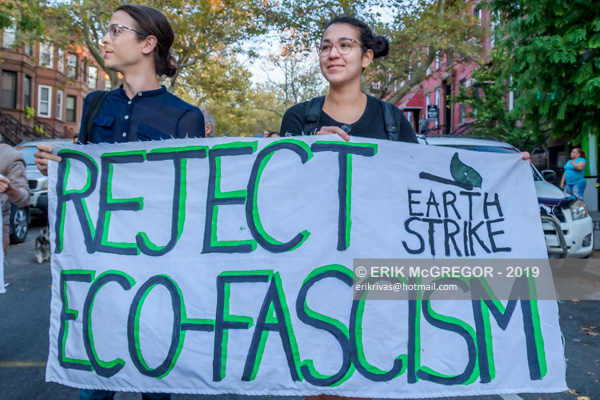 New York, NY — Activist group Earth Strike NYC announced a radical frontline coalition gathering in Sunset Park on September 27, 2019 to support UPROSE in its campaign for local community-led climate justice at the Communities Strike For Climate Over Colonialism rally and march. Hundreds supported the event that comes as part of a global strike day organized by Earth Strike, marking the last major event of this year's climate week.
The strike, with an accompanying rally and march, is organized by Earth Strike NYC, an autonomous member of the global Earth Strike collective, in collaboration with a coalition of community organizations and unions.
The event was co-hosted by UPROSE, and endorsing organizations include Outlive Them, the NYC Democratic Socialists of America Ecosocialists working group, Rise and Resist, Sane Energy Project, Bronx Climate Justice North, MACC (Metropolitan Anarchist Coordinating Council), AF3IRM, AFT chapter 2375, Jewish Voice for Peace NYC, Code Pink, People's Climate Movement, FIRE (Fight for Im/migrants and Refugees Everywhere), and Science for the People.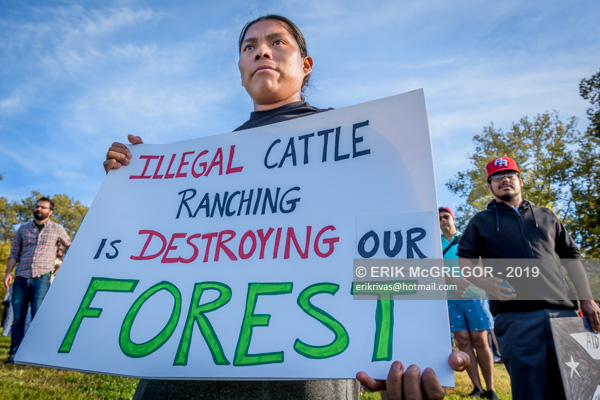 The coalition has chosen to draw attention to Sunset Park as "an epicenter of the fight for climate liberation." A waterfront community that was devastated by Superstorm Sandy in 2012, Sunset Park faces gentrification, disinvestment, and displacement. Its residents have organized as UPROSE to reject city rezoning plans requested by the real estate firm Jamestown Properties and to advance their own vision for Sunset Park and its waterfront complex, Industry City.
The strikers are launching a drive to organize a citywide general strike as a tool to combat the climate crisis. The strikers are also calling on environmental activists to endorse "a genuinely intersectional politics," in line with their demands.
Earth Strike believes that the potential power of a general strike is clear: militant teacher strikes and worker walkouts against ICE have been successful in winning concessions and mobilizing workers. Early in 2019, murmurings of a General Strike were enough to end the government shutdown.
On September 27, strikers made the following radical demands:
| End Climate Imperialism
| Reject Eco-Fascism
| End Gentrification
| Prison Abolition
| Community Ownership
| Intergenerational Leadership
| Animal Liberation
| Climate Reparations
© Erik McGregor – erikrivas@hotmail.com – 917-225-8963
PLEASE CONSIDER SUPPORTING MY WORK