New York, NY – Make the Road's Youth Power Project, and other youth organizations from throughout New York City organized the youth-led rally 5 YEARS LATER – WE ARE #ERICGARNER, on July 17, 2019 at Foley Square in downtown Manhattan.
Youth leaders were joined by Gwen Carr, the mother of Eric Garner, and adult allies in commemorating Eric Garner's life and calling on Mayor de Blasio and the NYPD to hold all officers involved in Garner's unjust killing accountable.
July 17, 2019 marked 5 years since the unjust killing of Eric Garner by NYPD Officer Daniel Pantaleo. It's been four weeks since the conclusion of the administrative trial of Officer Pantaleo – and Pantaleo has not been fired from the NYPD.
None of the other officers who engaged in serious misconduct related to this incident, including Sargent Adonis, have faced disciplinary consequences for the killing of Eric Garner.
On July 17, 2014 NYPD officer Daniel Pantaleo murdered Eric Garner for the alleged crime of selling untaxed cigarettes. Five years later, the cop who killed him has not faced any charges and is not only still employed by the NYPD, he has received a raise.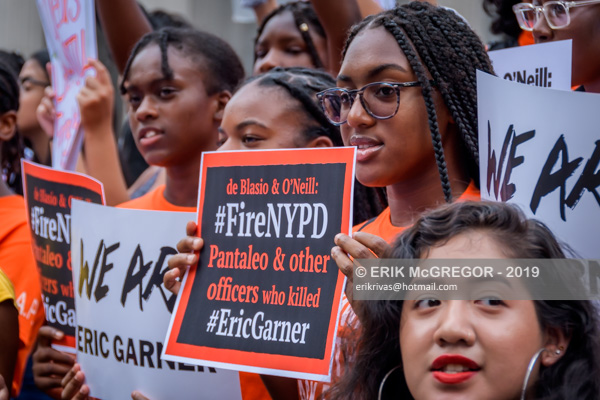 Erica Garner, Eric's daughter, will not live to see any form of justice for her father, after passing away in December 2017, yet another casualty of police terror.
Ramsey Orta, a friend of Eric who filmed the killing, was subsequently harassed and arrested by a vengeful NYPD and is still incarcerated upstate.
Meanwhile, the NYPD continues their reign of terror in Black and Brown neighborhoods throughout the five boroughs, using the same racist broken windows policing methods that killed Eric.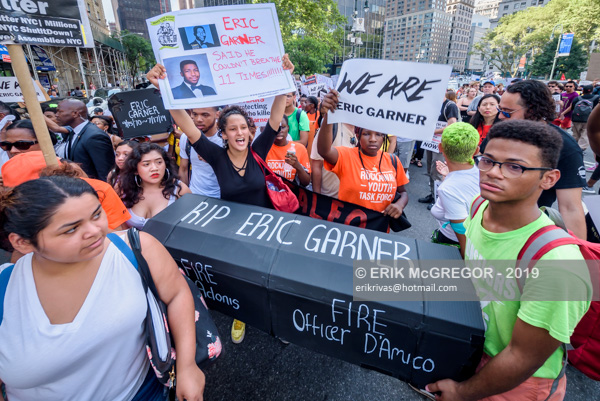 The Garner family and The Legacy That Eric Garner Left Behind continue to fight for justice, and NYC Shut It Down stands in support of them, demanding vengeance for Eric and Erica Garner. Join us as we remember their lives and continue their fight.
© Erik McGregor – erikrivas@hotmail.com – 917-225-8963
PLEASE CONSIDER SUPPORTING MY WORK