New York, NY – After defeating the Netherlands 2-0 on Sunday to clinch their second consecutive Women's World Cup victory, the US Women's National Soccer Team is making their way back from France, and they'll be honored with a much-deserved winner's welcome home.
The world champion squad got their very own ticker tape parade in New York City on July 10, 2019 where thousands of fans had a chance to cheer on the star athletes.
The big parade took place through the "Canyon of Heroes," a stretch of Broadway from City Hall to Battery Park in lower Manhattan, a stretch of less than a mile through the heart of the city's Financial District.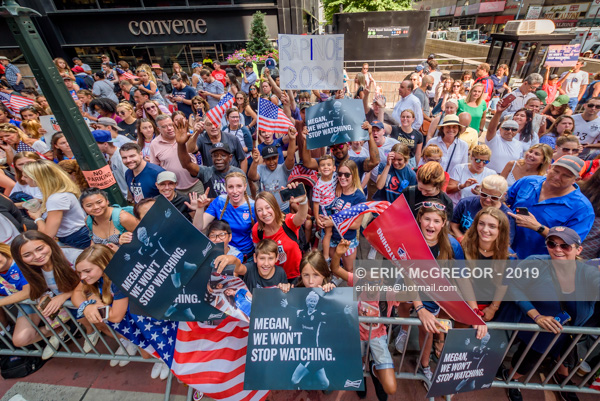 It's the same route the team took during the ticker tape parade thrown in their honor to celebrate their previous World Cup win in 2015.
That was followed by a ceremony at City Hall around 10:30am EST, where members of the USWNT will be presented with keys to the city. There will be a limited number of first-come, first-serve tickets up for grabs to that starting Monday at 2pm EST.
© Erik McGregor – erikrivas@hotmail.com – 917-225-8963
PLEASE CONSIDER SUPPORTING MY WORK