New York, NY – Hundreds of New Yorkers who bike joined the NYC Bike Family, a coalition of over 15 bicycle advocacy groups at a mass die-in on July 9, 2019 in Washington Square Park, a non-violent, peaceful memorial event to protest the killing of cyclists.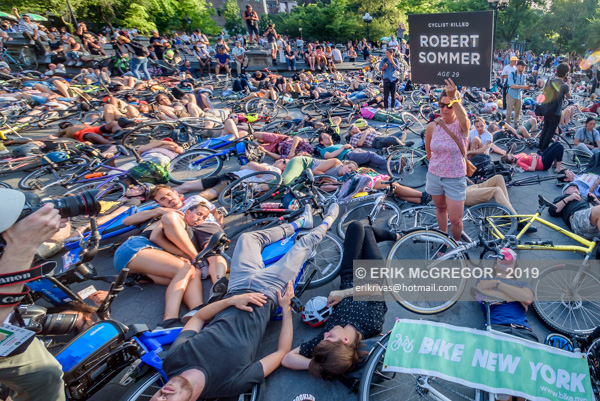 Drivers have killed 15 people on bikes this year — more than double the number killed this time last year.
Hundreds of cyclists were lying on the ground, and others held signs displaying the names of the 15 New Yorkers killed while riding bikes this year.
We deserve safe passage. We deserve the pure joy of riding a bike. We will not stop riding and we will not accept this injustice.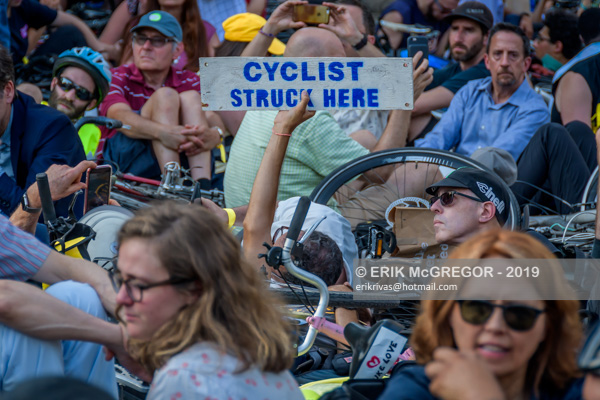 We will mourn, we will remember, and we will make sure that Mayor Bill de Blasio knows that the NYC Bike Family will not stand for the threat on our lives.
Vision Zero is in a state of emergency, and the only way to stop the killings is to break New York City's car culture. We deserve safe passage, and on June 9, we will demand it.
© Erik McGregor – erikrivas@hotmail.com – 917-225-8963
PLEASE CONSIDER SUPPORTING MY WORK